Sweden's COVID Strategist Wants to Ease Restrictions for Elderly, Who Make Up Nearly 90 Percent of Death Toll
The chief state epidemiologist at the public health agency of Sweden, where a nationwide coronavirus lockdown was never implemented, wants to ease safety restrictions for those aged 70 and older to allow them to "live a bit more of a normal life."
Dr. Anders Tegnell, who is behind the country's controversial anti-lockdown strategy, said in an interview with BBC Radio 4's Today program: "Basically we mean that we will send a message to elderly people, you don't need to completely isolate any more."
Tegnell's latest comments come as the total death toll among those aged 70 and above forms nearly 90 percent of the country's death toll of 5,922.
The highest number of COVID-19 deaths was reported to be among those aged from 80-90 (2,456 fatalities), followed by those aged 90 and over (1,541) and those aged from 70-79 (1,272), as of October 19, according to Sweden's public health agency.
That makes a total of 5,269 deaths among those aged 70 and older, which is 89 percent of Sweden's current total COVID-19 death count.
Tegnell noted the country's "priority" was to "lessen" the rules for the elderly because "that's our main problem really now."
"We send the same message to them that we send to the population in general: avoid big gatherings, keep your distance," he told Today.
Tegnell's comments marked a different stance from the advice currently published on the agency's website, which states: "To avoid getting infected the Public Health Agency urges anyone 70 or older to limit close contacts with other people.
From June 13, those aged 70 and above who do not have any symptoms of the virus have been allowed to travel but were advised to avoid using public transport. "Preferably, use your own means of transport or public transport where you can book a seat in advance," the agency website states.
On October 1, Sweden lifted its six-month ban on visits to nursing homes.
Speaking Tom Britton told Newsweek, a professor in mathematical statistics at Stockholm University, said: "For about six months it has been forbidden to visit relatives in elderly homes. This includes children of the elderly and also husband/wife. I think there was very strong support to loosen this rule. Now it is allowed, but with a face mask and keeping distance."
Sweden currently has the seventh-highest death rate in Europe, reporting 58.12 deaths per 100,000 people, according to the latest report Tuesday by Johns Hopkins University (JHU).
Regarding Sweden's alarming death count among the elderly, Tegnell told Today: "Unfortunately our death rates, everybody would wish that they didn't happen and I would also like to say that this is nothing we really anticipated.
"This is not any kind of risk we took willingly or knowingly. I know critics have said that we sort of sacrificed the elderly in Sweden but that is absolutely not true," he said.
Around 2,600 of the country's total COVID-19 deaths were reported to have happened at nursing homes, Reuters reported earlier this month.
According to a study published in July in the Society science journal, "Upwards of 70 percent of the Covid19 death toll in Sweden has been people in elderly care services (as of mid-May 2020)."
It added: "Most Covid19 victims are elderly. In Sweden the percentages of the deceased as of 16 May 2020 are 22 percent in their 70s, 41 percent in their 80s, and 25 percent in their 90s. Altogether that makes 88 percent aged 70 or over."
Speaking to Newsweek, Daniel Klein, a research fellow at the Ratio Institute in Stockholm who co-authored the study, said: "If people would look at Sweden's health and elderly care during the two-year run-up to March 2020, they would have to give an A or A+. Their systems did a great job preventing death in the very old and frail.
"When Covid hit the nursing homes and other elderly care services in March 2020, there was an abundance of 'dry tinder' that sadly succumbed to the virus. But they did a great job preventing 'forest fire' in the two-year run-up. That is why there was so much 'dry tinder.' It's irresponsible to suppress the truth about 'dry tinder,' " said Klein, who is also a professor of economics and JIN Chair at the Mercatus Center of Virginia's George Mason University.
Newsweek has contacted Sweden's public health agency for comment.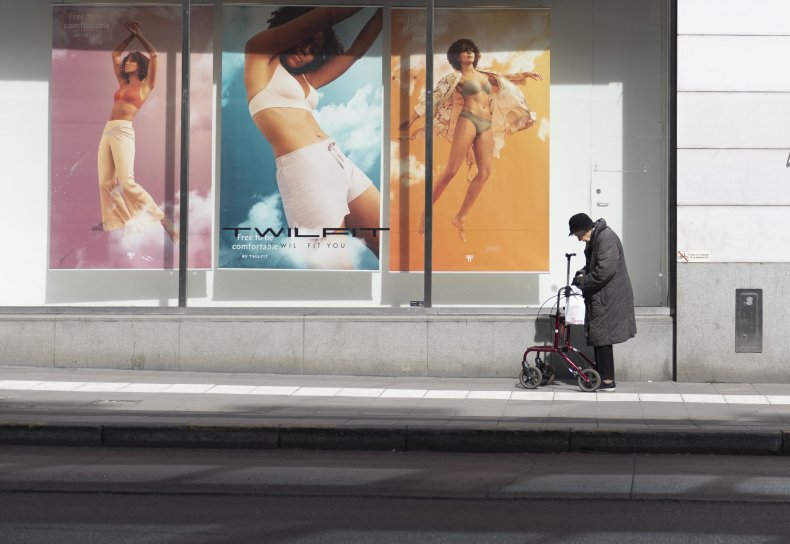 The total number of confirmed cases in Sweden have reached 103,200, as of Tuesday, according to JHU.
After flattening out for months, weekly new cases in Sweden increased for six consecutive weeks, starting from the week commencing August 31, according to data compiled by the World Health Organization (WHO).
This week Sweden's public health agency announced it is working with regional authorities, who from Monday have been able to enforce new restrictions to help curb the spread of infection.
The wider picture
The novel coronavirus has infected more than 40.4 million people across the globe since it was first reported in Wuhan, China, including over 8.2 million in the U.S. Globally, more than 1.1 million have died following infection, while more than 27.7 million have reportedly recovered as of Tuesday, according to data collated by JHU.
The graphic below, provided by Statista, illustrates countries with the most COVID-19 cases.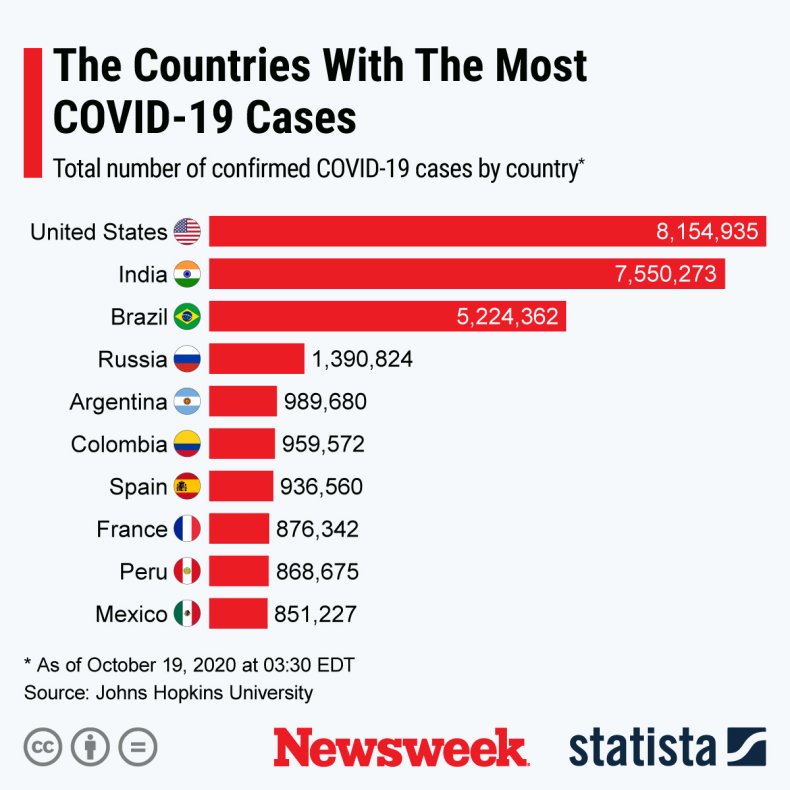 The graphic below, also produced by Statista, illustrates regions across the globe seeing a rise in COVID-19 cases.