Lockdowns have become a major tool for governments across the world fighting the spread of the COVID-19 pandemic yet one country chose a different course of action. During the first wave of the pandemic, Sweden resisted calls to impose a nationwide lockdown. Unlike others, it chose not to make the wearing of masks mandatory. It didn't close down restaurants, shops or gyms. Schools or daycare facilities for younger children stayed open.
It was an approach that drew criticism, even from the country's king. Yet the architect behind the strategy, state epidemiologist Dr. Anders Tegnell, believes the path Sweden pursued was not all that different from that of other countries. In an exclusive interview with Newsweek, Dr. Tegnell explains why Sweden didn't go into a national lockdown, how he thinks we should deal with the new strain of COVID-19 which has an increased rate of transmission and whether a new strategy is needed to stop its spread.
As of January 12, Sweden has recorded 506,866 COVID-19 cases and 9,667 deaths. That works out as 87 deaths, per 100,000 people. A raft of new measures were brought in to combat the spread of the virus, including recommendations that commuters wear face masks on public transport during rush hour. In a country that has been reluctant to impose a lockdown, now the national health agency found itself recommending the wider use of masks by healthcare workers.
Sweden's parliament also voted in favor of a new pandemic law which gives the government the power to close certain businesses or limit visitor numbers and opening hours, which came into effect on January 10.
Sweden's seemingly radically different plan failed to stop a sharp rise in cases nor did it prevent a spike in the number of deaths. The country's King, Carl XVI Gustaf, even issued a rebuke of the earlier strategy pursued by his country, saying that it had "failed" to save lives with its relaxed approach. Even after the king's comments, Dr. Tegnell remains somewhat defiant.
"Our strategy was not that different to the rest of Europe," he said. "We had more or less exactly the same goal, to get transmission of this new virus as slow as possible. Then we used slightly different measures but that's very much according to the Swedish legal circumstances and the tradition we have in public health that we work very much with giving advice and not using legal enforcement and that is something that has worked very well in Sweden historically."
Figures as of January 12, show that Sweden has recorded the 25th highest per capita death rate of any country (954 deaths per million). That's still lower than the U.S.'s 1,168 deaths per million as well as the U.K.'s 1,222 deaths per million.
Sweden is a country marked by high levels of trust in government and equality. Rather than coercing people into following rules and guidelines and issuing fines to those who flout regulations, the approach is one that places an emphasis on the public's personal responsibility and appeals to their sense of civic duty. Dr. Tegnell doesn't agree that the strategy he pursued has failed.
He said: "Sweden's development is similar to a mean of the rest of the European countries. The full epidemic started later in Sweden, so we see a later rise."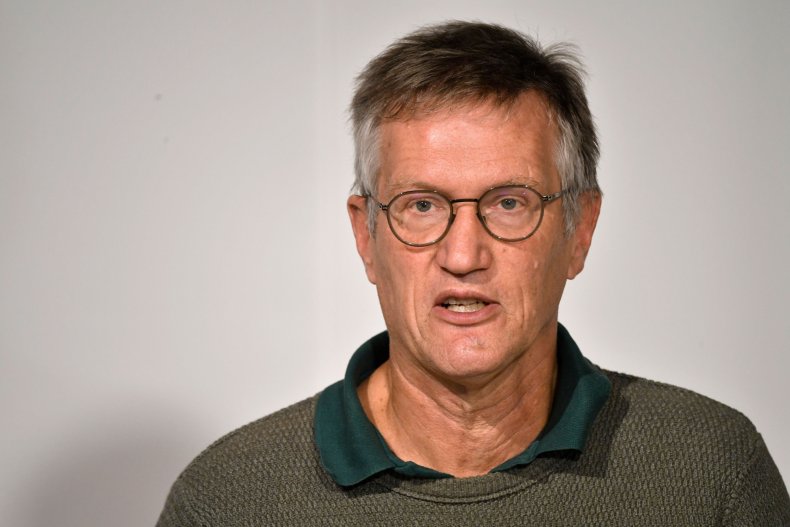 Unlike other countries, where fines have been issued for those flouting COVID-19 regulations with some even being jailed, Dr. Tegnell said that's not how the Swedish public health system works.
"We don't have fines for not vaccinating," he said. "Instead, we try to get the population to understand that it's in their best interests to follow the advice we are giving to them and that has worked very well in the past and that's the idea that we continue to follow.
"On the other hand, there are measures that can be used against restaurants. For example, when it's not against individuals, in those places I think there is a need sometimes to have penalties in place to really enforce things that they need to do but on individuals, I think it's much better, at least in the Swedish context, to give good advice and work with them to convince them that this is best for all of us."
In April, Dr. Tegnell declared: "Locking people up at home won't work in the longer term. Sooner or later, people are going to go out anyway." Since then, countries such as the U.K. and France have had to go through additional national lockdowns but Dr. Tegnell still favors a different approach, placing an emphasis on clear and consistent messaging instead.
He said: "We have tried to work more with sustainable things, to have the same kind of things in place over a long time. In the Swedish context that works better because it gives better predictability for people to understand what's it all about than if you open and close things at regular intervals in the Swedish context. Our belief now is that it's more destructive to open and close on a regular basis."
He's keen to stress that what works in one country may not work in another. Taiwan has won rare praise from the World Health Organization for keeping its infection rate so low while also avoiding full national lockdowns, down largely to open data and detailed healthcare information.
"All these measures are so incredibly dependent on the context where you work with them, on the legal possibilities you have and the structures and traditions of your population, the political system you have in place," Dr. Tegnell said. "I think we have to be very careful about trying to use methods from other countries, especially when we don't have an in-depth analysis of why they worked."
A new strain of the COVID-19 virus been discovered in the U.K., which Prime Minister Boris Johnson claims may be up to 70 percent more transmissible, meaning cases and deaths have risen to record numbers in the country and left health services on the verge of being overwhelmed.
England is now under a third national lockdown as it races against the clock to vaccinate people. Will these mutations in the virus require a change of thinking?
Dr. Tegnell said: "I don't think there is a strategy that needs to change with this new variant, there is much we don't know about it yet. How much more transmissible it really is remains to be seen over time. Of course, the strategies we have in place need to be even more effective than they are today if we get something that is more transmissible. But so far this variant has been discovered in a number of different countries but has not spread in those countries at least not in a way we can see."
While Dr. Tegnell has become a hero for those fighting against national lockdowns, for others, such as the U.K.'s Independent SAGE group of scientists, Sweden's approach has been criticized for its lack of effectiveness.
Cases and deaths in Sweden from the virus continue to rise. Although Tegnell may have favored a different approach, he still shares the same goals as all other countries, saving lives and protecting the public. The next few weeks and months will determine whether his approach was a brave act of statecraft or a harmful outlier. For now, he thinks it's too early to say.