A party battle may be brewing regarding the future of Ukrainian financial and security assistance depending on how the midterm elections shake out.
House Minority Leader Kevin McCarthy, who could be elevated to House speaker if his party takes the majority in next month's midterm elections, told Punchbowl News on Tuesday that legislators are "not going to write a blank check" for Ukraine due to domestic economic issues and the possibility of a recession.
Over $60 billion in economic and security assistance to Ukraine has been approved since February.
"And then there's the things [the Biden administration] is not doing domestically," McCarthy said. "Not doing the border and people begin to weigh that. Ukraine is important, but at the same time it can't be the only thing they do and it can't be a blank check."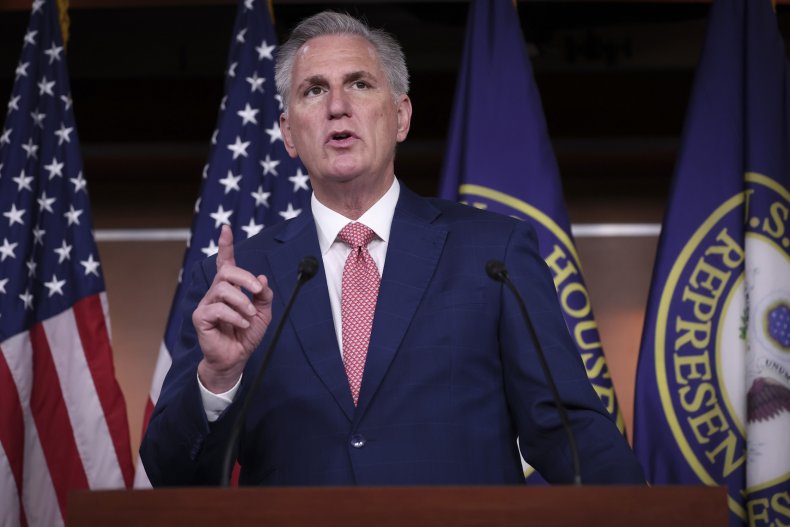 Other House Republicans have chimed in on McCarthy's comments and what could potentially affect Ukraine after the midterms.
Nebraska Representative Don Bacon told Axios that he sees a shift in bipartisan consensus on Ukraine "a little bit on social media, you see it with some of our members." He doesn't think those views are shared by the majority of House Republicans, however.
"When people are seeing a 13-percent increase in grocery prices; energy, utility bills doubling...if you're a border community and you're being overrun by migrants and fentanyl, Ukraine is the furthest thing from your mind," North Dakota Representative Kelly Armstrong told Axios.
Senate Minority Leader Mitch McConnell, on the other hand, has encouraged continued funding for Ukraine.
He voted for a $12.3 billion economic and security package that was approved by Congress in September—a package that McCarthy and many of his GOP House colleagues voted against.
McConnell said on September 29 on the Senate floor that assistance would dissuade Putin from threatening other worldwide targets, while also deterring "other authoritarian regimes like China."
"The Ukrainians have made remarkable progress in pushing back Russia's unhinged aggression," McConnell said. "But the fight is far from over. They need more of the cutting-edge weapons that are helping them turn the tide.
"Assisting Ukraine is not some feel-good symbolic gesture. It is literally an investment in our own national security and that of our allies."
It is a stance supported by Republican Representatives Adam Kinzinger, Liz Cheney and Brian Fitzpatrick—the latter of whom said it's not "about a blank check" but "what Ukraine needs."
Cheney called McCarthy's blocking of military aid "disgraceful."
"This is a historical thing where war fatigue sets in, and this is the big risk," Fitzpatrick told Politico. "In fact, it's something that Vladimir Putin banks on, that it's no longer going to capture the front page of the newspaper...and people are going to forget about it and the genocide will be occurring in the darkness. We're trying to prevent that."
Kinzinger told CNN on Wednesday that McCarthy's comments only help Russia's cause.
"You're giving aid and comfort to the enemy intentionally or unintentionally," said Kinzinger, who is not running for reelection. "There are a lot of people, frankly in the world, that are worrying about what a Republican majority could do."
Ukrainian officials expressed "shock" regarding McCarthy's comments.
"Just a few weeks ago, our delegation visited the US and had a meeting with Mr McCarthy," David Arakhamia, head of Ukrainian President Volodymyr Zelensky's party in parliament, told the Financial Times. "We were assured that bipartisan support of Ukraine in its war with Russia will remain a top priority even if they win in the elections."
Hans Noel, an associate professor at Georgetown University's Department of Government, told Newsweek that Ukrainian support "is broadly popular" across the U.S. and "not good national politics to take a bold stance against it.
"Since those who oppose U.S. spending are likely concentrated in Republican districts, it may be good politics for many Republicans, particularly many in the House," he said. "That may explain the House-Senate divide on this. It also implies that the Republican presidential candidate in 2024 may not want to have to defend 'losing Ukraine,' assuming that candidate is not Donald Trump."
He also took umbrage with McCarthy's "blank check" comment.
"The amounts are clearly specified," Noel said. "The suggestion is that the U.S. will just keep giving money again and again. But those bills need to move through the House, and McCarthy would now control that agenda.
"So McCarthy and other anti-Ukraine members could slow future aid to avoid having to vote at all on it, which allows them to honor their promise to not give a blank check while still not taking a high-profile, collective decision against it. They could even give in at a much lower level of support."
McCarthy's statements are supported by perhaps an unlikely ally: the U.S. Libertarian Party.
"Libertarians are really not in favor of foreign aid in general....We shouldn't be the policemen of the world," Angela McArdle, national chair of the party, told Newsweek. "And we really want to see peaceful negotiations. I think McCarthy is really on the right track."
Current inflation and national debt supports the Libertarian Party's position.
But while she agreed with McCarthy's remark about blank checks, McArdle is skeptical due to political gamesmanship about the GOP following through if it takes over the House majority.
"I tend to think that statements like that are a flashy promise made before the midterms," she added.
Newsweek reached out to McCarthy and McConnell for comment.