Sweet Clip Proves Why These Two Cats Can Never Be Separated: 'Soul Mates'
A couple of cats named Puffin and Binx cuddling in a video have melted hearts all over the internet.
In the clip, shared on TikTok on Tuesday by the cats' owner, under the username Puffinandbinx, the two cats can be seen lying down next to each other, hugging, while looking at one another with loving eyes.
The heartwarming post, comes with a caption that says: "If anything ever happens to me do NOT separate my cats or put them in different homes. I will come back and haunt you like a poltergeist." Followed by "I'm serious," and a hashtag that says: "soul mates."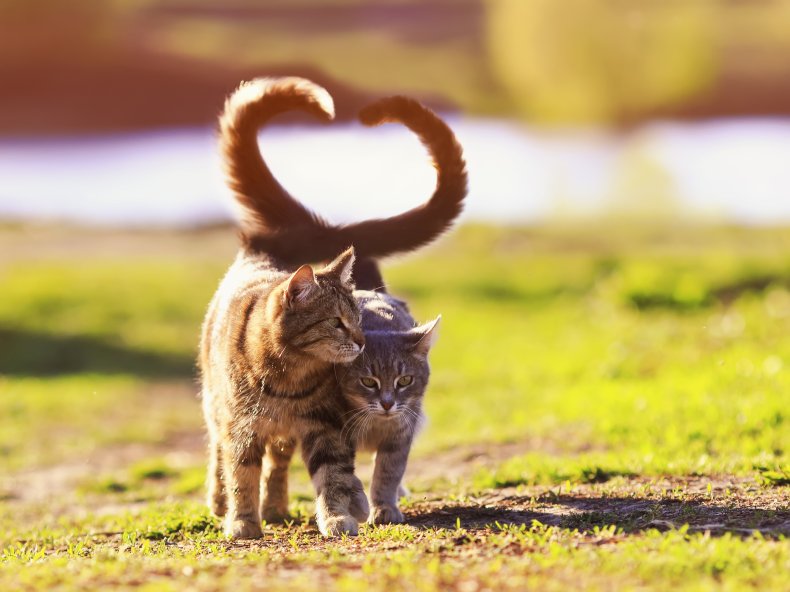 According to VCA Animal Hospitals, even though cats may be considered as aloof, they are basically social creatures, and bonded pairs reflect the natural instinct of felines to form a pack.
The website states: "Like their ancestors in the wild, cats thrive in a pack where there is a stable social structure that provides comfort and security. Interestingly, the bond doesn't have to be familial. Bonded pairs can be siblings, but don't have to be related at all."
The video has quickly gained popularity across the platform, receiving over 1.1 million views and 363,700 likes so far.
One user, aubrey commented: "I'm always terrified someone won't listen at shelters with bonded cats." And jul said: "One of my bonded cats went missing. it's so sad seeing how the other is doing." Ratletina wrote: "They [are] married."
Jessicaeb3 said: "I'm so in love with their love." And Lyranth added: "Oh I noticed Siamese male cats are very maternal [I don't know] why but I have one similar to yours he is like the mom to my other 2 cats. they love him."
Another user, Dana, commented: "Oh to be a cat cuddling with another cat." And kegan said: "My family adopted bonded cats, one of the best decisions ever." Sarah_adhd added: "This made me cry."
Nails Pressed by Claire wrote: "My cat had a brother, they were surrendered together at 5 yrs old, someone adopted them both then GAVE JUST MY CAT BACKK. then I adopted him." And Izzy said: "I want what they have."
Another user, foxchow400, wrote: "It's gonna be hard to separate em if anyone even tries." And marian crespo said: "Hahaha I wrote at least 3 wills to avoid separation of my two boys and now they are fighting most of the time..." ccc added: "They [definitely] were together in their past life."
Newsweek reached out to Puffinandbinx for comment. We could not verify the details of the case.
Do you have funny and adorable videos or pictures of your pet you want to share? Send them to life@newsweek.com with some details about your best friend and they could appear in our Pet of the Week lineup.