Who Was Jamie Cail? Police Probe Death of Former U.S. Swimming Champion
Mystery surrounds the sudden death of a former swimming champion, who was found unresponsive at her home, sparking a criminal investigation.
Jamie Cail, who was 42, was reportedly found unconscious by her boyfriend when he returned home from a bar on Tuesday night. Cail's partner, whose name has not been released, told investigators that he found her lying on the floor of their home in St. John, in the U.S. Virgin Islands, just after midnight. A friend helped him get her into a car and she was rushed to a clinic but medics were unable to save Cail and she was declared dead on arrival, police said.
Very few details are known about Cail's death, but the U.S. Virgin Islands Police Department has released a statement revealing that the tragedy is being probed as a potential crime.
"This case is presently under investigation by the Criminal Investigation Bureau," the statement said.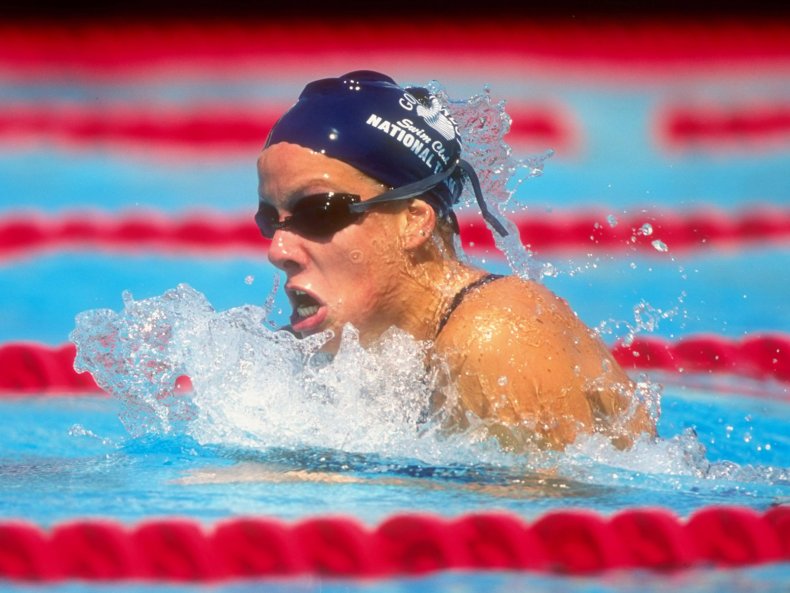 The statement revealed: "On Tuesday, February 21, 2023, at approximately 2:39 a.m., detectives were notified of a dead on arrival (D.O.A) case at the Myrah Keating-Smith Clinic on St. John.
"On Tuesday, February 21, 2023, at approximately 12:08 a.m., a male left a local bar to check on his girlfriend at their residence. Upon his arrival, he discovered his girlfriend on the floor. With assistance from a friend, the male was able to get the female to a nearby vehicle and transported the female to the Myrah Keating-Smith Clinic. Once at the clinic, CPR was rendered and 911 was notified, however, the female succumbed to her ailment. The female was identified by her boyfriend as 42-year-old, Ms. Jamie Cail from New Hampshire."
It remains unclear what "ailment" Cail was suffering from. Newsweek has reached out to the Virgin Islands Police Department for further information and comment.
Detectives have urged anyone with information about the case to contact the Criminal Investigations Bureau or call Crime Stoppers at 1 (800) 222-TIPS.
A friend, who was not named, told local news channel WMUR News 9: "She was just a very beautiful person. She had a huge heart. She was really loving and kind and well-loved and popular on the island and everybody knows her. Everyone from the, you know, older generational, local families to the younger people, everybody loved her."
The record-holding swimmer had worked at a local coffee shop, her friend added.
Cail, originally from Claremont, New Hampshire, was a swimming prodigy in her youth.
She was a member of the team that won gold in the 800 free relay at the 1997 Pan Pacific Championships when she was just a teenager, according to swimming website swimswam.com. Cail also won a silver medal at the 1998-1999 FINA Swimming World Cup in Brazil in the 800 free relay as a member of the United States Swimming National B Team.
The website adds: "Cail swam for the legendary Bolles School in Jacksonville, Florida, where she remains the team record holder in the 200 yard fly, 400 yard IM (individual medley), 200 meter IM, and 400 meter IM in the 15-16 age group. In the 1996-1997 [season], with Bolles, [she] was on ten Top 16 lists published by United States Swimming.
"She would eventually move to Huntington Beach, California to train with the Golden West Swim Club where she won California High School State Championships in the 200 IM and 500 free."
Cail swam for the University of South Carolina, according to some reports, while other reports said she competed for the University of Maine.
Her death comes just months after the sporting world was left reeling from the death another star athlete. Basketball ace Tiffany Jackson died from breast cancer aged 37 back in October.
In September professional surfer and skateboarder Kalani David died aged just 24 when he suffered a seizure in the sea off the coast of Costa Rica.
And kickboxing champion Frederic Sinistra, 41, known professionally as 'The Undertaker,' died from COVID-19 complications in late 2021.