Swimmer Lia Thomas Felt Weaker, Slower in Competition After Transitioning
Transgender swimmer Lia Thomas hit back at her critics for alleging she gained an unfair advantage by competing on the women's swim team after transitioning from male to female, saying she felt noticeably weaker and slower in the water after beginning the transition process.
In her first TV interview since competing in and winning the NCAA women's swimming championships, Thomas slammed those who opposed her eligibility and argued that she had a biological advantage over her competitors.
Describing the transitioning process to ABC News' Juju Chang on Tuesday, Thomas said, "The mental and emotional changes actually happened very quickly. I was feeling a lot better mentally. I was less depressed, and I lost muscle mass and I became a lot weaker and a lot, a lot slower in the water."
Thomas was the subject of widespread controversy in the world of college athletics earlier this year after she won the 500-yard freestyle and became the first transgender athlete to win a Division I national championship in any sport.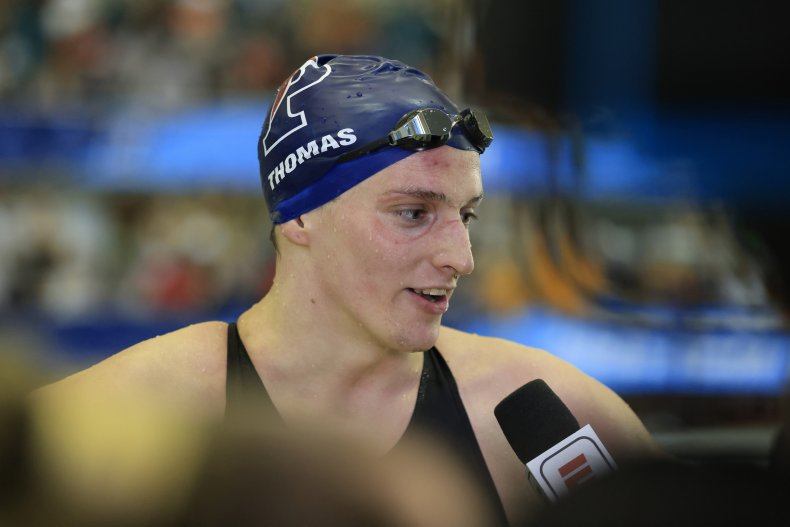 Despite receiving support from some of her rivals and more than 300 NCAA, Team USA and Olympic swimmers, Thomas faced numerous attacks from conservatives, like GOP Senator Marsha Blackburn and Florida Governor Ron DeSantis, who refused to recognize the University of Pennsylvania swimmer as the winner in this year's championships.
"I knew there would be scrutiny against me if I competed as a woman," Thomas said. "I was prepared for that, but I also don't need anybody's permission to be myself and to do the sport that I love."
The 22-year-old had previously competed on the University of Pennsylvania's men's team for three years. As a sophomore in 2019, she finished second in the men's 500, 1,000 and 1,650 freestyles at the Ivy League championships.
"Sophomore year, where I had my best times competing with the men, I was miserable. So having that be lifted is incredibly relieving and allows me to put my all into training and to racing," Thomas said. "Trans people don't transition for athletics. We transition to be happy and authentic and our true selves."
"Transitioning to get an advantage is not something that ever factors into our decisions," she added.
A Newsweek analysis of Thomas' swim times suggests that while she was the fastest swimmer in the 500-yard freestyle this season, that time would not have made her the fastest in nine of the 10 most recent seasons. Compared with previous years, her fastest time would have only allowed her to place second.
In the interview, Thomas also criticized some of her teammates, who signed an anonymous letter calling her place on the team a "threat" to women's sports. Thomas argued that those 16 swimmers cannot truly support her decision to transition if they are also opposed to her ability to compete.
"You can't go halfway and be, like, 'I support trans women and trans people, but only to a certain point,'" Thomas said. "If you support trans women as women, and they've met all the NCAA requirements, then I don't know if you can really say something like that. Trans women are not a threat to women's sports."
Thomas also pointed to variations among cisgender female athletes, saying that while she wasn't a medical expert, swimmers who are born female often differ in height, muscular build and testosterone levels.
"Should that then also disqualify them?" she asked.