Swimsuit Mocked Online for Very Unfortunate Floral Placement
With COVID restrictions lifting across the country there's never been a better time to go on vacation or head to your local pool.
But if you're out shopping for a new swimsuit, you may want to think carefully about the design after this one-piece was mocked for a very unfortunate floral placement.
Twitter-user That Mom Tho shared a snap online, showing a woman modelling a one-shoulder swimming costume.
The post, shared on May 16, soon blew up on the site after everyone pointed out the bloom positioned on the chest made it look as if the model was exposing herself.
"The fashion industry needs people like me so when four people approve this design I can be in the corner whispering 'it looks like her t***y is out,'" she wrote.
"They apparently asked no one!!" she added.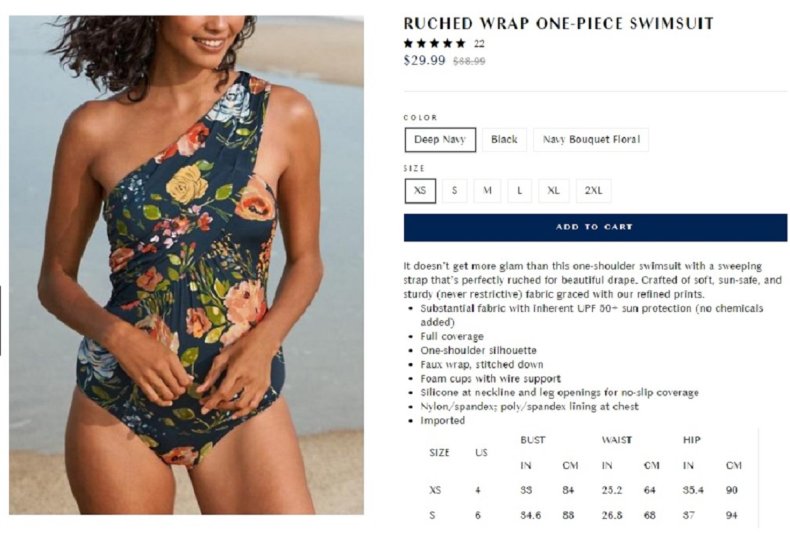 It emerged the swimwear was from brand Lanaya Swim, and is called the "ruched wrap one-piece swimsuit."
It costs $29.99, down from $38.99, and also comes in black and navy bouquet floral in sizes XS to 2XL.
The photo of the swimsuit soon amassed thousands of likes as people admitted they thought the same thing.
Replying on Twitter, Deanna Raybourn commented: "OH MY GOD THANK YOU. It was my first thought and I felt bad about myself for a millisecond."
Wantonwhoreindc agreed, saying: "I did a double take when I saw the photo even before I read your tweet... glad I'm not the only one that thought that."
Also doing a double take, Sam replied: "I was scrolling and then my thumb slammed the brakes. My brain definitely flashed "T***Y" for a millisecond or two."
Conducting his own experiment, Harris revealed: "Confirmed. Did the 'what's the first thing you see?' test with the 12yo, and she said 'ayyy! Is that her nipple?!'."
Wait_wtf admitted: "I agree, because at first glance I thought her whole left boob was out."
McErin commented: "That was the first thing that caught my eye. You should be quality control!"
TurduckenWrath, mother of dragons commented: "Honest to god, I thought her t***y was out and that's why this was on twitter."
And suggesting it can be an industry-wide issue, Juju Bee added: "When I was a dressmaker I was always extra careful when someone brought me a fabric with big flowers on it so this sort of thing wouldn't happen. I cringe when I see it. TBF, this could happen randomly during production, but they didn't have to use this photo!"
A.M.H. joked: "I bet it's listed as 'Full Coverage' too... oh the irony."
Echoing calls for quality control, Brigitte Herron wrote: "I also thought it was her t***y at first glance how did no one notice before releasing."
Newsweek has reached out to That Mom Tho and Lanaya Swim for comment.