'Save Switzerland' and 'Save Denmark' Twitter Accounts Mock Plans to Take Refugee Valuables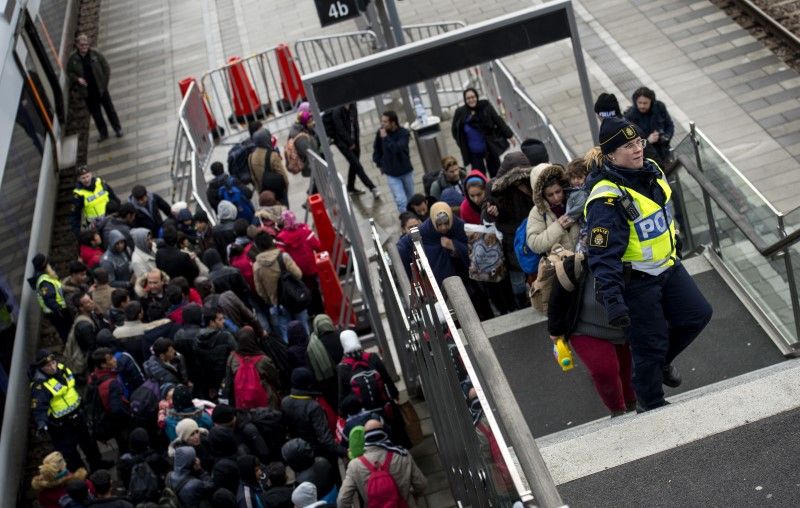 Three Twitter accounts sprung up last week to spread word about the tough times in Denmark, Switzerland and the Czech Republic that are forcing the governments of those countries to take cash and valuables from newly-arrived refugees to fund their stay.
Only part of that's a joke.
These European nations are, in fact confiscating what little valuables refugees bring with them. But the Twitter accounts—Save Switzerland, Save Denmark and Save Czech Republic—are parodies, created to highlight the absurdity of the whole thing, given how wealthy these three countries are, especially compared to the relative poverty of most of the refugees.
When contacted by Newsweek, the founders of Save Switzerland and Save Denmark responded in character. The accounts are run by different people; both first tweeted dire warnings of the non-existent "devastation" and "plight" in their countries on Friday. The accounts have several hundred followers, although the numbers are slowly growing.
"Everyone assumes that Denmark, like other Scandinavian countries, is rich. And generous. Only one of these has turned out to be correct," Save Denmark told Newsweek on Twitter. "Sweden has taken in nearly ten times as many refugees as we have. And haven't made a penny off any of them! Haha! Silly Sweden!"
"It should be obvious that Denmark has implemented the law to overcome the crushing poverty that comes with having the 17th highest GDP on earth," adds Save Denmark. "Sweden, at number 16, will never understand how it feels to struggle."
Last Tuesday, the Danish government agreed on proposals that said refugees who arrive with more than 10,000 Kroner ($1,450) in cash will have to use money above the 10,000 Kroner threshold to pay for their stay. Legally, officials in the country can search refugees upon arrival.The United Nations criticized the Danish plan, calling it "worrisome" and said it "could fuel fear, xenophobia and similar restrictions that would reduce—rather than expand—the asylum space globally and put refugees in need at life-threatening risks." But at least, unlike previous plans by the Danish government, they won't have to give up their wedding rings.
Switzerland and Denmark have some of the highest GDPs in the world and score highly across quality of life indicators such as work-life balance, jobs and health, according to the OECD Better Life Index. Around 13,000 refugees arrived in Denmark last year, while Switzerland received around 30,000 people. Less than 2,000 refugees and migrants arrived in the Czech Republic.
The average life expectancy in Denmark is 80 years and in Switzerland it's nearly 83. Life expectancy for people living in Syria—the originating home of the largest group of refugees who have entered Europe in the past year—dropped from 79.5 years in 2010 to 55.7 years in 2014 due to the country's ongoing civil war. People in Iraq will live an average of 69 years, while people in Afghanistan, another large refugee group, will live for around 60 years.
The creator of Save Switzerland told Newsweek via email that his occupation "is only to survive and tell the world of the plight of Switzerland and our desperate need at this dramatic time."
"We have been criticised for taking cash and valuables from refugees, but it is necessary: they are so rich, and we have nothing!" says Save Switzerland.
Swiss law requires refugees to declare their possessions on arrival and allows authorities seize cash or valuables worth above $1,000. Unlike in Denmark, refugees in Switzerland are not usually searched for belongings or cash. In 2015, Switzerland took around $200,000 worth of belongings from around 1,000 refugees, The Washington Post reports. If a refugee leaves the country voluntarily within seven months, they will get their money back, according to a spokesperson from the Swiss immigration agency.
The three Twitter accounts speak to each other and engage in a perverse competition, if only to further highlight how ridiculous it is that their governments are searching refugees and taking valuables away from people who have very little. "The 'Save Denmark' and 'Save Czech Republic' campaigns...represent countries in less need than poor Switzerland," Save Switzerland tells Newsweek.
In the first 18 days of 2016, more than 30,000 refugees and migrants have arrived in Europe by sea, an enormous increase from the same period last year, according to the U.N. refugee agency (UNHCR). More than half of the new arrivals are from Syria and around one-quarter are from Afghanistan. Children make up more than one-third of those arrivals, according to UNHCR.
Despite speaking to Newsweek in character, Save Switzerland did provide a serious answer when asked what, if anything, can be achieved with a humorous Twitter account: "If you don't laugh, you cry at the impossible meanness of what's going on in Europe today and man's inhumanity to man."