The Sydney Opera House lit up on Saturday night local time to honor those affected and fighting the bushfires, as wildfires continue to cause problems for firefighters.
According to News.com.au, the display features images from photographers who have been capturing the fires over the past three months. Images show firefighters in action, signs with messages of support and people embracing.
On the Syndey Opera House's Twitter account, it says: "Tonight, we are illuminating the Sydney Opera House sails to show our support for everyone affected by the Australian bushfires. We want to send a message of hope and strength, and importantly to thank the emergency services and volunteers for their incredible efforts and courage."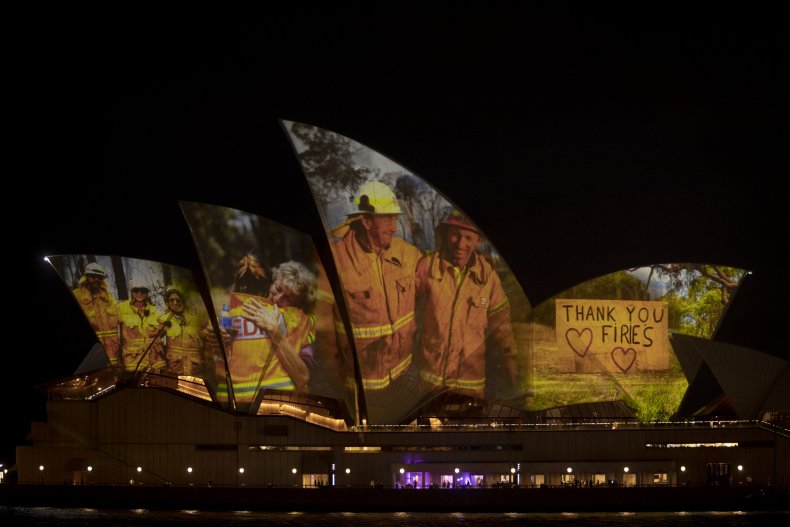 Firefighters are continuing their battle in New South Wales as "multiple fires" are burning to the north of Adaminaby in the Bugtown area. According to New South Wales Rural Fire Service (NSW RFS), this is the result of two fires merging with, resulting in a wildfire greater than 28,000 hectares in size. It adjoins the Dunns Road fire to the west.
According to the "Watch and Act" alert, the current situation is that fire activity is increasing in the Shannons Flat Yaouk area and is moving north towards assets, as well as threatening to cross the Yaouk and Bobeyan Roads. The fire is considered out of control and not contained, with building impact assessment teams being deployed to access the damage to properties.
There is another alert for a bush fire in Peak View, Jerangle, Jerangle Village, Numeralla and Countegany areas. The fire is more than 31,000 hectares in size and is out of control, according to NSW RFS. According to the alert, the fire is adjoined to the Badja Forest Road fire to the east, with properties in the Numeralla area potentially at risk of danger. The fire is also producing a lot of smoke making local conditions "difficult".
In Victoria, which has suffered poor air quality in some areas, an emergency warning has been issued for Buckland, Dandongadale and Mount Buffalo. According to Vic Emergency, a bushfire south of Goldie Spur is out of control and has been burning for a number of days. Due to a change to a northeasterly direction, it is now moving downhill into Buckland Valley.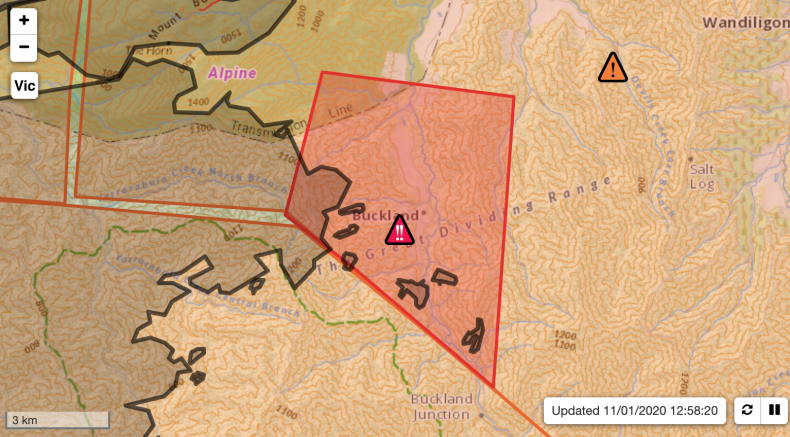 At the time of the alert, Vic Emergency advised that leaving was the safest option for residents before conditions became too dangerous. For those who have not been able to leave, the government service offers the following advice:
Close all exterior doors, windows and vents and turn off cooling systems
Residents must take shelter before the fire arrives—the extreme heat is likely to kill well before the flames
Shelter in a room that has two exits, such as a door or window including one directly to the outside—it is important to be able to see outside to keep a watchful eye on the fire conditions
If a home catches on fire and the conditions inside become unbearable, people need to get out and go to an area that has already been burnt
For any readers that would like to support the efforts in Australia against the wildfires, there are several ways in which they can do so.