Australia Wildfires: How to Help People Fleeing from Bushfires
Bushfires in Australia are predicted to worsen as fire spread forecasts anticipate warmer temperatures over the weekend.
According to the New South Wales Rural Fire Service (NWS RFS), a total fire ban is now in place in the state. This means that no fire may be lit in the open and all fire permits are suspended. The Greater Sydney Region currently has a "severe" fire danger alert, with Illawarra, Shoalhaven, the Far South Coast, Monaro Alpine and others on an "extreme" fire danger alert.
Many people, wildlife and industries have been affected by these wildfires. It is thought that nearly 500 million birds, reptiles and mammals are likely to have perished in New South Wales alone, according to Sydney University ecologist Chris Dickman. The New York Times also reports that more than 1,000 homes have been destroyed.
Newsweek has curated a list of ways that readers can help those affected by the bushfires.
Help preserve the koala species
Koalas are heading towards extinction in New South Wales and southeast Queensland as early as 2050, according to the WWF, and with the bushfires, this is set to accelerate.
Fires are burning across critical koala habitat and a large number of koalas are believed to have perished across key sites such as Port Macquarie and the Gold Coast Hinterland. Many others will have been left homeless and likely suffering from smoke inhalation or burns, according to the WWF, as well as starvation.
Readers can donate to the WWF's efforts to help the species as part of its Towards Two Billion Trees Campaign.
The Port Macquarie Koala Hospital, which aims to distribute automatic drinking stations in the burnt areas to help in koala and wildlife survival, is also accepting donations via GoFundMe to share with other wildlife organisations in the fire affected regions across NSW.
Host people displaced by wildfires
Airbnb hosts are opening up their homes for free to those affected by the Australian wildfires through its Open Homes platform.
Areas that are offering housing during this disaster include Canberra through to Sydney, New South Wales, and the areas around Echuca, Wangaratta and Melbourne, Victoria. These stays are always free for guests through the Open Homes community.
For those readers in the U.S., donations can be made on the Airbnb website to help fund stays.
Supporting evacuation efforts
The Australian Red Cross is supporting thousands of people in evacuations centers in Victoria and NSW. Donations made to the charity go towards
recovery programs and emergency assistance in communities affected by disasters like bushfires, heat, floods cyclones and other emergencies
helping people and communities prepare for disasters and protect what matters most
training, equipment, logistics and coordination of our volunteers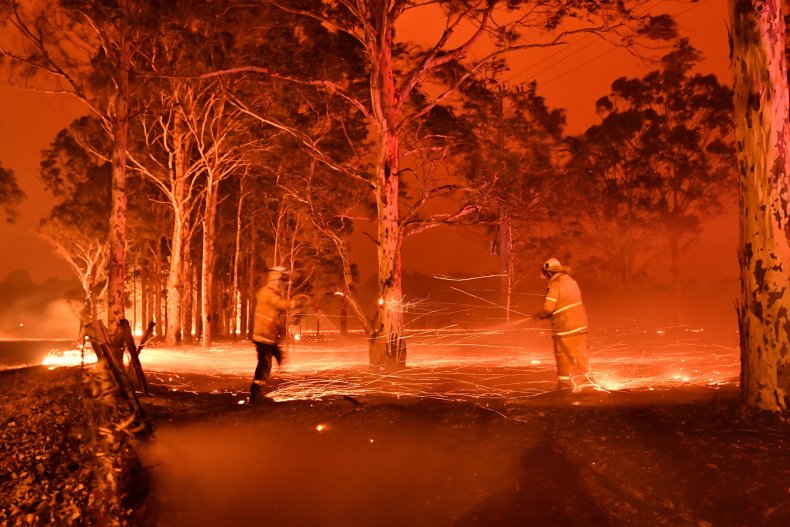 Donations can be made via its website.
The Red Cross also has a list of volunteer roles on its website (redcross.org.au/volunteering) but would be helpers need to apply and complete training before they can volunteer for emergency response.
The St Vincent De Paul Society is running an appeal to help people affected rebuild their lives with food, clothing, furniture, other essentials, and funds to pay bills. Readers can donate at any Vinnies store or visit the website here.
Givit specializes in goods, where the exact items people need are listed via charities. The charity is currently running two campaigns supporting affected areas. GoFundMe pages have also been set up for the Victorian communities of Cudgewa and Mallacoota.
Help and support the firefighters
Donations to the NSW RFS directly benefit the volunteer firefighters on the frontline. Readers can also donate to the families of Geoffrey Keaton and Andrew O'Dwyer, who were killed during the Green Wattle Creek fire, and Samuel McPaul, who was killed at the Green Valley fire, here.
People can donate to the Victoria firefighters via the state's Country Fire Association here.