Synagogue Shooting Leaves Seven Dead, Three Wounded in Jerusalem
Seven people were killed Friday in Jerusalem after a Palestinian gunman opened fire on Israelis as they exited a synagogue on the Jewish Sabbath, officials said.
The attack at first killed five people and injured five others, including an elderly woman and a teenage boy. The Times of Israel later reported that two of the injured had died, bringing the death total to seven.
It was one of the deadliest attacks in Israel in years, the Associated Press said, and came amid rising tensions and violence between Palestinians and Israelis, which both consider Jerusalem as their capital city.
The shooting occurred a day after nine Palestinians were killed during an Israeli raid on a Palestinian refugee camp in the West Bank. The West Bank has been subject to ongoing raids from the Israeli military in an "anti-terrorism offensive" that began last year, according to the BBC.
After the Israeli raid Thursday, Palestinians in Gaza fired missiles at Israel. Israeli forces then carried out airstrikes.
Israeli news site Haaretz reported that the gunman allegedly waited outside the synagogue until worshippers exited. He then fired at them. The article said the gunman was a resident of East Jerusalem.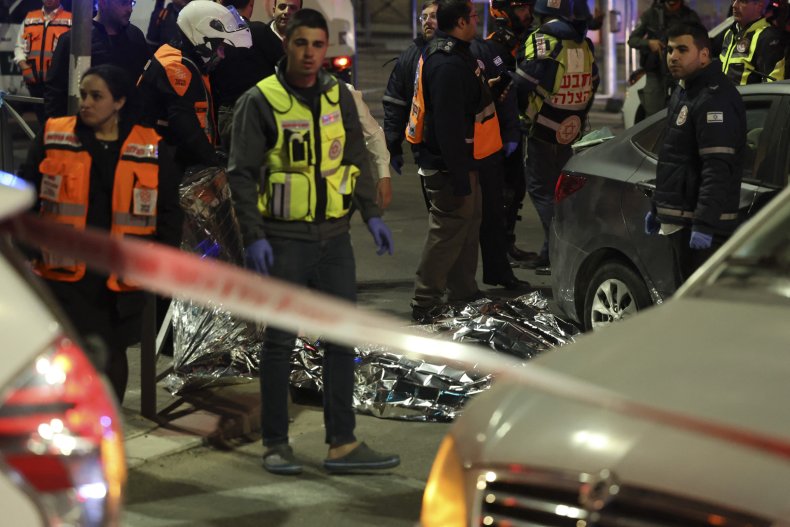 The Times of Israel reported that police shot and killed the attacker. It said the gunman arrived by car, opened fire and then fled the scene. He encountered law enforcement during his escape, and when he reportedly fired at them, police killed him. A handgun was seized from the gunman.
The attack occurred on International Holocaust Remembrance Day, in which the members of the United Nations are urged to remember the 6 million Jewish people who were murdered during the Holocaust.
According to the Haaretz article, police were still searching the area to make sure there weren't other suspects on the loose.
Hours before the attack, Israeli Minister of Defense Yoav Galant tweeted that he hoped to strengthen the nation's police forces. He said that the country's special forces "yesterday thwarted a terrorist cell that planned to carry out an attack against Israeli citizens in the immediate time frame," according to an English translation.
Emanuel Fabian, a military correspondent for the Times of Israel, tweeted that Galant was heading back to Israel after hearing news of the attack. Galant had been visiting the United States for personal reasons at the time of the attack.
After the shooting, the AP reported that Palestinians celebrated the attack, passing out sweets and honking car horns. Other Palestinians marched in protest against the Israeli attack in the West Bank.
Update 1/27/23, 4:11 p.m. ET: This article was updated with additional information.