Pyro, the street name of a new drug that is stronger than the high-risk narcotic fentanyl, has been circulating in Colorado and recently reportedly killed at least one person in Denver.
The N-pyrrolidino Etonitazene drug is a high-potency synthetic opioid that is between 1,000 and 1,500 times stronger than morphine, while fentanyl is only around 100 times stronger than morphine, local news station KKCO reported on Thursday.
The Mesa County Sheriff's Office said in an alert on Thursday that the drug, in pill form, appears to be light blue in color with darker blue flakes scattered throughout. One side of the pill has the letter "M" and the other side has the number 30.
"Within a month, it will make its way down the I-70 corridor," said Lieutenant Henry Stoffel of the Mesa County Sheriff's Office as local police expressed concern over the drug's potential impact on Grand Junction, according to the news station.
The police urged residents to immediately contact law enforcement if they come into contact with anything resembling the drug.
Meanwhile, narcotics investigators with the Denver Police Department said they have so far found "minimal amounts" of the drug in Denver.
"Our narcotics investigators tell us anecdotally that minimal amounts of this synthetic opioid have been found in Denver thus far, however one recovery was related to an overdose death that is under investigation, so it's certainly a concern for us," a spokesperson for the Denver Police Department told Newsweek in an email on Friday.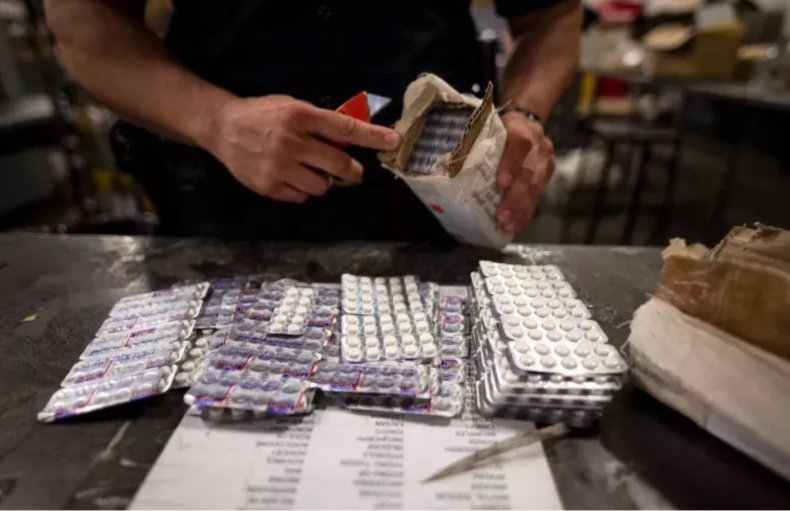 Like other opioid overdoses, a Pyro overdose causes the potentially fatal symptom of respiratory depression, according to KKCO. However, the new drug is responsive to Naloxone, which is used to treat narcotic overdoses in emergency situations.
The Center for Forensic Science Research & Education (CFSRE) found that the new drug hasn't appeared in any past medical literature or patents, and that it is likely developed outside the United States, independent from the country's pharmaceutical industry, KKCO reported.
An advocate of evidence-based drug policies in the U.K., Dr. Judith Yates noted that the drug is possibly coming from the dark web and might be produced in China, KKCO added. Three men in Birmingham, United Kingdom, have died of N-pyrrolidino overdoses.
A report by the CFSRE mentioned in April that N-pyrrolidino Etonitazene was detected in 21 overdose fatalities in Canada and the U.S., including 17 overdoses in nine different U.S. states: Colorado, New Jersey, New York, Pennsylvania, Kentucky, Minnesota, Tennessee, West Virginia and Florida. The deaths appeared to have low blood concentrations of the drug.
Meanwhile, massive amounts of fentanyl have been recently seized, according to U.S. border officials. In one instance on Monday, $3 million worth of fentanyl was discovered near the U.S.-Mexico border in California after officers found that it was hidden in the spare tire and gas tank of a vehicle.
In a similar incident earlier this month, over $1 million worth of fentanyl was found hidden in different food products, including flour bags and coffee cans, according to Customs and Border Protection. The drug was found at the Otay Mesa Port of Entry along the U.S.-Mexico border in California.
Newsweek reached out to CFSRE and the Mesa County Sheriff's Office for comments and additional information.
Update 7/22/2022, 6:10 p.m. ET: This article has been updated to include comments from the Denver Police Department.