Amnesty Says Syria Is Defying Ban on Barrel Bombs, Still Using Them in Aleppo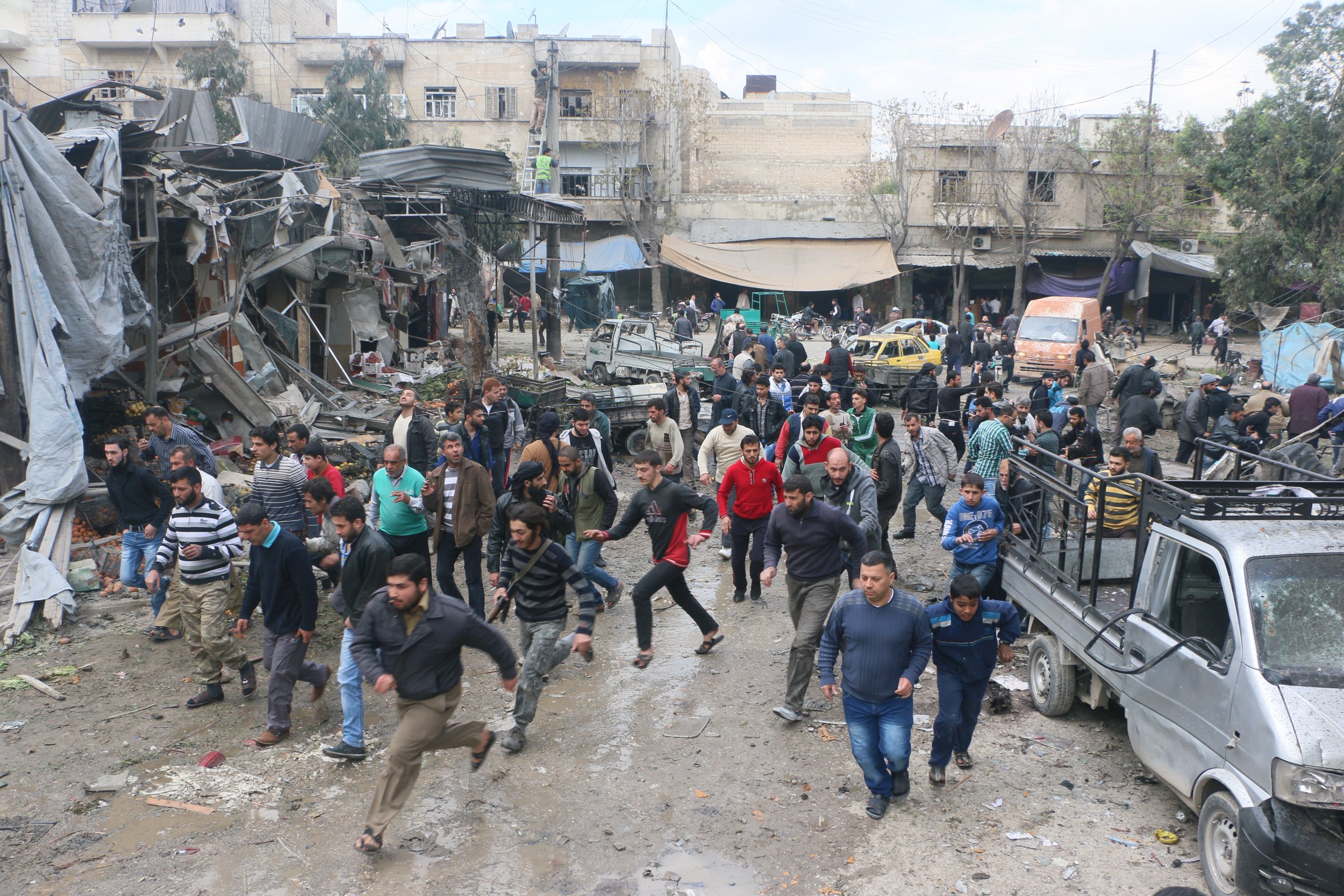 Residents in the Syrian city of Aleppo have been continually hit with barrel bombs by the country's government a year after the weapons were banned by the United Nations, according to a new report from human rights group Amnesty International.
Aleppo's residents have been bombed and killed in their homes, hospitals, schools, markets and places of worship, while living in a perpetual humanitarian crisis, according to the report. The majority of the attacks have been the result of barrel bombs, improvised explosive devices (IEDs) constructed by filling oil barrels, fuel tanks or gas cylinders with metal shrapnel, fuel or explosives that are dropped from helicopters.
"Based on this research, our conclusions are clear and incontrovertible: civilians in Aleppo are suffering unthinkable atrocities," says the report, titled Death Everywhere. "In some cases, the actions of the Syrian government amounted to crimes against humanity."
Between January 2014 and March 2015, barrel bomb attacks killed more than 3,124 civilians and 35 fighters, according to Amnesty. The group believes the Syrian government violated the United Nations Security Council resolution 2139, which was adopted unanimously in 2014 to ban barrel bombs. The resolution also demanded the delivery of humanitarian assistance, including food and medicine, and the evacuation of Syrian residents.
Amnesty said it contacted the Syrian government with the findings detailed in the report but did not hear a response.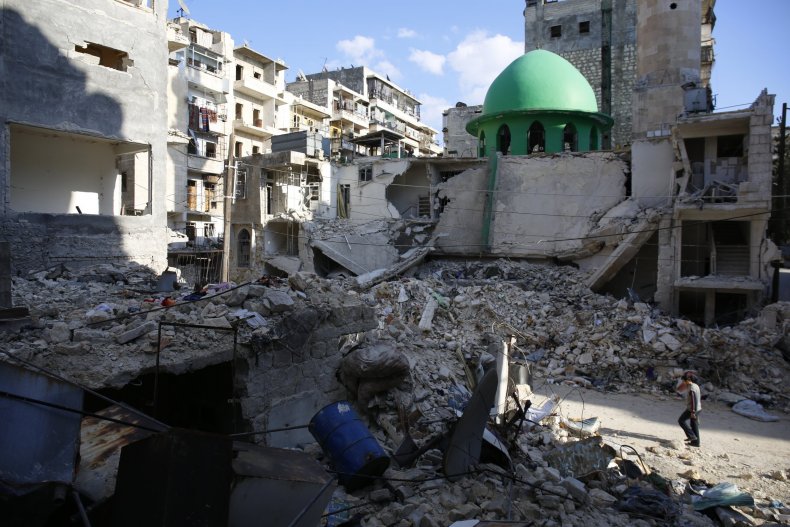 Barrel bomb attacks are just one aspect of an ongoing dire humanitarian situation for Aleppo's population. The report said they have also faced indiscriminate attacks by opposition groups in Syria—one of the weapons of choice for opposition groups is the "hell cannon," an improvised rocket fitted with a gas canister—as well as kidnapping, forced disappearances and horrendous living conditions made worse by extremely limited access to food, water and medicine.
"They've been targeting the heart of civilian life," said Nicolette Boehland, the report's primary author and researcher for Amnesty International.
Syrian President Bashar al-Assad has denied using barrel bombs on his citizens. In February, Assad spoke with the BBC's Jeremy Bowen and told him claims his government conducted indiscriminate barrel bomb attacks on civilians was a "childish story that keeps getting repeated in the West."
"There are no barrel bombs. We don't have barrels," said Assad.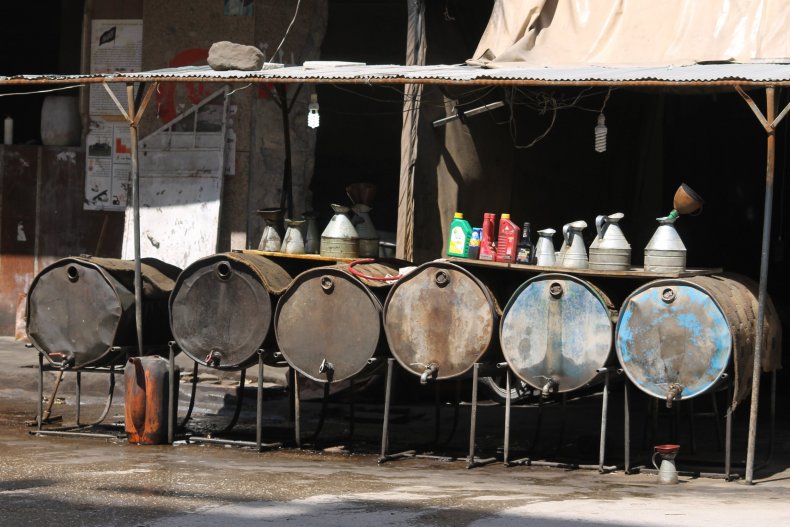 A month later, in March, Syrian activists accused Assad's regime of chlorine gas attacks in two Syrian towns that killed at least 13 people.
Amnesty spoke with 78 current and former residents of Aleppo about their experience living under constant fear of death and destruction.
"The barrel bombs are the most miserable weapons. If they explode we know our bodies will be in pieces… [Also] we can see them coming. There is a minute of waiting to die," a 24-year-old Syrian woman, now living in Turkey, told Amnesty International.
"After the bombing, I saw children without heads, body parts everywhere. It was how I imagine hell to be," a 30-year-old factory worker told Amnesty.
Talking about the violence they'd lived through was traumatic, but the Syrians contacted by Amnesty wanted to communicate the severity of the attacks to a world they don't think understands the weapons that keep them in constant fear.
While the rate of barrel bomb attacks decreased between September 2014 and March 2015, they have since increased again. In April 2015, Amnesty documented 85 barrel bomb attacks that killed 110 civilians.
"It's not something that's historic, it's something that's happening now," said Boehland.
"We believe that Aleppo is a microcosm of the violations you see all across Syria," she said.
On Tuesday, a new round of U.N.-brokered talks began in Geneva. Staffan de Mistura, the U.N. peace envoy for Syria, said "as many stakeholders as possible" will attend the talks, including representatives from Syrian sides and regional and international players such as Turkey and Iran. The Islamic State and al-Nusra Front militant groups were not invited.
One positive outcome of the talks would be an arms embargo imposed on Syria, said Boehland.
"The timing [of the report], as much as you can say, is important. It calls on the international community to recognize the unbearable human suffering that's going on in Aleppo," said Boehland.
On Monday, humanitarian organization Doctors Without Borders/Médecins Sans Frontières said repeated bombing has forced one of Aleppo's two main hospitals to suspend operations.
More than 220,000 people have been killed by the ongoing war in Syria, which entered its fifth year last month. Life expectancy among Syrians has plummeted by 20 years over the course of the four-year war, from 79.5 years in 2010 to 55.7 years today.