Syria Bleeds After 'Worst Week' for Attacks on Aleppo Hospitals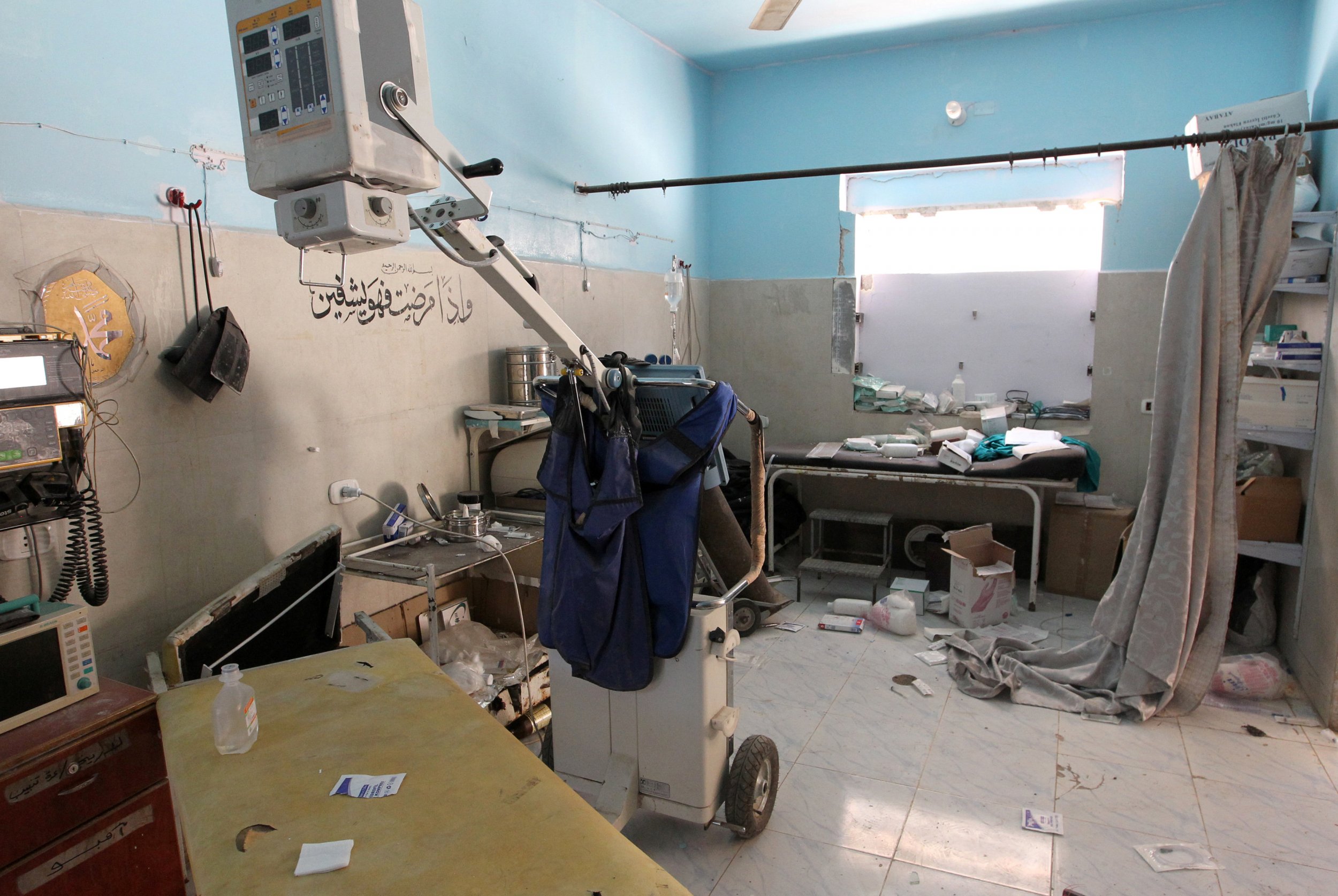 Last week was the deadliest period for hospitals in Aleppo governorate since the start of the Syrian civil war in 2011, according to the U.S.-based organization Physicians for Human Rights.
Airstrikes from the Syrian government pummeled six hospitals in and around Aleppo between July 23 and 31, including three strikes on hospitals in the eastern part of the city within a 24-hour period, according to Physicians for Human Rights. Five out of the six hospitals have been previously targeted by airstrikes. Several patients were killed, and the airstrikes "further deprived nearly 300,000 people now trapped in eastern Aleppo of life-saving medical care," the group said in a statement.
The medical facilities hit include a pediatric clinic inside Aleppo city, where the strike resulted in the deaths of four infants after their oxygen supply was cut. Since the start of the Syrian conflict, there have been 373 attacks on 265 medical facilities in the country, and 750 medical personnel have died, according to the group. It says it's skeptical about the proposed humanitarian corridors announced last week by Russian and Syrian officials to allow civilians to safely exit the city.
Tauqir Sharif, 29, is a British aid worker who has been in Syria for nearly four years. He recently started posting videos from inside an Aleppo hospital—"Hospital X"—under the Twitter handle @LiveUpdatesFromSyria, documenting the hectic, under-resourced and precarious life in an underground Syrian medical facility.
"Our hospital in Aleppo city has been hit twice this month. Thankfully, because of its location and it's under the ground, it's been difficult to completely put it out of service," Sharif tells Newsweek from northern Idlib during a Skype call. A photo of Syrian toddler Aylan Kurdi, who became the face of the refugee crisis after he drowned in the Aegean Sea after attempting to reach Greece with his family last year, is pinned on a wall behind him.
Across Aleppo, there is a severe lack of medical supplies, resources and workers, says Sharif. Airstrikes not only damage buildings and the surrounding area but also destroy equipment and force injured patients to leave the hospital prematurely in case the hospital is bombed again. During his last conversation with his team, Sharif says, they told him there was 15 days of food left to feed a staff of 35 and two days of diesel left to fuel what medical equipment remains in the hospital.
"After two days, the hospital will only be able to do first aid," he says.
Sharif describes the case of one man who came to the hospital with a bullet wound to his stomach. With just two CT scan machines that are still working, medical staff have resorted to using X-rays, ultrasounds and the judgment of doctors to check for internal bleeding. Normally, staff would have left this man, but that day there was a lull in the bombing, so they were able to operate.
"If they hadn't opened him up, he would have died," says Sharif. "This is the situation that we're in."
Saad Houry, UNICEF's regional director, said in a statement on Tuesday that the organization "is extremely concerned for the safety and wellbeing of all children caught up in the escalating violence in the city of Aleppo on northern Syria." Around 25,000 people have been displaced in the western part of Aleppo, with families taking shelter in mosques, university campuses and public gardens, said Houry.
As airstrikes hit Aleppo's hospitals, other forms of attack are injuring and killing Syrian citizens, who are now in their sixth year of war. On Monday, barrel bombs filled with what appeared to be chlorine gas were dropped on Saraqeb, a town in Syria's northwestern Idlib governorate around 31 miles southwest of Aleppo, according to the Syrian Civil Defense, a group of volunteer first responders also known as the White Helmets. The attack injured 33 people, including 18 women and 10 children,
Three of the injured are in critical condition, and the White Helmets have the names of 28 of the wounded, Rady Saad, Idlib spokesman for the group, tells Newsweek from Turkey.
While Saad says the White Helmets don't have definitive proof that the bombs contained chlorine, first responders say it smelled like chlorine after the attack. The injured quickly displayed symptoms of a chlorine attack: They found it hard to breathe and said their throats became tight, he says. They were treated with oxygen masks.
It's still not clear who was responsible for dropping the bombs, but the attack came shortly after a Russian military helicopter was shot down near Saraqeb on Monday. All five crew members on board died, in the deadliest incident for the Russian military since it began its involvement in the Syrian war last September in support of Syrian President Bashar al-Assad.
In southwestern Syria, people face a different tactic of war: starvation. Dr. Ammar Ghanem, a pulmonary and critical specialist based in Fort Wayne, Indiana, is originally from Zabadani, a town outside the besieged village of Madaya, where 65 people have died from starvation and malnutrition since the start of a government siege last July.
Family and friends in the area tell Ghanem about continued deprivation of food and medical supplies. When aid convoys do arrive, they are focused on carbohydrates and grains, leading to vitamin deficiency and a "different type of malnourishment because of lack of protein," he says.
Madaya has also experienced an increased rate of miscarriages because of malnutrition and psychological stress. Over the past six months, 30 miscarriages have been documented, he says. Many women are unable to breast-feed their babies because of stress and malnutrition, and children are beginning to experience stunted growth, lack of teeth, lethargy and skin rashes.
Severe psychological stress, especially among the youth, has also led to 12 suicide attempts, one of which was successful, an act that is "rare in our community," says Ghanem. Lack of support systems, stress, unemployment and extreme uncertainty about what's going to happen in the future have led many to throw themselves from buildings. Madaya, he says, is now "like a death camp."
"Why is this happening in the 21st century?" he asks. "We're not able to do anything about it."
Despite the misery, Ghanem says there is hope: Last week, two twins were delivered by cesarean section in Madaya.
"These are children who are stronger than the evil," he says.