Syria Nears Return to Arab World Stage, Despite Resistance From U.S. and Saudi Arabia
The Syrian government has sent its first delegation to a meeting of Arab states since war broke out in 2011, the latest sign of the rehabilitation between Damascus and regional powers, despite resistance from the United States and Saudi Arabia.
Syrian Parliament Speaker Hamouda Sabbagh attended the 29th Conference of the Arab inter-Parliamentary Union held Monday in the Jordanian capital of Amman. Among the issues discussed were a regional stance against longtime foe Israel, at a time when some powers, such as Saudi Arabia, found themselves more concerned with a recent adversary and Syria's greatest regional ally, Iran.
While Damascus and Tehran have long been aligned, the outbreak of Syria's civil war nearly eight years ago exposed new regional frontlines as Iran mobilized Shiite Muslim militias in support of Syrian President Bashar al-Assad, who faced a mostly Sunni Muslim opposition backed by the likes of Saudi Arabia, Turkey, the U.S. and Israel.
Facing accusations of human rights abuses, Assad was officially suspended from the 22-member Arab League in 2011 and has yet to return. Military and diplomatic victories, however, have seen a gradual rebuilding of ties between Syria and the region, paving the way for Damascus' comeback in spite of staunch detractors such as Washington and Riyadh.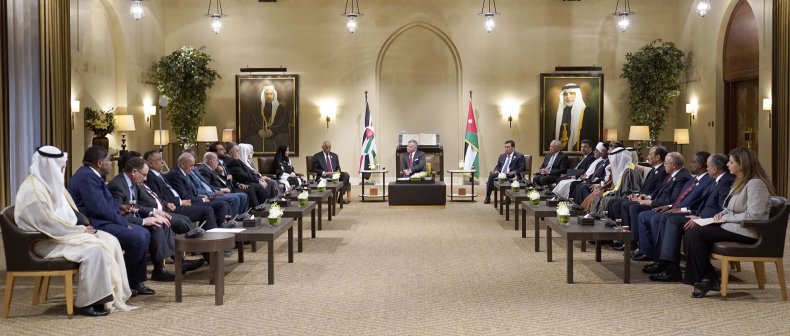 Aided by Iran and Russia, the Syrian government has emerged as the top player in the country's multi-sided conflict, rivaled only by a U.S.-led coalition and its local allies, the largely Kurdish Syrian Democratic Forces. Both sides have contributed extensively to the defeat of the Islamic State militant group (ISIS) that once claimed half of the country, and a similar portion of neighboring Iraq. But the pro-government campaign also focused on ousting insurgents and steadily lost the support of foreign backers, except for Turkey.
With ISIS all but eradicated, President Donald Trump announced in December that he planned to withdraw U.S. forces from Syria, where the government had long branded American military activities illegal. The move was followed shortly after by several high-profile events that signaled a regional shift toward Assad. First, Sudanese President Omar al-Bashir became the first Arab head of state to visit Damascus since the conflict began. Then, about a week later, Assad's special security adviser Ali Mamlouk made a rare visit to Cairo to meet Egyptian Intelligence head Abbas Kamel. Days later, the United Arab Emirates and Bahrain reopened their embassies in the Syrian capital.
Notable signs of Syria's slow return to the Arab fold had already existed, such as the warm hug shared between the Syrian and Bahraini foreign ministers during a United Nations session in September, as well as the reopening of border crossings with Jordan and the disputed Golan Heights, occupied by Israel since the 1967 war. Since the embassy reopenings, however, speculation mounted that Saudi Arabia would be next to restore diplomatic ties, and multiple reports suggested as much.
Asked about whether such steps were on the kingdom's agenda, however, Saudi Foreign Minister Adel al-Jubeir said Monday it "depends on the political progress that we see in Syria, so it is still a bit early" during a press conference alongside Russian Foreign Minister Sergey Lavrov. He also said that "it's important for the war there to end" before providing international assistance to Syria, calling it "premature" to discuss the issue.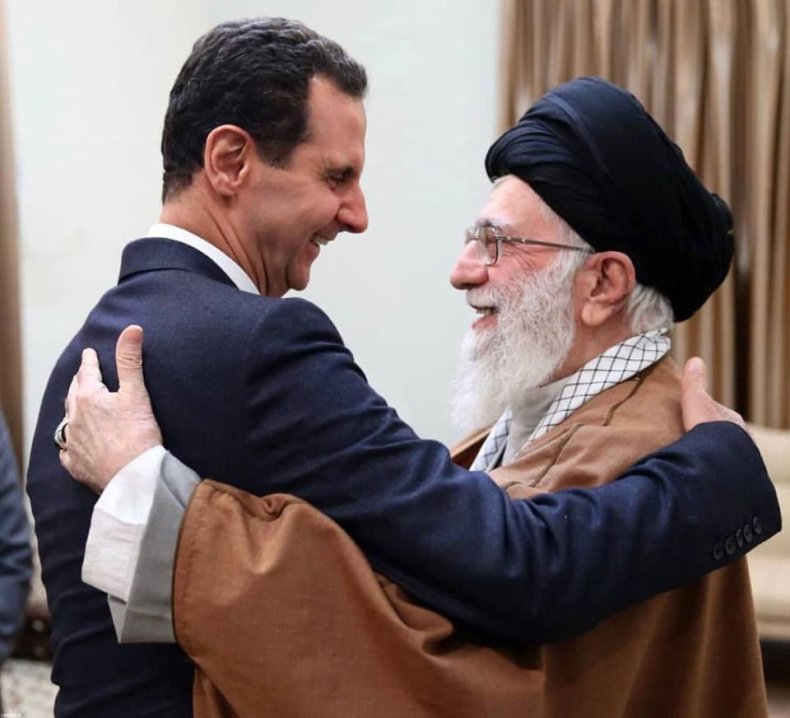 Arab states looking to reconcile with Syria have been inspired to do so, at least in part, by a desire to counteract the influence of Iran and Turkey, which have joined Russia in a trilateral peace process. Though Moscow and Tehran enjoyed a strategic partnership in supporting Assad, Russian officials have reportedly prioritized building bridges between Syria and fellow Arab nations.
On Sunday, The Washington Post cited an unnamed senior U.S. official as saying "that political isolation and political pressure [are] the appropriate approach" to combating Iranian influence in Syria. The Trump administration has refused to endorse Assad, seeking to launch a political process to oust him along with the various militias supporting him and said to be controlled by Tehran, and has reportedly pressured allies not to normalize relations with Damascus.
Some Arab states—such as Algeria, Egypt, Lebanon, Iraq, Sudan and Tunisia—have publicly backed the bid for Syria's return to the Arab League. Though in January, Egyptian Foreign Minister Sameh Shoukry appeared to reverse course, saying, "there is a need to get out of the current crisis in Syria" before its readmittance. Arab League chief Ahmed Aboul Gheit told Reuters last month that he does "not yet observe conclusions that lead to the consensus" among member states needed to renew Syria's membership, but that two meetings were set to be held before an annual Arab League summit set to be held later this month in Tunis.