Will Syria Return to Arab League? Middle East Nations Show Support as Donald Trump Set to Pull U.S. Troops Out
Syria may be set for a return to the Arab League as the war-torn country's government consolidates military and diplomatic victories coinciding with a U.S. withdrawal.
Shortly after the outbreak of a 2011 rebel and jihadi uprising, Syria was expelled from the 22-member gathering of majority-Arab nations known as the Arab League after the government of Syrian President Bashar al-Assad was accused of war crimes in his crackdown on dissent. An opposition entity known as the Syrian National Coalition occupied the position for a brief stint, but battlefield losses and the rise of Islamist forces have compelled the withdrawal of foreign support.
With the Syrian government having regained most of the country's territory from an insurgency once sponsored by the U.S. and regional powers such as Israel, Saudi Arabia, Qatar and Turkey, a number of Middle Eastern nations have begun to rebuild their ties to Damascus. Neighboring Iraq, which supported Assad throughout the fight despite its own U.S. ties, officially proclaimed its desire for Syria's return to the Arab League.
"Iraq supports the unity of Syria and its return to its normal position in the Arab world and the region and the restoration of its position in the Arab League, and the elimination of terrorism as well as the need to reopen the border crossings and stimulate trade," Iraqi Foreign Minister Mohammed Ali al-Hakim said Wednesday, according to a tweet by his ministry.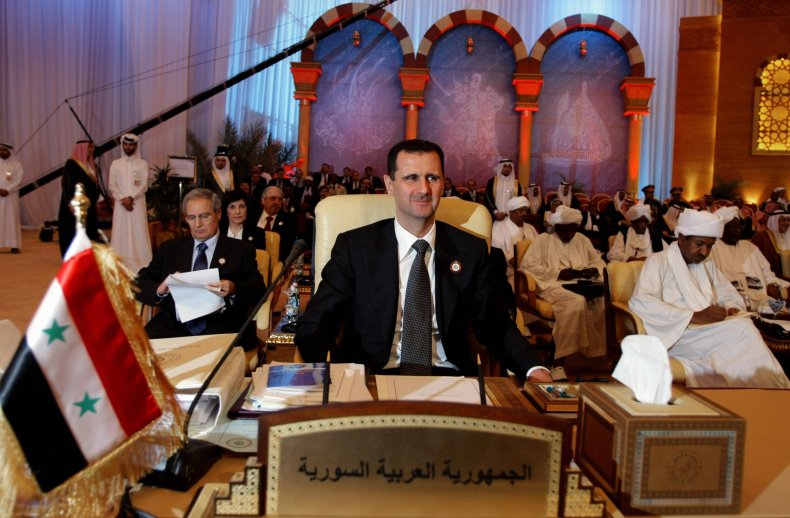 Last month, two years after the Syrian military, backed by Russia and Iran, retook the major city of Aleppo in what was widely seen as a turning point in the conflict in December 2016, a number of crucial events happened that would signify a regional acceptance of Assad's rule and gradual normalization of ties. Having isolated the opposition to roughly the single province of Idlib in the northwest and—alongside a separate U.S.-backed campaign waged by Kurdish-led forces—pushed the Islamic State militant group (ISIS) to the far east, the Syrian government remained the clear top power and rumors emerged that the United Arab Emirates and Saudi Arabia were looking to reopen their embassies in Damascus.
As these reports persisted through December 16, Sudanese President Omar al-Bashir became the first Arab League leader to visit Assad since the war broke out. Three days later, President Donald Trump suddenly announced a timely, phased withdrawal of U.S. troops fighting ISIS, which he proclaimed to be defeated. Assad's big power ally Russia welcomed the decision as the Syrian government considered the Pentagon's presence to be illegal.
Assad's special security adviser Ali Mamlouk made a rare visit to Cairo to meet Egyptian Intelligence head Abbas Kamel on December 23 to discuss issues of politics, security and counterterrorism, according to the official Syrian Arab News Agency. On December 27, the U.A.E. officially announced the reopening of its embassy in Syria and, just one day later, the same action was taken by Bahrain, whose foreign minister shared a widely publicized, symbolic hug with his Syrian counterpart during a United Nations meeting in September.
While some Gulf Arab states such as Kuwait, Oman and the U.A.E. have remained more neutral during the conflict, Saudi Arabia and Bahrain have frequently expressed deep criticism of Assad's government and especially Iran, which they accuse of supporting revolutionary Shiite Muslim groups across the region. Still, Saudi Crown Prince Mohammed bin Salman admitted to Assad's likely longevity in an interview with Time in April.
That same month, Arab League Secretary-General Ahmed Aboul Gheit told newspaper Al-Bayan, "The decision to suspend the Syrian seat in the Arab League was, in my opinion, a very hasty decision," though he later told fellow U.A.E.-based The National in October that Arab countries would first "have to agree on an approach towards Syria" before any changes were made.
Last month, Sky News Arabia quoted a recent Arab League parliament statement saying, "The Arab League can move to re-represent Syria in its institutions after the suspension of its activities seven years ago." Last week, The Guardian cited diplomatic sources as saying that Arab League states were forming a consensus to welcome Syria back. Jordan's Al-Rai newspaper similarly reported last week that lawmakers in the country, which recently reopened its Naseeb border crossing with Syria, wanted to normalize ties with Damascus.
As for North Africa, Russia's state-run Sputnik News cited a source last week as saying that Algeria and Tunisia—which received its first direct Syrian flight in eight years last week—were considering a proposal to unfreeze Syria's Arab League membership. The move could potentially occur ahead of the group's next financial summit later this month in Lebanon, which has maintained ties with neighboring Syria in a relationship that has long polarized the small Mediterranean country's political landscape.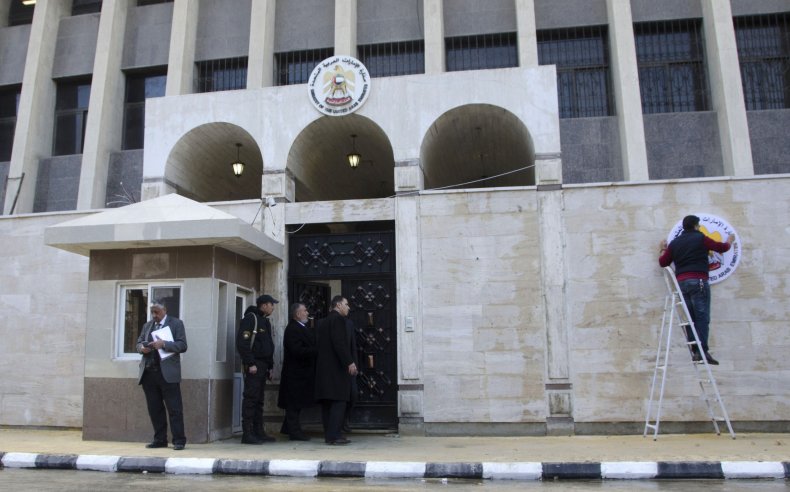 Lebanese newspaper The Daily Star cited a source at the presidential palace in Beirut as saying Thursday that Syria would only be invited to the gathering January 19 and 20 if the Arab League officially reinstated the conflict weary nation. The local Al-Markaziya outlet that same day, however, cited sources in Lebanon's influential Iran-backed Shiite Muslim Hezbollah movement that has fought alongside Assad's forces throughout the war as saying that Syria would soon be extended an invitation to the upcoming financial summit and that Lebanese Foreign Minister Gebran Bassil would soon visit Damascus.
Hezbollah forms the third-largest party in Lebanon's larger March 8 political bloc, which has been largely supportive of Syria. The opposition March 14 alliance, which includes the Saudi-backed Future Movement, has condemned Syria's long history of involvement in Lebanese affairs.
Should the Arab League fail to reach an agreement on Syria's presence prior to the financial gathering, another opportunity may present itself less than two weeks later as India hosts the group for a special summit on January 31. New Delhi has not severed ties with Damascus and, along with China, has recently expressed interest in investing in the costly reconstruction of Syria. Citing two people with knowledge of the matter, Indian newspaper The Economic Times reported Thursday that Syria could participate if admitted by the Arab League.
The U.S. has consistently opposed Assad and, though the Pentagon has said its official mission remained the lasting defeat of ISIS, Washington officials have offered conflicting statements as to what extent this goal would be expanded to include ensuring the Syrian leader was overthrown and that elements suspected of being under Iranian command were forced to leave Syria. In the wake of Trump's anticipated withdrawal of U.S. troops, local Kurdish allies have also accelerated talks with Damascus in hopes of securing protection against a feared attack from Turkey, which considers certain Kurdish militias to be linked to a decades ong insurgency at home.