The White House has announced that the Pentagon will begin withdrawing troops from Syria, where Russia has outpaced the United States amid their rival military campaigns.
U.S. soldiers were deployed to Syria as part of a campaign launched in 2014 to defeat the Islamic State militant group (ISIS), which had taken over half the country as well as neighboring Iraq. White House press secretary Sarah Huckabee Sanders said Wednesday that, amid recent victories against the final pocket of jihadi control off the eastern banks of the Euphrates in Syria, the administration has "started returning United States troops home as we transition to the next phase of this campaign."
She added that "the United States and our allies stand ready to re-engage at all levels to defend American interests whenever necessary, and we will continue to work together to deny radical Islamist terrorist territory, funding, support, and any means of infiltrating our borders."
On the other side of the Euphrates, Syrian President Bashar al-Assad—an ally of Iran and Russia once on the verge of defeat by a U.S.-backed rebel and jihadi uprising—waged a separate campaign against ISIS. With the Syrian government having re-established control over much of the country and the U.S. set to end a presence declared illegal by Assad in the first place, Moscow's partner may be set to officially win back the entirety of his state.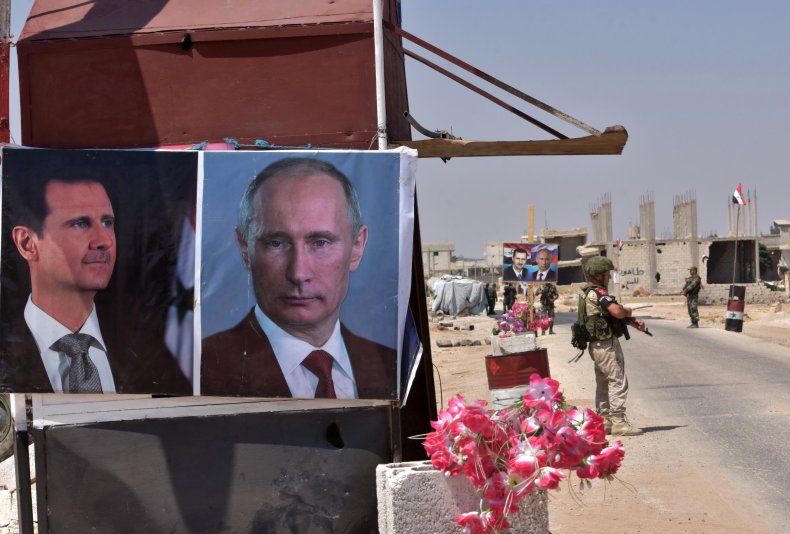 Though both united in their opposition toward ISIS, the U.S.-backed and Russia-backed campaigns in Syria diverged in their political goals. Russian President Vladimir Putin opposed tacit CIA support for insurgents, having witnessed Libya descend into chaos after a rebellion backed by the NATO Western military alliance successfully overthrew longtime leader Muammar el-Qaddafi. As the U.S. began to abandon its partnership with what had become a largely Islamist-led insurgency in Syria and sided with a more neutral Kurdish faction known as the Syrian Democratic Democratic Forces in 2015, Russia stepped indirectly on behalf of Assad.
Backed by Russian airpower and pro-government militias, many of which were among the regional Shiite Muslim forces mobilized by Iran, the Syrian armed forces retook major cities and increasingly isolated the opposition as troops reversed ISIS gains nationwide. The Syrian Democratic Forces concurrently ousted ISIS out of northeastern Syria and, last week, won a major battle against the last town under the jihadis' control.
Washington officials have offered conflicting statements on whether or not the official U.S. position was to oust Assad, who has since reinstated control over most of the country. Russia, meanwhile, has sought to normalize his government, facilitating the return of refugees and overseeing reconciliation agreements with rebel groups.
Once forsaken by much of the Arab World due to allegations of war crimes, Assad is poised to secure a diplomatic comeback to accompany his recent military victories. Sudanese President Omar al-Bashir visited the Baathist leader on Sunday, making him the first Arab League president to do so since the regional body expelled Damascus in 2011, and Iraqi President Barham Salih was reportedly soon set to follow.
The move came after reports of the United Arab Emirates and Saudi Arabia preparing to reopen their embassies in Damascus. Though his kingdom was once a leading sponsor of efforts to overthrow the Syrian government, Saudi Crown Prince Mohammed bin Salman has since appeared to accept Assad's rule, as have neighboring Jordan and Israel, both of which have reopened border crossings in recent months. Still staunchly opposed was Turkey, which had announced the beginning of a new offensive of its own in the upcoming days.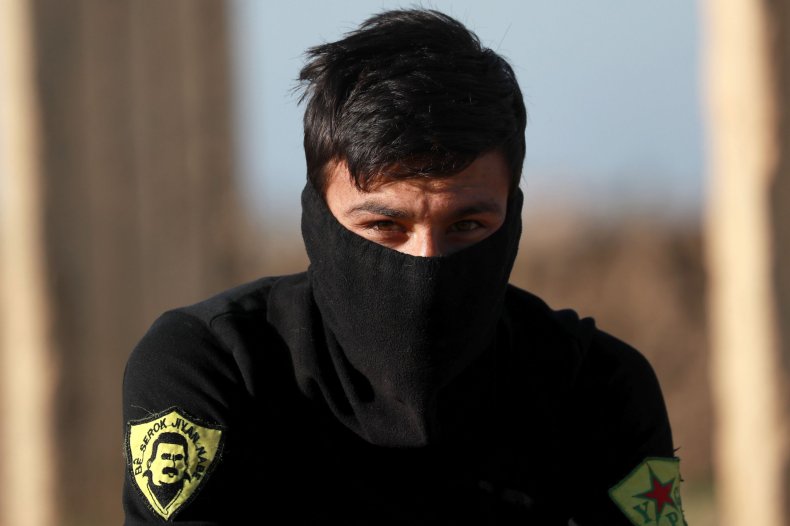 Like the U.S., Turkey's military involvement in Syria has been deemed by the government to be a violation of international law. Ankara was also a major supporter of efforts to defeat the government in Damascus and has kept up assistance for rebels in a strip of northwestern Syria along the border. Rather than being directed toward the government, the main target of these insurgents has been U.S.-backed Kurdish groups.
The People's Protection Units (YPG), one of the main components of the Syrian Democratic Forces, is considered by Turkey to be linked to the banned Kurdistan Workers' Party (PKK), a separatist group fighting the Turkish state for three decades. The U.S. has condemned Turkish attacks on Kurdish positions, but the Pentagon's withdrawal meant a shift in dynamics on the ground. Meanwhile, the Syrian Democratic Forces called Trump's decision "a stab in the back and a betrayal of the blood of thousands of fighters."
The move could prompt Kurdish fighters to ally with the Syrian government as they have previously done against Turkey-backed rebels. Nevertheless, the situation is further complicated by Moscow and Ankara's own working relationship, which currently prevents an outbreak of violence between the Syrian government and the Islamist-led insurgency in its remaining city of Idlib, located just south of the Turkey-controlled pocket in Syria.
The State Department notified Congress on Wednesday of a proposed $3.5 billion sale of the Patriot surface-to-air missile system to Turkey, at a time when Ankara was also considering a rival offer to purchase Russia's S-400 Triumf. Russia has installed the advanced air and missile defense apparatus at its own military installations on Syria's west coast and has shipped an earlier model to the country in a move that prompted concerns from the U.S. and Israel.
If activated, these systems would give the Russian or Syrian militaries a powerful aerial shield across the country, one theoretically capable of intercepting both hostile aircraft and missile attacks against Syria.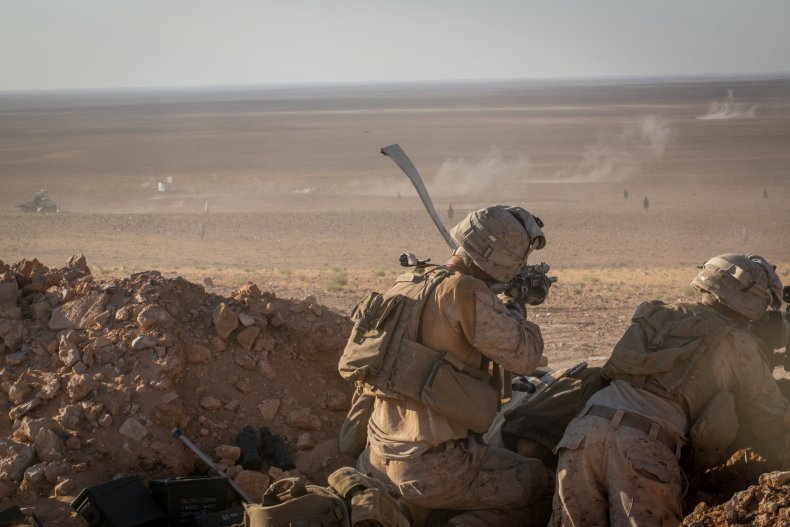 Another likely loser of a U.S. withdrawal from Syria would be a group of insurgents known as Maghawir al-Thawra. Aside from U.S. troops fighting ISIS in eastern Syria, the Pentagon has deployed soldiers to train and assist this rebel force at a garrison surrounded by a U.S.-declared deconfliction zone in Al-Tanf in southern Syria.
Russia and Syria have demanded that the U.S. dismantle this base, accusing it of training militants within and neglecting the humanitarian needs of the refugees in the remote Rukban camp, which is located near the Jordanian border within the U.S.-controlled zone. The area has witnessed deaths due to malnutrition.
The U.S. and its rebel allies have engaged pro-government fighters allegedly attempting to infiltrate the Al-Tanf zone on several occasions, and the coalition was accused earlier this month of targeting Syrian soldiers fighting ISIS near Al-Sukhna, though the U.S.-led coalition maintained that it struck a jihadi position.
Reports recently emerged suggesting that Russian and Syrian units were being brought together near Al-Tanf in an effort to pressure the U.S. to withdraw, a demand that appeared to be fulfilled with the White House's announcement Wednesday—though it was unclear if the two events were at all related. Russian Foreign Ministry spokeswoman Maria Zakharova said that "a milestone story which might evolve from this decision is a real prospect for a political solution" in Syria and the government regaining control of Al-Tanf.
"Hope emerges that this location on the Syrian map will follow the example of Aleppo and other Syrian towns and villages which begin getting back to [a] peaceful life," Zakharova told the local Channel One news outlet, as translated by the state-run Tass Russian News Agency. "Once Americans were there, there was no such hope."
Since its 2015 intervention, Moscow has enhanced its ties not only with Syria, but with both sides of the Iran and Saudi Arabia rivalry gripping the Middle East, giving Putin a key position to play in future talks. At the same time, Assad has begun to rebuild relations with the region, granting Russia a long-term base in Western Asia and the Eastern Mediterranean, along NATO's southern flank.