Russia's Air Defense 'Will Increase the Threat' to U.S. Forces in Syria, Leading General Says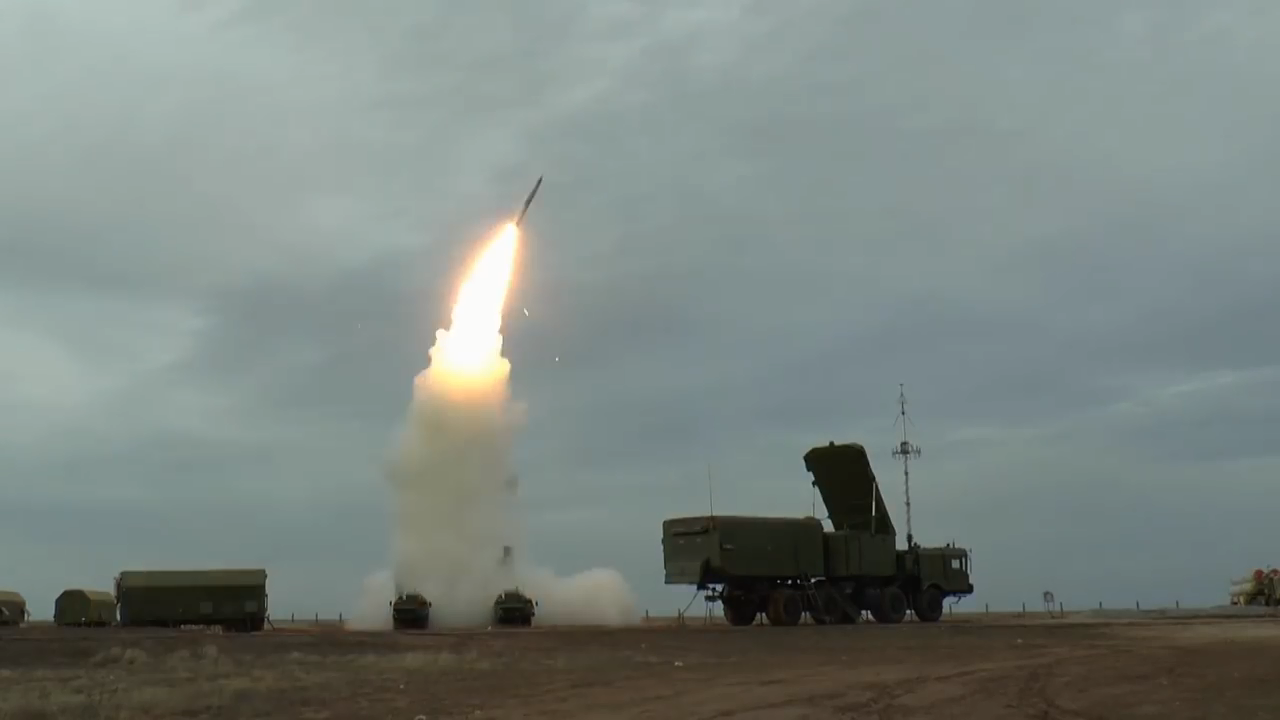 President Donald Trump's nominee for head of Central Commandhas warned that the potential introduction of even more advanced Russian air defenses in Syria could threaten U.S. forces deployed there.
Marine Corps Lieutenant General Kenneth McKenzie, who serves as director of the Joint Chiefs of Staffs, was selected in August as Trump's pick to lead the U.S. military command tasked with operations across the Middle East, Central Asia and North Africa. During his nomination hearing Tuesday, Senate Armed Services Committee chair James Inhofe asked McKenzie how he assessed the threat of Russia's S-400 anti-aircraft and anti-missile systems in Syria, where both Washington and Moscow are involved.
"The S-400, once activated, will increase the threat to our forces and our coalition partners flying over Syria," McKenzie told lawmakers. "There will be a manifest difference in the capability of the systems though whether it's manned by the Syrians or the Russians and we're still working to figure out how that will be executed."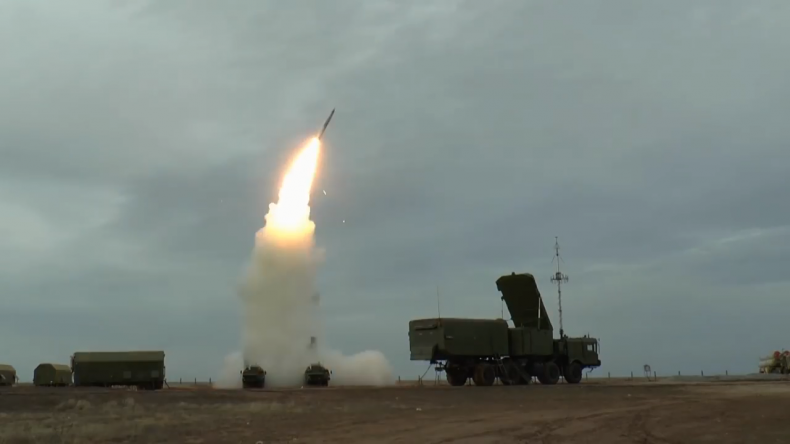 Russia has deployed S-400 surface-to-air missile defense systems to the Hmeymim air base—leased by Moscow for the next 50 years—and reportedly in Masyaf as well, both located in the western coastal province of Latakia. The state-of-the-art weapon has been highly sought abroad and recent customers include China, India and Turkey, while others such as Iraq, Qatar and Saudi Arabia remain prospective buyers.
The system's low cost and heightened capabilities present a major spoiler for the typically dominant U.S. military-industrial complex and have complicated missions in Syria, where the Pentagon leads a coalition on a rival mission separate from Russia and Iran's own pro-government campaign. Since 2014, the U.S.-led coalition has been bombing the Islamic State militant group (ISIS), a group that emerged out of the post-invasion Sunni Muslim insurgency in Iraq and took hold in Syria in the wake of a 2011 rebel and jihadi uprising backed by the West and regional allies.
In 2015, Russia intervened directly to support Syrian President Bashar al-Assad and his allies—including Shiite Muslim militias sponsored by Iran—against both militants and opposition fighters of various groups. The U.S.-backed and pro-Syrian government campaigns managed to largely defeat ISIS, but the two have collided at times, with the coalition bombing the government twice in response to alleged chemical weapons attacks and attacking pro-government militias in several skirmishes.
Though Moscow has warned it would use its air defenses to target coalition aircraft attacking the Syrian armed forces since the U.S. shot down a Syrian Sukhoi Su-22 fighter last year, Russia has never utilized its systems, neither against the U.S.-led coalition nor Israel's more than 200 strikes against suspected Iranian forces in Syria. The Syrian military has instead responded with its own, older air and missile defense systems.
This led to a major international incident in September, when dated Syrian S-200 systems accidentally downed an allied Russian Ilyushin Il-20 surveillance aircraft during an Israeli air raid against an alleged Iranian weapons depot in Latakia. Russia has blamed Israel for the incident and, in response, improved Syria's air defense network and shipped newer S-300 systems reportedly set to become operational in the hands of the Syrian military by January.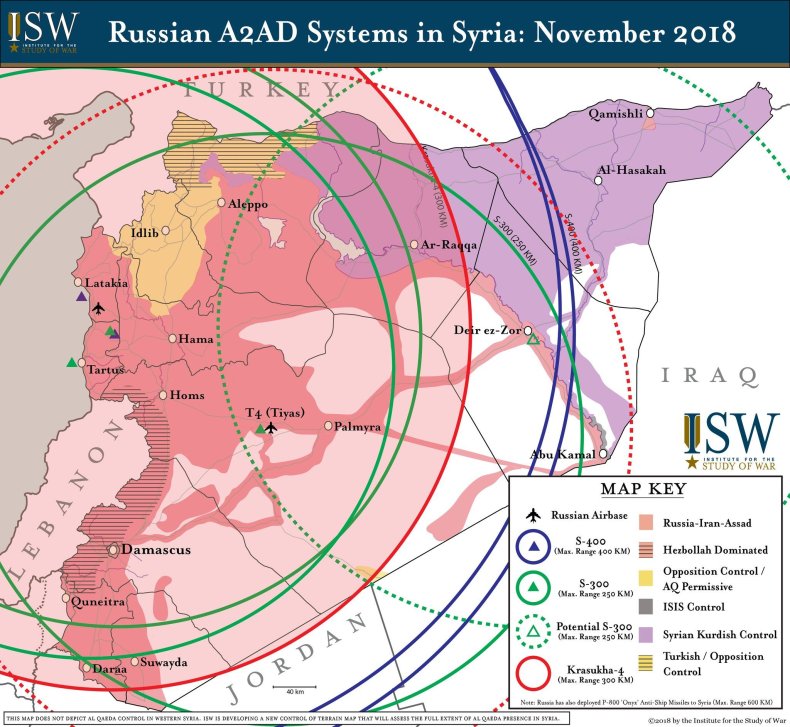 The development has raised concerns for Israel and the U.S., whose operations in Syria is considered illegitimate by the government. The Pentagon and Washington have criticized Moscow's decision, and Israeli officials have vowed to continue conducting strikes—potentially even against the S-300 sites. The S-300s did not appear to fire in response to a suspected Israeli attack last week in southwestern Syria.
The U.S. has repeatedly argued in favor of Israel's right to defend itself against a perceived threat from Iran and allied militias in Syria, especially as Washington expands its mission from the defeat of ISIS to also ousting Assad and expelling forces said to be under Tehran's command. State Department special envoy to Syria Jeffrey James said Monday that, though the current military mission remained limited to fighting ISIS, Trump "has various options that involve the military" in further U.S. interests in Syria, citing the no-fly zones that led up to the Iraq War as an example.
For his part, McKenzie affirmed that neither overthrowing Assad, nor countering Russia and Iran in Syria, were part of the U.S. military mission in Syria, though the latter two "may be a derived, observed effect." The current anti-ISIS mission was launched as part of the larger "War on Terror" authorization approved by Congress after the 9/11 attacks in 2001.