The Syrian military claimed to have thwarted a suspected Israeli attack in the war-torn country's south that would come in defiance of newly installed Russian air defense systems.
The Syrian Defense Ministry stated Thursday, "Our air defenses are thwarting hostile targets over the area of Al-Kiswah and are shooting them down." Correspondents of the official Syrian Arab News Agency went on to report that the anti-air response was continuing, with a number of hostile targets destroyed without having achieved their goal.
Al Hadath, an Arabic channel based in the United Arab Emirates, cited a source as saying that Israeli warplanes were targeting positions held by Iranian militias in southern Syria. Russia's state-run RIA Novosti outlet cited a Syrian security source as saying the defenses downed an Israeli warplane and four missiles, but the Israeli Defense Ministry declined to comment.
"In the context of the firing of Syrian surface-to-air missiles, the air defense systems identified a single location at an open area in the Golan Heights," the official Israeli military spokesperson account tweeted, referring to region occupied by Israel on the border with Syria. "At this stage, it is not clear whether it actually fell in our territory. Our forces are combing the area. Reports of an Israeli aircraft or other Israeli aerial platform being hit are false."
Though Israel routinely neither confirms nor denies its involvement in Syria, the Israeli Intelligence Minister Yisrael Katz revealed in September that "that in the last two years Israel has taken military action more than 200 times within Syria itself," mostly against targets allegedly associated with Israel's archrival Iran and the militias it sponsors. Israeli has argued these forces threaten its own national security.
During one such raid later that month, however, dated Syrian air defenses responding to a raid against a suspected weapons warehouse in Latakia, Syria, accidentally downed an allied Russian Ilyushin Il-20 surveillance plane, killing its entire crew. Russia and Syria both blamed the incident on Israel, which held Iran responsible. In response, Russia shipped upgraded S-300 anti-aircraft and anti-missile systems to Syria, upgraded the country's command and control system and enhanced its own electronic warfare capabilities in the country. The S-300 was expected to become operational sometime in January.
Since 2015, Moscow has supported Syrian President Bashar al-Assad and his Iranian allies against the Islamic State militant group (ISIS) and a 2011 rebel and jihadi uprising backed by the U.S. and regional allies, including Israel, Qatar and Saudi Arabia. Though Israel reportedly abandoned its support for a former rebel enclave in southern Syria over the summer, Israel has repeatedly warned against the presence of Iran-backed forces near the border.
Damascus and Tehran have threatened a military response to any more Israeli strikes in Syria, but Israeli Prime Minister Benjamin Netanyahu and former Israeli Defense Minister Avigdor Lieberman have vowed to continue covert missions in Syria. Late last month, Reuters cited a senior Israeli official as saying that Israel has "attacked in Syria, including after the downing of the Russian plane."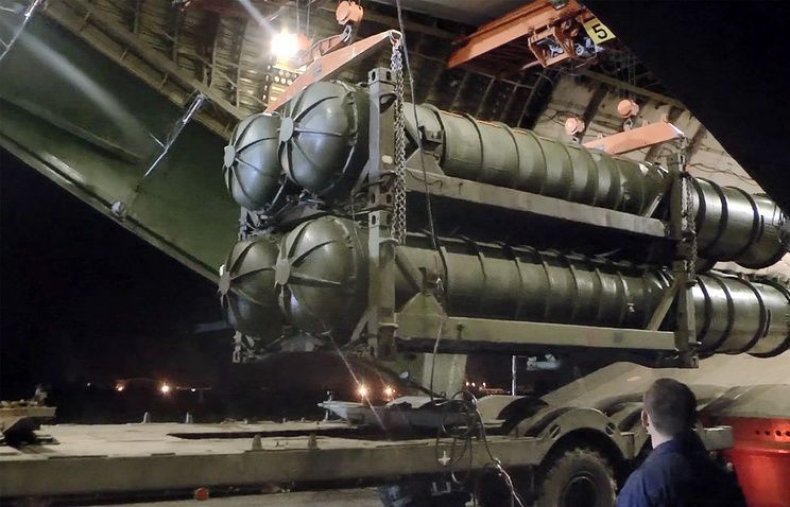 While U.S. officials have expressed concern over the installation of the S-300, Israeli Environmental Protection Minister and Russia-Israel Intergovernmental Commission co-chair Zeev Elkin warned that "practical actions" would "undoubtedly be taken" at these sites should Israeli aircraft be targeted and hoped that "there will be no Russian specialists" there.
In May, Israel launched its largest aerial bombardment against Syria since their 1973 war after the Golan Heights was struck by rocket fire that itself came in response to an Israeli airstrike near Al-Kiswah just hours after President Donald Trump announced he was pulling out of the 2015 Iran nuclear deal. The U.S. has supported Israel's attacks in Syria and has demanded Iran and its allied militias withdraw from the country.