Syria Says U.S. 'Politicizes' Earthquake After Refusal to Send Aid to Assad
Syrian officials have condemned the United States' refusal to engage with the country's government in emergency assistance efforts following a deadly earthquake that has killed nearly 2,000 people across the lines of rival factions in the nation, along with more than 7,800 in neighboring Turkey.
In the U.S. State Department's initial response as to whether Washington would cooperate with Damascus, spokesperson Ned Price told reporters Monday that "it would be quite ironic—if not even counterproductive—for us to reach out to a government that has brutalized its people over the course of a dozen years now—gassing them, slaughtering them, being responsible for much of the suffering that they have endured."
Price pledged that the U.S. would send aid to Syria but said "we have humanitarian partners on the ground who can provide the type of assistance in the aftermath of these tragic earthquakes."
Reached for further comment, a State Department spokesperson told Newsweek that "the United States is the largest provider of humanitarian assistance throughout Syria, and we are moving quickly to provide targeted relief for survivors and the displaced after today's devastating earthquake."
"We are committed to providing immediate, life-saving humanitarian assistance to help all affected communities recover from this disaster," the spokesperson added.
At the same time, however, the spokesperson asserted that "no U.S.-funded humanitarian aid for the earthquake response is being provided through the Syrian regime, and we continue to demand that the regime—and all parties to the conflict— ensure unhindered humanitarian access to all parts of Syria."
"U.S.-government humanitarian partners implementing programs in Syria are required to possess robust risk mitigation mechanisms up front prior to funding," the spokesperson added. "Our partners in regime-controlled areas directly deliver assistance to beneficiaries without control or direction from the Assad regime. This is to ensure that our assistance is not diverted by malign actors or the Assad regime and reaches the intended beneficiaries."
Responding to the U.S. comments, the Syrian Permanent Mission to the United Nations told Newsweek that Washington's position "clearly exposes how the U.S. always politicizes every issue, even as devastating and catastrophic as this earthquake."
And while the State Department spokesperson said that "our sanctions programs do not target humanitarian assistance" and that, "as a general matter, our General Licenses permit activities in support of humanitarian assistance, including in regime-held areas," the Syrian Mission said such "unilateral coercive measures" still had a negative impact on recovery efforts.
"Many cargo planes carrying urgent humanitarian supplies refrain from landing in Syrian airports because they either fear being sanctioned or because they are overcompliant," the Mission said. "It is ironic that the U.S. is bragging about providing billions of dollars to Syria while at the same time it is looting and plundering the Syrian resources in Syria, including oil and wheat."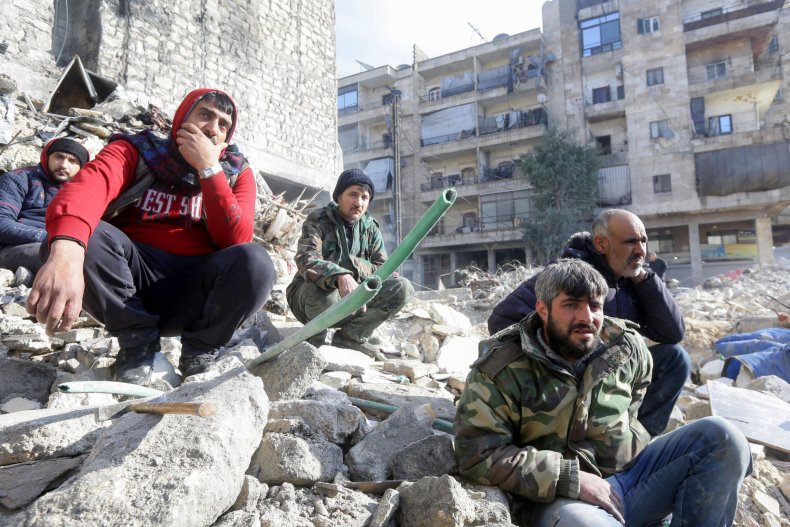 Damascus has denied Washington's accusations of human rights abuses against President Bashar al-Assad's government stemming back to a 2011 crackdown on protests that devolved into a civil war that runs to this day. The U.S., for its part, has rejected allegations that it was stealing resources from northeastern stretches of the country under control of the Pentagon-backed Syrian Democratic Forces (SDF).
Washington, which initially backed an insurgency to topple Assad, shifted support to the SDF in 2015 to fight the Islamic State militant group (ISIS). That same year, Russia joined Iran in helping the Syrian government battle ISIS, as well as other jihadi and rebel forces, allowing Damascus to ultimately reassert control over most of the country.
But northern Syria remains divided between the government, the SDF and opposition forces, and, in the northwest, where active front lines exist between Syrian troops and rebel fighters, the worst casualties were seen on this side of the border with Turkey, the epicenter of the devastating earthquake. Ongoing disputes over potentially life-saving cross-border corridors and damage from the disaster have exacerbated the humanitarian situation.
While the SDF operated independently of Damascus and actively opposed most rebel groups, the Kurdish-led faction issued a statement Monday saying its forces "stand ready to provide immediate assistance to overcome the earthquake aftermath in all Syrian territories, including providing relief support and sending rescue teams to the disaster-stricken areas."
Farhad Shami, head of the SDF's media center, said Tuesday that the group's autonomous government in the northeast had decided "to send a first batch of fuel (100 tanks) to the affected areas in Aleppo," a populous northern province divided between pro- and anti-government control. He said that "other batches will follow."
The Syrian Foreign Ministry and Syrian Arab Red Crescent have appealed to the U.N. and the international community for aid in response to the disaster. U.N. Secretary-General António Guterres has called on all member states to "work together in solidarity to assist all those hit by this disaster."
Following a meeting with Guterres on Monday, Syrian Permanent Representative to the U.N. Bassam Sabbagh assured "that we are ready to help and to coordinate to provide assistance to all Syrians in all territory of Syria."
Among the first to answer the call were Damascus' allies, Moscow and Tehran, followed by a number of Arab states, including the North African nations of Algeria, Egypt and Tunisia, as well as neighboring Lebanon, Iraq, Jordan, Bahrain and the United Arab Emirates in the Arabian Peninsula region. Israel has also said it would send help, after Prime Minister Benjamin Netanyahu alleged to have received a direct request from a Syrian diplomat despite the decades-long state of war existing between the two countries.
Vows to send assistance also came abroad from China, India and Venezuela, among others.
The State Department spokesperson with whom Newsweek spoke said that, "since the day of the earthquake, our partners immediately began to assess the impact and needs, and they are coordinating life-saving assistance."
"The United States is the leading donor of humanitarian assistance for Syria, providing more than $15 billion throughout Syria and the region since the start of the war," the spokesperson said. "The devastating earthquakes bring a new level of suffering to the people of Syria and threaten a new humanitarian crisis exacerbated by a brutal winter and 12 years of war.
"The situation was already fragile with 15 million people in need of humanitarian aid to meet basic needs," the spokesperson said.
Earlier Tuesday, U.S. Secretary of State Antony Blinken had reiterated that no U.S. aid would be designated for Damascus during a joint press conference in Washington, D.C. with his alongside his Austrian counterpart.
"We're committed to providing that assistance to help people in Syria recover from this disaster, just as we have been their leading humanitarian donor since the start of the war in Syria itself," Blinken said. "I want to emphasize here that these funds of course go to the Syrian people, not to the regime. That won't change. But as I said, we're able to work through humanitarian partners on the ground in Syria."
Like the U.S., most Western nations have severed official ties with Assad's administration and have yet to weigh in on whether they would work with Damascus to help in rescue and recovery efforts. United Kingdom Foreign Secretary James Clevery said Tuesday, "in Syria, the UK-funded White Helmets have mobilised their resources to respond" and that U.K. officials "stand ready to provide further support as needed."
The White Helmets, officially known as the Syria Civil Defense, operate as a rescue group in opposition-held parts of Syria, though Damascus and its allies have accused the Western-supported organization of aiding militant groups also present in the area. In government-controlled parts of Syria, the International Civil Defence Organization-affiliated Syrian Civil Defence Forces are active.
Despite the ongoing efforts on both sides of the Syria-Turkey border, the death toll has continued to climb and is expected to continue to do so as emergency personnel local and foreign rush to save those still trapped under the rubble.
This is a developing news story. More information will be added as it becomes available.