Syria Condemns Venezuela's 'Failed Coup' as U.S. Threatens to Attack Another Russian Ally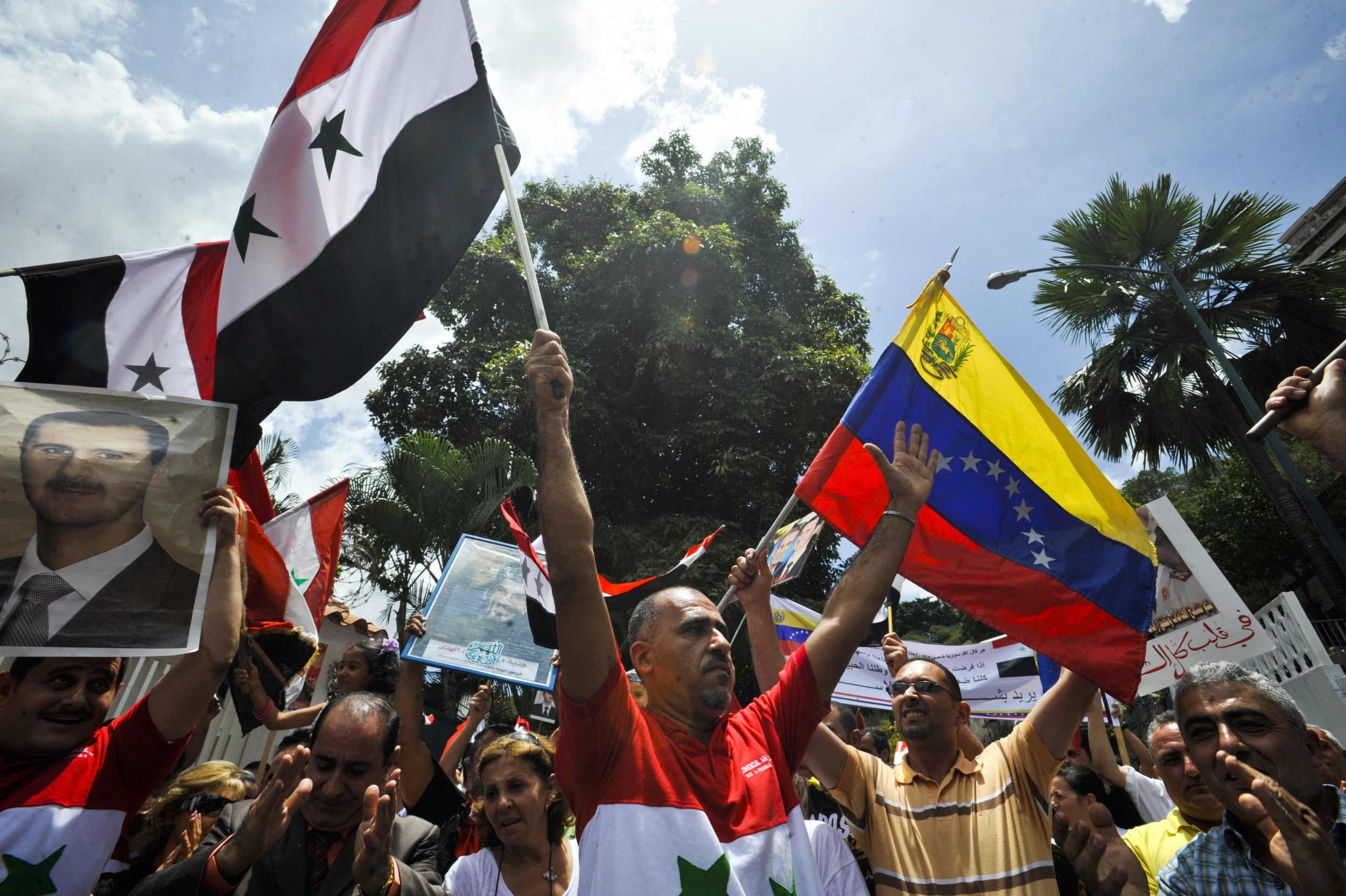 Syria has condemned Tuesday's uprising supported by the U.S. in Venezuela, whose socialist government was also backed by Russia.
The state-run Syrian Arab News Agency cited an official at the Syrian Foreign Ministry responding Wednesday to violence that broke out in Venezuela after National Assembly speaker Juan Guaidó called for troops to back his self-proclaimed bid for the presidency in defiance of President Nicolás Maduro. The official called the incident a "failed coup attempt against the constitutional legitimacy of the Bolivarian Republic of Venezuela," where the U.S. and its allies consider Guaidó acting head of state.
"The latest developments and reactions in Washington have proven that the American administration is moving forward in its policies which aim at undermining stability in Venezuela and that it is using all weapons it possesses including the economic siege to overturn the choices of the Venezuelan people and to transform Venezuela into a small state within the orbit of U.S. policy," the official said.
"Based on that," it added, "the failure of the coup attempt represents a strong blow to the American administration and an abject failure for its policies."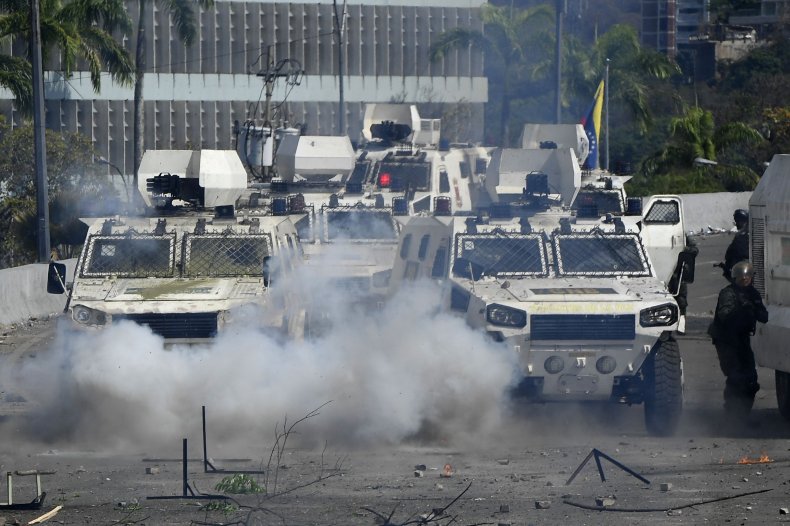 As Guaidó and Maduro faced off at home amid a deteriorating economic situation, their feud became the latest issue to divide the international community. As was the case following the 2011 uprising in Syria, Venezuela's crisis has left the U.S., the European Union, Israel and other West-aligned powers backing the opposition, while countries such as Russia, Iran and China, support the government. One notable exception was Turkey, which backed the Syrian opposition but also the Venezuelan government.
In Syria, clashes between security forces and allied militias on one side and rebels and jihadis on the other escalated into an all-out, multisided civil war that has yet to abate fully. The Syrian government ultimately got the upper hand as Iran and Russia intervened on its behalf against an opposition already suffering from internal conflict and a collapse in international support due to growing Islamist tendencies.
Moscow has also sent personnel thousands of miles further to Caracas, though it has maintained that these were specialists solely in town to fulfill "military-technical cooperation" with Venezuela. Iran too has sent a delegation of officials across the Atlantic to establish a flight route for Mahan Air, a privately owned airline sanctioned by the U.S. for allegedly serving Iran's elite Revolutionary Guards—recently designated a terrorist organization by the State Department.
Both Moscow and Tehran have called for calm in Caracas, but Washington has accused them of attempting to establish a presence in the Western Hemisphere. White House national security adviser John Bolton has invoked the 19th-century Monroe Doctrine initially designed to expel colonial European powers and later used to justify U.S. intervention against leftist political forces across Latin America.
In the wake of Tuesday's events, Bolton has warned that the U.S. military should be "ready to go" if summoned on Venezuela. Both Bolton and Secretary of State Mike Pompeo claimed Russia convinced Maduro to stay amid an attempt to flee on Tuesday. Maduro and Moscow have denied this, with Russian Foreign Minister Sergei Lavrov warning of "most serious consequences" in response to "the continuation of aggressive steps" on the part of the U.S.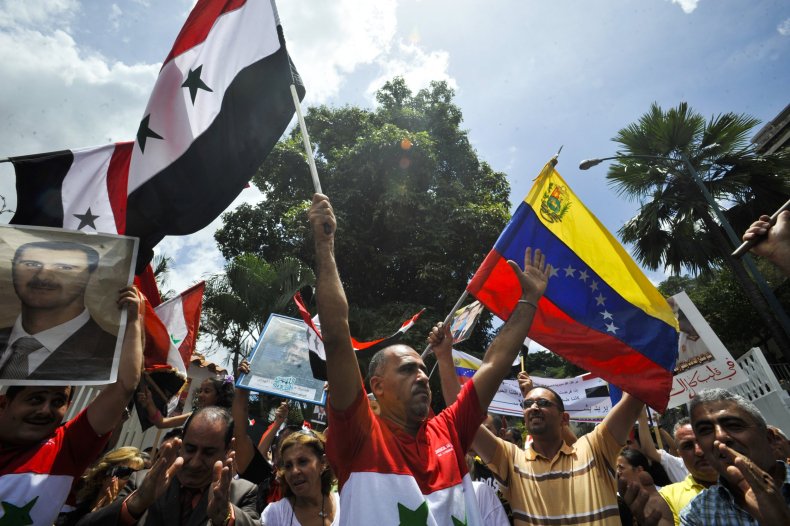 As Venezuela's crisis deepened in April, the government called for more Russian military support, and Foreign Minister Jorge Arreaza met with Syrian President Bashar al-Assad and other officials in Damascus in a show of solidarity. The two compared their countries' situations, blaming the U.S. for sanctions and support for non-state actors looking to seize oil assets.
Weeks later, Caracas received an official delegation from Damascus commemorating the 73rd anniversary of France's exit from Syria.
The U.S. and Russia have largely avoided confrontation in Syria, leading rival campaigns against the Islamic State militant group (ISIS). Clashes between the Pentagon-led coalition and pro-Syrian government forces last year, however, reportedly led to scores of Russian private military personnel deaths in the country's far east. Moscow officials also threatened to respond with force should Russian personnel be harmed during two sets of U.S. airstrikes against the Syrian government, conducted in response to alleged chemical weapons attacks in April 2017 and April 2018.
Syria and Venezuela have portrayed U.S.-led attempts to overthrow their respective governments as extensions of their imperial histories, which have deeply affected both countries. But Washington and its regional allies have instead painted the efforts as pro-democracy uprisings against leaders accused of human rights abuses and corruption.