Who Supports Who in Venezuela? World Responds to Uprising That Divides U.S. and Russia
Nations around the world have begun responding to an attempted coup in Venezuela, where a political crisis involving competing international interests has turned violent.
Opposition leader Juan Guaidó, the National Assembly head who declared himself acting president in January, called Tuesday for Venezuela's armed forces to defy President Nicolás Maduro, prompting a government crackdown in the streets outside La Carlota air base in Caracas. Security forces exchanged fire with a faction of troops backing Guaido amid a mass demonstration and, though the U.S. and Guaidó suggested military leadership had switched sides, the majority of Venezuelan troops continued to publicly back the government.
Top members of President Donald Trump's administration, who endorsed Guaidó's challenge to Maduro four months ago, have portrayed the violence as being indicative of popular will to force the president out amid a failing economy and mounting pressure. Those supporting the socialist leader, however, have come out against the uprising as a move orchestrated from abroad. With so many factions involved, who supports who in Venezuela?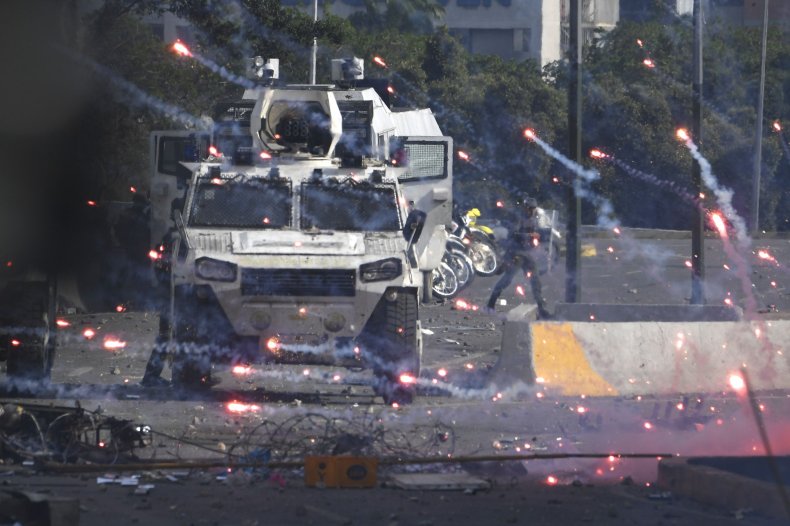 The United States
White House national security adviser John Bolton, one of Maduro's most outspoken critics, issued a series of Twitter statements calling on the Venezuelan leader to step down and for troops to support Guaidó. He then delivered a press conference in which he said the U.S. was "providing support in a variety of respects" and claimed three top Maduro officials agreed to defect, though none of them indicated as such on Tuesday.
Vice President Mike Pence also asserted U.S. support for Guaidó and his supporters, tweeting "America will stand with you until freedom & democracy are restored." Secretary of State Mike Pompeo said Washington "fully supports the Venezuelan people in their quest for freedom and democracy" and "Democracy cannot be defeated."
"I am monitoring the situation in Venezuela very closely," President Donald Trump said in a tweet of his own. "The United States stands with the People of Venezuela and their Freedom!"
Bolivia
Bolivia was a member of the left-wing Bolivarian Alliance for the Peoples of Our America that also included Venezuela as well as Antigua and Barbuda, Bolivia, Cuba, Dominica, Grenada, Nicaragua, Saint Kitts and Nevis, Saint Lucia, Saint Vincent and the Grenadines—all supporters of Maduro. These countries have typically criticized U.S. moves in the region, viewing them as extensions of historic efforts to contain socialism and communism in Latin America.
Bolivian President Evo Morales posted a number of tweets accusing the U.S. of attempting "to provoke violence and death in #Venezuela." He added: "We strongly condemn the attempted coup d'état in #Venezuela, on the part of the right, which is submissive to foreign interests."
Brazil
The election of far-right Brazilian President Jair Bolsonaro has brought with it newfound ties to the U.S. and a united stance between the two against Venezuela's left-wing government. He took the opportunity to tackle leftist domestic political forces such as the Liberal Party (PL) and Socialism and Liberty Party (PSOL), while affirming support for Guaidó.
"Brazil sympathizes with the suffering Venezuelan people enslaved by a dictator supported by the PT, PSOL and those ideologically aligned. We support the freedom of this sister nation to finally live a true democracy," Bolsonaro tweeted. "Brazil closely follows the situation in Venezuela and reaffirms its support for the democratic transition taking place in the neighboring country. Brazil is alongside the people of Venezuela, President Juan Guaidó and the freedom of Venezuelans."
Colombia
Colombia has long sought to enforce regional and international measures against neighboring Venezuela, which it accused of sponsoring left-wing militant groups and engaging in narcotics trade along their border. Like Brazil, Colombia was a member of the pan-American Lima Group whose 14 members—with the exception of Mexico—have played a leading role in supporting Guaidó's ongoing efforts to normalize his self-proclaimed position.
"We call the military and the people of #Venezuela to place themselves on the right side of history, rejecting Maduro's dictatorship and usurpation; uniting in search of freedom, democracy and institutional reconstruction, headed by [the Venezuelan National Assembly] and the President [Juan Guaidó]," Colombian President Iván Duque tweeted.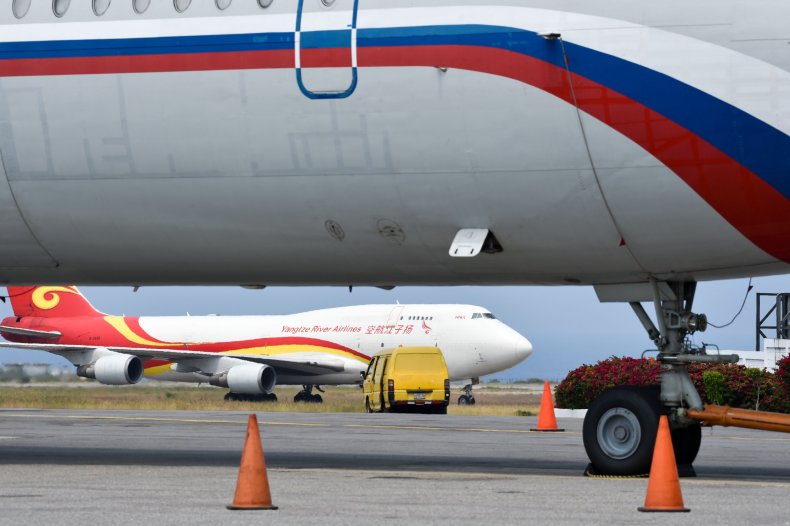 Cuba
The U.S. has doubled down on decades-long sanctions against Cuba due to its ongoing support for Maduro, who Bolton has claimed enjoyed the support of some 25,000 Cuban security forces. Already the target of Cold War-era embargo, Havana has come out strongly in favor of the Venezuelan government amid the political turmoil.
"#Cuba stands by the legitimate government of #Venezuela that is calmly and courageously facing the new coup attempt by the pro-imperialist right with the complicity of the #US and lackey governments of the region," Cuban President Miguel Díaz-Canel tweeted Tuesday.
Russia
Russian President Vladimir Putin, one of Maduro's major foreign backers, met Tuesday with his Security Council amid reports of growing unrest in Caracas. Though Russian military personnel have been sent to Venezuela in recent weeks, they were officially there only to fulfill "military-technical cooperation" and Moscow's embassy in Caracas suggested they would not intervene in the events transpiring on the streets near La Carlota.
"The radical opposition in Venezuela has again resorted to violent methods of confrontation," the Russian Foreign Ministry said in a statement. "Instead of seeking to settle political disputes peacefully, it has adopted a course of escalating the conflict, provoking violations of public order and staging clashes with the involvement of the armed forces."
The ministry called "on all sides to renounce the use of violence" and for a dialogue "taken exclusively within the confines of the law, in strict conformity with the constitution and without destructive interference from outside the country."
Iran
Iran has also backed Maduro in the face of what it viewed as U.S. aggression abroad. Tehran sent a delegation to Venezuela last month via Mahan Air, a privately-owned company sanctioned by the U.S. for allegedly transporting personnel and goods for the elite Revolutionary Guards—recently designated a terrorist organization by the State Department.
In a statement, an Iranian Foreign Ministry spokesperson noted "that chaos cannot be a solution to political differences in Venezuela in any way" and the two sides should instead "establish dialogue and create the necessary mechanisms for solving the problems of the people by the forces committed to the development and welfare of the country under the direction of the Venezuelan government."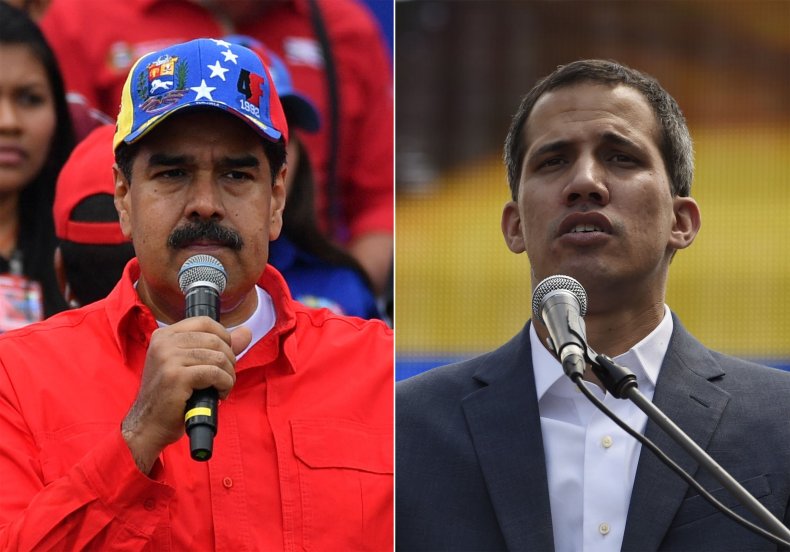 Spain
Venezuela declared its independence from Spain in 1811 and the U.S. would go on to expedite the collapse of Spain's imperial presence in the Western Hemisphere through the 19th-century Monroe Doctrine now cited by Bolton as further reason to oust Maduro, who has sought foreign support to prop up his government. Madrid and Caracas have suffered rocky relations in recent years and Spain has joined the EU in recognizing Guaidó as head of state, though it has not officially severed ties with Maduro.
"We hope with all of our strength that there is no bloodshed. We support a peaceful democratic process in Venezuela," Spanish government spokesperson Isabel Celaá told a press briefing Tuesday. "We support the holding of immediate elections for a new president."
Turkey
Turkey has once again broken rank with the U.S.-led NATO Western military alliance in its decision to back Maduro. Turkish President Recep Tayyip Erdogan, who himself survived a 2016 coup attempt, has grown increasingly critical of U.S. foreign policy decisions, including in Syria, where—despite backing the opposition—he has joined Putin and his Iranian counterpart Hassan Rouhani in peace process not endorsed by Washington.
"Those who are attempting to appoint a post-modern colonial governor to Venezuela, where the people dominate and the president is determined by elections, should know that the country can only be governed through democratic elections. In democracies, the ballot box is essential," Erdogan tweeted. "As a country that fought against coups and experienced the negative consequences caused by coups, we condemn the coup attempt in Venezuela."