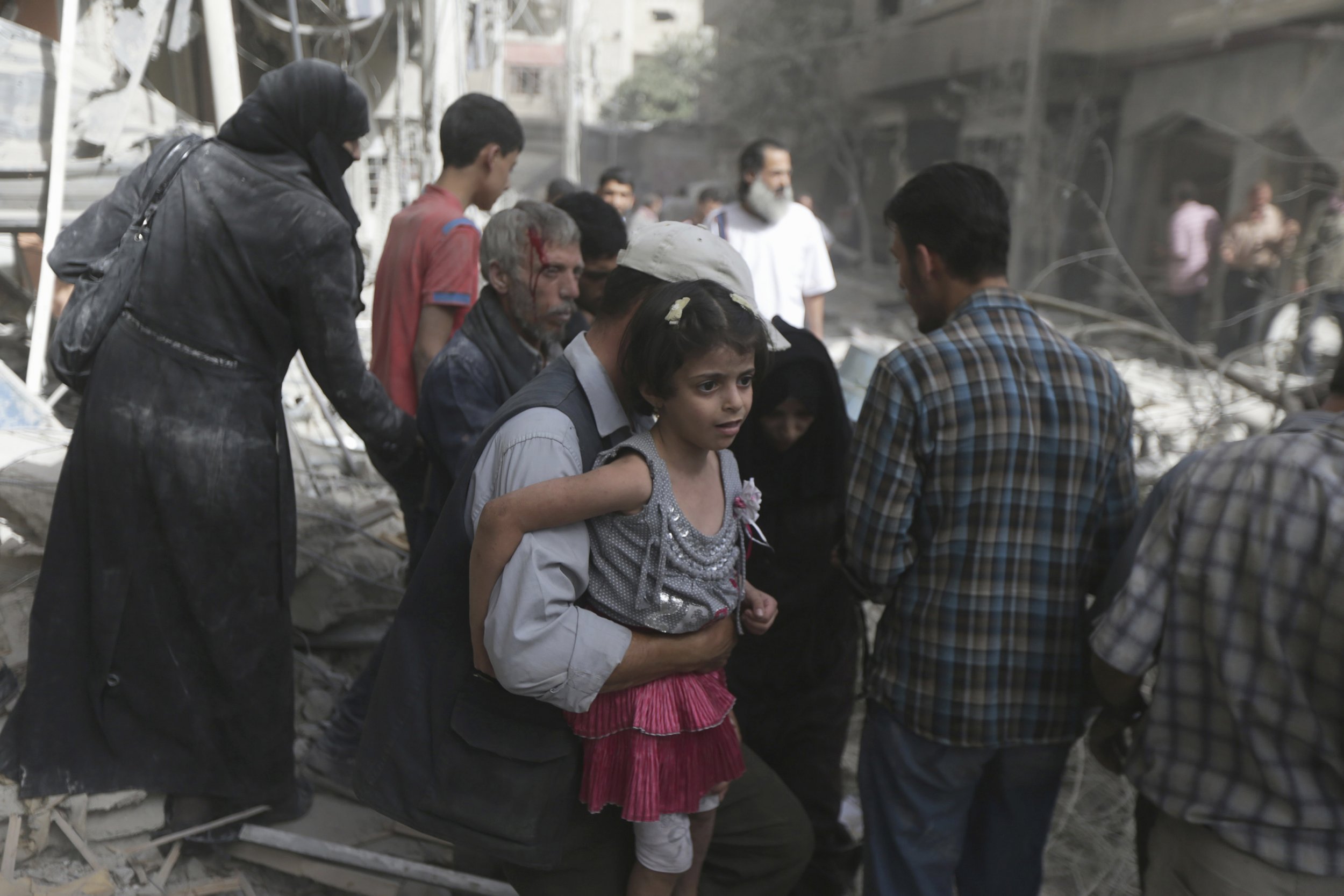 As targeted airstrikes by the United States and its coalition partners began this week in Syria, one aid organization tried to draw attention to the effects of the three-year-long battle between rebels and the government in war-torn Syria.
The fighting has resulted in millions of refugees and internally displaced people within the country and more than 191,000 deaths, the United Nations Human Rights Office said in August. The number is probably an underestimate, then-U.N. High Commissioner for Human Rights, Navi Pillay, said at the time.
"We have been living under these conditions for four years now, so the airstrikes became something very normal," says Raed Saleh, 30, of the Syrian Civil Defence, a humanitarian organization of 1,100 volunteers also known as the White Helmets. "We don't have any other choice but to continue living," Saleh told Newsweek through a translator.
Members of the White Helmets described working on the ground in Syria at a panel discussion in New York City on Wednesday, two days after President Obama announced targeted airstrikes on the Islamic State—which is more commonly known as ISIS or ISIL—in Iraq and Syria. The group says it is not affiliated with any political group and its main objective is to provide humanitarian aid and save those who are trapped by the fighting.
Before he joined the Syrian Civil Defence, Saleh worked as a businessman selling electronic equipment. In 2011 he began organizing peaceful protests and went into hiding in Turkey in June 2011 after the Syrian army entered his hometown of Jisr Al Shoghour, Syria. In June 2013, Saleh attended civil defense training in Istanbul, Turkey and was eventually appointed as head of civil defense in Idlib governate, a liberated area in northwestern Syria.
Saleh's civil defense teams have saved 177 people in the past month, according to the White Helmets.
In Idlib, Saleh's day starts when the air strikes begin, often at 6 a.m., he says.
"We have observation points at the tops of the hills and whenever we see or hear the sound of any aircraft, we start warning each other," says Saleh. "If the aircrafts bombed in the area, we respond quickly and send teams to rescue people in that area. If the aircraft did not bomb, we turn on the sirens to send warnings to other villages there are aircraft in the air and they're going to bomb another area," he said.
"We spend the whole day waiting and expecting bombs to fall in one place or another and to rescue people there. In the evening, if there's no attack, we play football or basketball at the training center" in Idlib, where the new volunteers are trained, said Saleh.
Saleh says the group is in need of resources and support. "We need fire engines. We need search and rescue equipment. We need regular funding to maintain the stability of our work and cover our operating expenses," said Saleh.
The United States and its coalition partners have so far targeted Raqqah, Syria, described by The Washington Post as "the Islamic State's de facto capital," and oil refineries seized by the militants.
Ralph El Hage, a spokesman for the International Committee on the Red Cross (ICRC) spoke to Newsweek from Damascus and said the main concern of responders is to care for scared civilians and that "all parties continue to distinguish between civilians and fighters."
The ICRC, in partnership with the Syrian Arab Red Crescent, sends mobile health centers to check on people with chronic illnesses like diabetes and delivers food assistance packages to Syrian families so they have enough food and supplies to make a meal.
The ICRC is not on the ground in Raqqah, but El Hage says the humanitarian situation there was already dire before U.S. airstrikes began. Ongoing fighting and a drought has restricted proper access to clean water, a decent supply of food and basic health care.
"The problem is huge, with the effect of the drought, access to clean water is difficult," said El Hage.
The ICRC has asked the U.S. to comply with the rules of war when carrying out airstrikes in Syria to protect civilians who have already suffered through several years of violence and destruction.
"What is extremely important for us is that whatever country takes part in the hostilities has to comply with the basic rules and principles of international humanitarian law," said Robert Mardini, head of ICRC operations for the Near and Middle East, told Reuters Television.
"It's going to take a serious effort by all involved. We do believe that we're talking about years here," Rear Admiral John Kirby, a Pentagon spokesman, told the BBC on how long the operation against ISIS could take.
The Syrian Civil Defence team will return to Syria on October 3 after meeting with officials at the United Nations in New York. The team has become expert in search and rescue, and recently released a video of the group rescuing a 10-day-old babyburied under mounds of rubble.
In his interview with Newsweek, Saleh directed a pointed question to the international community. "How many people do you think should be killed in Syria until you act to stop the killing? Just for us to know, how many?"