Bombs and Missiles Are Leading Cause of Death for Syrian Women and Children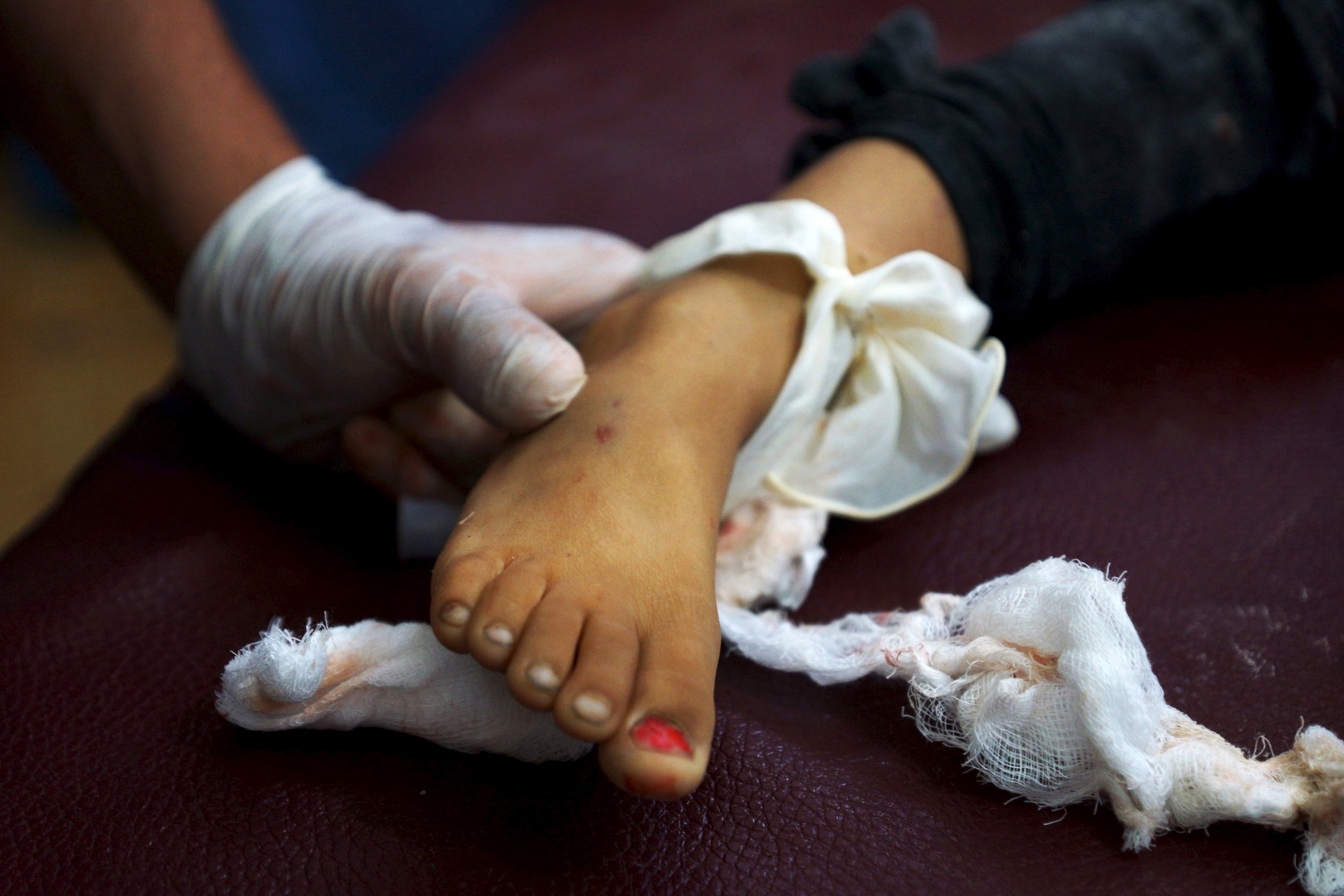 Explosive weapons deployed in the course of Syria's ongoing conflict disproportionately kill women and children in Syria, while men are more likely to be shot or executed, a new report published on Tuesday in The BMJ said.
Air bombardments, including barrel bombs, as well as missiles and other explosive weapons, were the leading cause of death for children, despite the Syrian government's assertion that its bombs and shells target enemy combatant strongholds, according to the report. Explosive weapons were also the leading cause of death for women killed in the conflict. The leading cause of death for men in Syria was shooting or execution, the study found.
The report looked at 78,769 violent civilian deaths between March 2011 and January 2015. The vast majority of those deaths occurred in areas controlled by rebels or "non-state armed groups," including ISIS. Nearly a quarter of those who died in areas controlled by opposition groups were children, and 75 percent of them died from shelling and air bombardments, according to the report.
Women and children make up one-quarter of civilian deaths in the Syrian conflict, according to the study. The conflict has also destroyed Syria's health care infrastructure: In December 2014, one-fifth of the country's hospitals were "completely non-functional," while another 35 percent could provide only partial services.
The United Nations estimates 220,000 people have been killed in the war, which entered its fifth year in March. More than 4 million refugees have fled the country, and millions of internally displaced people remain at risk of injury or death. In 2012, violence became the leading cause of death in Syria, overtaking heart disease, cerebrovascular disease and congenital anomalies, according to study co-author Debarati Guha-Sapir, professor of disaster epidemiology at the Université Catholique de Louvain in Belgium.
World leaders have struggled to agree on how to mediate an end to the Syrian conflict, which was sparked by opposition to the regime of President Bashar Assad and further complicated by the arrival of ISIS, which has claimed vast swathes of Syria in its goal of establishing an Islamic state. The U.S. began leading a coalition of airstrikes against the terrorist group in Iraq and Syria last August but has thus far resisted sending troops to engage in combat. Russia, a close ally of Syria, has been building up its military presence in Syria over the past several weeks, and on Wednesday morning it confirmed the country had begun airstrikes against ISIS targets in Syria.
During his speech at the U.N. General Assembly this week, Russian President Vladimir Putin said it would be a "mistake" for the international community not to work with Assad.
Human rights groups have accused the Assad regime of perpetrating war crimes against Syrian citizens with its use of barrel bombs. International rights group Amnesty International said the government was committing "crimes against humanity" in a report on the use of barrel bombs published earlier this year.
The BMJ's report found that in the course of the conflict, women and children were also more likely than men to die from the effects of chemical weapons attacks, particularly in opposition-held areas. While Guha-Sapir says it's not entirely clear why women and children were at greater risk of death from chemical weapons, the small physical stature of children "reduces the dose of toxic agents needed to cause observable or lethal effects of the agent."
"We were struck by the extent to which explosives were associated [with] children and women," Guha-Sapir says.
Guha-Sapir also says the researchers were shocked by the number of children they believed were shot or executed in opposition and government-held periods during their period of study: 2,618. "Although we did not dig further, the absolute number of children who were executed was also striking and unexpected for us."
The study's authors have called for the use of air attacks and explosive weapons in populated areas to be "prohibited or systematically monitored to demonstrate civilian protection."