Ta-Nehisi Coates Is One of 10 on National Book Awards Nonfiction Longlist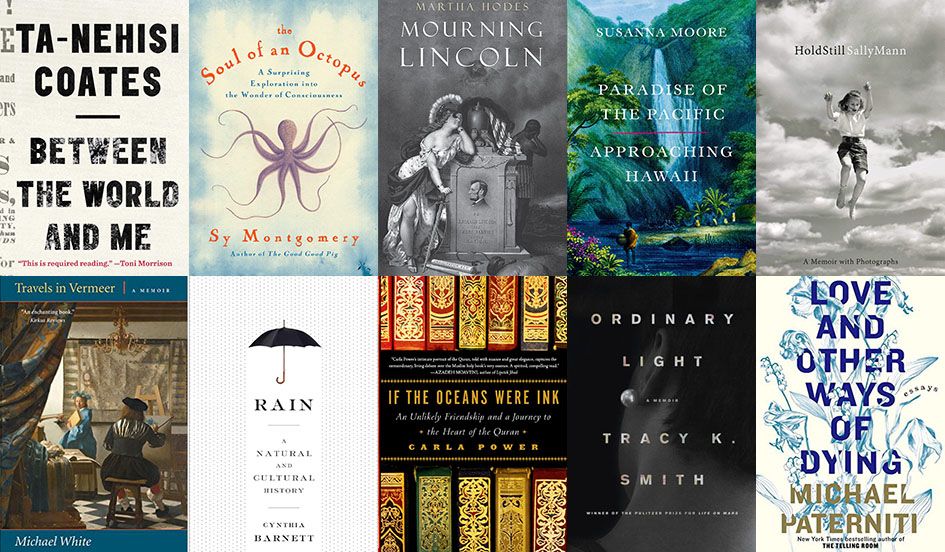 The National Book Foundation announced Wednesday its longlist of candidates for the National Book Award in nonfiction. The list of 10 titles includes Ta-Nehisi Coates's Between the World and Me—standing strong at No. 2 on The New York Times nonfiction best-seller list—which grapples with the past and present of black men and women in the U.S. and recounts some of his own experiences in the form of a letter to his son.
Four other titles on the longlist fall on the memoir side of nonfiction, writes The New Yorker, which partnered with the National Book Foundation for this year's longlist announcements. In Hold Still, Sally Mann looks at her family's history in the South through her experience digging through boxes of old papers and photos; in If the Oceans Were Ink: An Unlikely Friendship and a Journey to the Heart of the Quran, Carla Power tells of studying the sacred book and addressing stereotypes with her friend Sheikh Mohammad Akram Nadwi; Tracy K. Smith's Ordinary Light is a coming-of-age memoir; and Michael White, a poet, recounts his journey to six cities to see Johannes Vermeer's paintings while dealing with a difficult divorce in Travels in Vermeer: A Memoir.
Others on the list are Cynthia Barnett's study of rain over billions of years; Martha Hodes's book on reactions to the assassination of Abraham Lincoln and the event's aftermath; Sy Montgomery's work on "the emotional and physical world of the octopus"; Susanna Moore's history of Hawaii; and Michael Paterniti's collection of essays that take him from the Ukrainian countryside to Nanjing, China, and Dodge City, Kansas.
The full longlist:
Cynthia Barnett, Rain
Ta-Nehisi Coates, Between the World and Me
Martha Hodes, Mourning Lincoln
Sally Mann, Hold Still
Sy Montgomery, The Soul of an Octopus
Susanna Moore, Paradise of the Pacific
Michael Paterniti, Love and Other Ways of Dying: Essays
Carla Power, If the Oceans Were Ink: An Unlikely Friendship and a Journey to the Heart of the Quran
Tracy K. Smith, Ordinary Light
Michael White, Travels in Vermeer: A Memoir
This year's nonfiction judges are Diane Ackerman, Patricia Hill Collins, John D'Agata, Paul Holdengräber and Adrienne Mayor. The committee will announce finalists on October 14 and the winner on November 18 at a gala dinner and ceremony in New York City. At last year's event, which was live-streamed online, Evan Osnos took home the nonfiction award for Age of Ambition: Chasing Fortune, Truth, and Faith in the New China.