Taiwan 'Absolutely Capable' of Stopping China's Missiles, Says Tsai Ing-wen
Taiwan's President Tsai Ing-wen talked up her country's missile deterrence on Monday and called on the armed forces to "anticipate the enemy" as reports emerge of a $7 billion special budget to ramp up the island's precision strike capabilities.
Marking the 63rd anniversary of the 1958 Taiwan Strait Crisis, Tsai visited the air force's missile command headquarters and the Defense Ministry's arms manufacturing center. In brief remarks, she again stressed the importance of self-defense.
"We may not be able to control where the enemy points its missiles, but we are absolutely capable of stopping hostile missiles from striking our beloved homeland," she said in a reference to China's rocket forces across the strait.
"The stronger our determination to defend our country, the less likely foreign forces will act recklessly. We must make adequate preparations in order to anticipate the enemy," Tsai added.
Defense planners and analysts have lamented the island nation's meager defense spending, which, while growing year-on-year, continues to languish below 2 percent of GDP. The Tsai administration has been unable to overcome domestic hurdles including those surrounding public perceptions of military expenditure and its effectiveness.
Despite being described as the leader who has placed the most emphasis on national defense in recent decades, Tsai and her government secured a 2020 defense budget of just $12.2 billion, or 1.9 percent of the country's GDP, according to the Stockholm International Peace Research Institute.
The allocated sum is smaller than any of its immediate neighbors, including Japan and South Korea, while up to 20 times smaller than that of its only foe—the People's Republic of China.
Taiwan spent slightly more on defense than Singapore in the same period, according to the institute, but the Southeast Asian city state earmarked 3.2 percent of its GDP to maintaining its modern defense forces, which are supported by strict and regular mandatory conscription.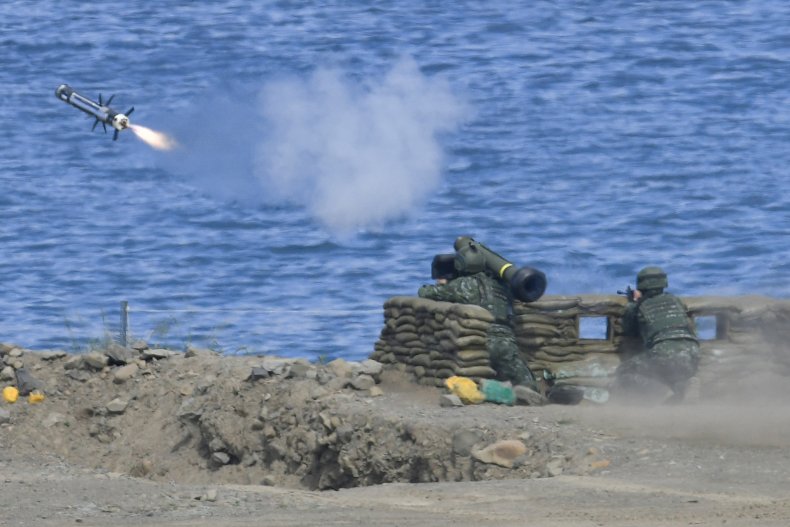 Tsai has driven defense reforms since taking office in 2016, first to Taiwan's overall defense strategy and then to the island's reserve forces, which observers have described as inadequately trained.
"In recent years, to demonstrate our determination for self-defense, we have continued defense reforms," Tsai said. "Besides autonomous defense programs to produce our own aircraft and ships, we continue our efforts in the areas of asymmetric warfare and reserve forces reform in the hope that defense reforms meet modern requirements."
A Sunday report by the Taipei Times said Taiwan's Defense Ministry had requested a $7.15 billion special budget for the fiscal year 2022. The funds will go to the National Chung-Shan Institute of Science and Technology (NCSIST)—the state weapons developer—"to expedite the mass production of missiles with precision and long-range capabilities," the newspaper said.
NCSIST is responsible for developing surface-to-surface cruise missiles that can reach parts of coastal China including Shanghai. These include various range iterations of Taiwan's Hsiung Feng IIE missiles and the supersonic Yun Feng, which has a reported operational range of up to 1,200 miles—capable of reaching Beijing.
NCSIST's special budget will increase the island's precision strike capabilities through the production of Hsiung Feng III surface-to-surface and anti-ship missiles, as well as Tien Kung III surface-to-air missiles, said the Taipei Times.
The defensive arms will complement existing weapons systems purchased from the United States, including PAC-3 anti-aircraft and Harpoon anti-ship missiles.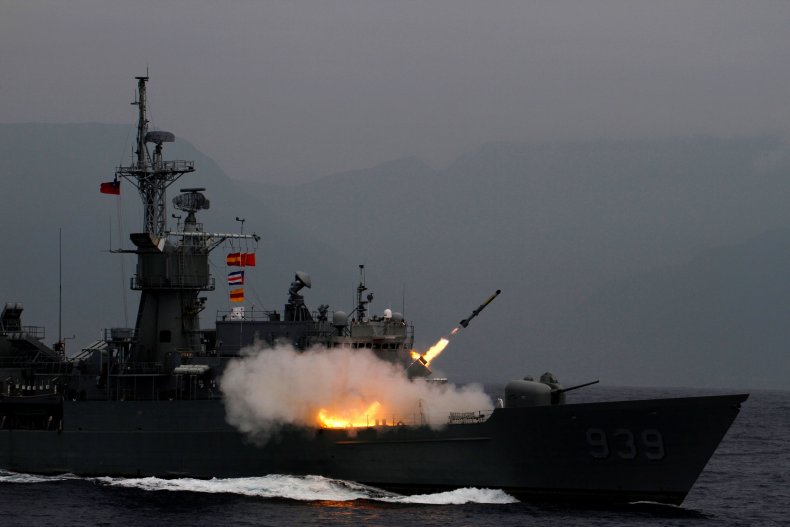 In a press conference on Tuesday, Taiwan's Defense Ministry spokesperson Shih Shun-wen said he would not comment on the planned defense expenditure, which is currently under review by lawmakers.
Taiwan's armed forces would continue to pursue a strategy of "resolute defense and multi-domain deterrence," he said.
Faced with the growing threat of invasion by China and its People's Liberation Army, the Taiwanese government under Tsai has sought to focus on asymmetric warfare capabilities through the production and purchase of precise, highly maneuverable weapons and equipment.
On Tuesday, the Liberty Times—a Taipei Times sister publication—said Taiwan's defense policymakers were seeking the inclusion of another special budget for the purchase of 10 SH-60 Seahawk helicopters to bolster the navy's anti-submarine warfare capabilities.
Negotiations with the U.S. for Seahawks began in at least 2014, but Taiwan's budget constraints meant no deals were ever concluded, the paper said.
Taiwan's legislature is expected to finalize the government's fiscal year 2022 operating budget by the end of this week. It will include $13.3 billion earmarked for defense spending, a 3 percent rise.