Taiwan Backs 'Legitimate Demand' for Coronavirus Probe After China Blocks Country From World Health Assembly
Taiwan—blocked by China from attending this week's World Health Assembly—backs international demands for an independent probe into the origins and course of the COVID-19 coronavirus, a senior diplomat has told Newsweek as Beijing continues to evade an investigation.
Ambassador Lily Hsu, who heads Taiwan's United Nations Affairs Task Force in New York, told Newsweek that China has not been adequately transparent, and that the different responses from Beijing and Taipei stand in "sharp contrast."
Taiwan—which Beijing considers a wayward Chinese province rather than an independent nation—has been pushing for observer status at the WHA this week, arguing it can offer the international community valuable information on the COVID-19 pandemic and its successful strategy to contain it.
Beijing has dismissed any suggestion of Taiwanese involvement, in keeping with its long time efforts to degrade Taipei's diplomatic independence and peel away its remaining allies.
This week's WHA will be dominated by COVID-19, which to date has infected more than 4.7 million people worldwide and killed more than 315,000, according to Johns Hopkins University. The virus originated in China but the epicenter has since shifted to Europe and then to the U.S.
The pandemic has been quickly politicized. China has been accused of trying to cover up the initial outbreak and failing to properly notify the World Health Organization and the international community of the danger. Beijing is also said to have concealed warning signs that the outbreak would soon become a pandemic, even while buying up medical equipment needed to fight its spread.
China has also been accused of embarking on a disinformation campaign to absolve itself of blame and malign the response of other nations, particularly in Europe and the U.S.
Meanwhile, Chinese officials have dismissed a proposed international investigation of the origins and course of the pandemic. At the WHA meeting this week, a paper backed by 122 nations will be submitted calling for an independent inquiry into COVID-19.
Chinese President Xi Jinping told the WHA Monday that China "supports the idea of a comprehensive review" of coronavirus but only "after it is brought under control." The probe should be "based on science and professionalism," led by the WHO and conducted in an "objective and impartial manner," Xi said.
The president also claimed that China has " acted with openness, transparency and responsibility" during the pandemic, while providing the WHO and relevant countries with information "in the most timely fashion" and "without reservation."
But Hsu told Newsweek that China "doesn't want to work with the world to find out how the virus started." She added, "It makes one wonder if everything is as transparent as Beijing claims."
Hsu explained, "We've learned from experience that getting transparent information from China is very difficult. It's the nature of the authoritarian regime to control information."
"Nobody seems to have a clear picture of what happened over there," Hsu said of the initial outbreak in Wuhan in December and subsequent worldwide spread. Chinese officials are accused of silencing local whistleblower doctors and underreporting the number of infections and deaths in the city, which was put under strict quarantine for two months.
"There is a legitimate demand for the world to establish the facts as to how this disaster came about," Hsu added, backing demands from a host of world leaders and nations for an independent inquiry into the origins of the crisis.
Despite its proximity to and close ties with China, Taiwan quickly brought its outbreak under control and has reported just 400 infections and seven deaths. This success has "led to a groundswell of support for Taiwan's inclusion in the WHO," Hsu said. Nations including the U.S., New Zealand, Canada and others have all called for the organization to grant Taipei observer status.
Taiwan accused the WHO of ignoring its early warning of the possibility of human-to-human transmission, a key milestone in the pandemic that heralded the exponential growth in cases.
Warning the world so early and having been so successful in stopping the virus "proves our point that Taiwan is an integral link in the global health network," Hsu said. Though a tragedy, she added that the crisis' silver lining is showing the world that "Taiwan can help—Taiwan is actually helping."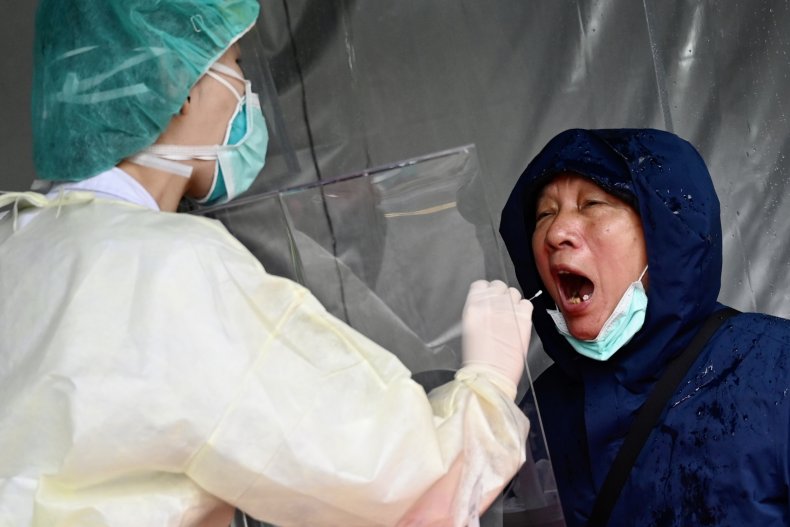 China has warned Taiwan it should not try to capitalize on the coronavirus pandemic to expand its independent diplomatic outreach. Beijing remains committed to bringing Taiwan back under its control as part of its 'One China' policy, whether through diplomatic or military means.
Even during the pandemic, Chinese political pressure across the Taiwan Strait has continued. President Tsai Ing-wen won re-election in January, leading her nationalist liberal Democratic Progressive Party to a resounding victory despite allegations of Chinese meddling against her.
Hsu said Chinese threats "always intensifies anti-Beijing sentiments" and sets back its "One China" strategy. Nonetheless, she admitted that Chinese activity and aggressive rhetoric are "undoubtedly concerning."
Still, Hsu dismissed any suggestion that Taiwan is seeking to exploit the crisis to bolster its independent credentials. "It is definitely not to pursue independent diplomacy," she said of Taiwan's efforts to be included in WHO activities.
"If China is smart enough—not seeing all things through its political lens and standing in a way of Taiwan's participation in the WHO—I would say this would definitely be a good step forward to improve cross-Strait relations." The question of participation "should be beyond politics," she argued.
The Trump administration has been scathingly critical of both China and the WHO. The president even threatened to freeze all U.S. funding for the organization, which makes up some 15 percent of the body's entire budget. The threat drew protests from other world leaders who argued that supporting the organization is vital to battling COVID-19 and avoiding a repeat of the crisis.
Hsu said the WHO "could have done more" to warn the world of the impending pandemic. In our view, the WHO has so far been unable to resist political pressure from the Chinese government," she explained. Though Hsu declined to comment on Trump's funding threat, she said that the WHO must learn from its mistakes "if it truly wants to rebuild its credibility and reputation," she added.
With Trump and former Vice President Joe Biden trying to out-do each other on standing up to China, Taiwan could stand to benefit from greater support from Washington, D.C.
On Monday, Pompeo condemned Taiwan's exclusion from the WHA as a "spiteful action" by the CCP facilitated by the WHO. "Taiwan is a model world citizen, while [China] continues to withhold vital information about the virus and its origins, deny access to their scientists and relevant facilities, censor discussion of the pandemic within China and on Chinese social media properties, and casts blame widely and recklessly," Pompeo said.
Hsu said the Taiwanese government "highly appreciates" the support it has received from the Trump administration and Congress. "We will continue to collaborate with the United States and other likely like minded countries in various areas to tackle global challenges," she added.
As for the future of the U.S.-China relationship, Hsu said, "I believe we have to re-evaluate a lot of things after this pandemic and this is one of them."