Taiwan 'Closely Monitoring' Chinese Military Exercises Ahead of U.S. Official Visit
Taiwan's defense ministry says it is "closely monitoring" Chinese military activities around the island after the People's Liberation Army conducted a series of live-fire drills ahead of a high-profile visit to Taipei by a Trump administration official.
United Nations Ambassador Kelly Craft is scheduled to spend three days meeting Taiwanese officials—including Taiwan's President Tsai Ing-wen and foreign minister Joseph Wu—between January 13 and 15, Ministry of Foreign Affairs spokesperson Joanne Ou told Newsweek on Friday.
Craft will become the first serving U.S. representative to the U.N. to visit Taiwan since Taipei's withdrawal from the international body in 1971, Ou noted.
Major media outlets in Taiwan, however, have focused on a pair of "pincer-like" military exercises conducted north and south of the island. PLA Navy warships fired missiles during drills in the East China Sea, while the Chinese army trained troops in island assault operations off the coast of Fujian province—nearest to Taiwan—China's state broadcaster CCTV reported Monday.
"The Ministry of National Defense is aware of all PLA activities through the effective use of orchestrated intelligence, surveillance and reconnaissance systems," General Shih Shun-wen told Newsweek in written statement.
The Taiwanese military has the capacity to respond with "effective measures" if called upon, he added.
Taipei newspaper Apple Daily, citing a senior military source, said Tuesday that the island's armed forces were "closely monitoring" PLA movements in and around the Taiwan Strait. Taiwan's level of combat readiness would not be raised for the U.S. official's three-day visit, but intelligence monitoring had been increased, the report said.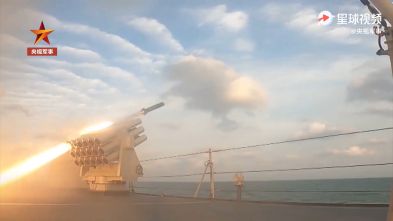 Chinese warships dispatched to the East China Sea for the recent exercise included Type 052D destroyer Taiyuan and Soviet-era Sovremenny-class destroyers Hangzhou and Taizhou, said CCTV's military report. The navy's Type 054A frigate Zhoushan was also among the fleet.
In the Taiwan Strait off Fujian, attack helicopters were filmed firing rockets at and bombing a small island, while amphibious assault troops with the 73rd Group Army rappelled from helicopters for reef occupation drills, the broadcast said.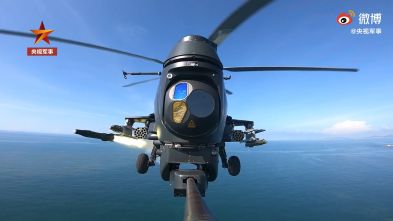 In separate reports, CCTV said the Chinese air force conducted aerial drills with its J-20 stealth fighter jets, while the PLA Rocket Force tested its DF-26 anti-ship ballistic missiles. The missiles have a range of over 3,000 miles and can carry either nuclear or conventional warheads, Defense Department reports have said.
Last year saw the unprecedented escalation of military tensions in the Taiwan Strait, with Chinese warplanes conducting near-daily flights toward the island. Analysts say Beijing is testing Taipei's response time and taxing its vastly outnumbered air force—both "grey zone" tactics that fall short of actual conflict.
While PLA warplane activity has continued into 2021, it is still unclear how China will respond to Craft's upcoming visit.
During the visits to Taipei by two U.S. officials in August and September last year, Chinese fighter jets crossed the Taiwan Strait median line on several occasions, alerting the island's defenses. In October 2020, Yen De-fa, the defense minister, said PLA planes had made the most incursions since 1990.
However, amid rising tensions and increased threats of war, the Taiwanese government received support from the administration of President Donald Trump through the frequent sale of defensive arms.
Taiwan purchased $11.8 billion worth of American-made weapons last year, including missile launchers and attack drones.
On Monday, Taiwan's government-funded Central News Agency reported that the island's military had received upgrades to its domestically produced Hsiung Feng-2E surface-to-surface cruise missiles.
The new missiles have double their previous effective range and can now reach around 750 miles, allowing them to strike Chinese military targets far across the Taiwan Strait, which is about 80 miles at its narrowest point.
In a report published last week, the Institute for National Defense and Security Research—a government-funded think tank—said the island nation's first indigenous submarine and defensive weaponry purchased from the United States would help Taiwan expand its defensive perimeter to up to 300 miles by 2025.