Taiwan's Defense Zone Buzzed by 18 Chinese Aircraft as Military Drills Held
China flew 18 warplanes into Taiwan's defense zone on Friday to conduct military drills, prompting Taiwan to deploy defensive weapons to monitor China's activities.
In a tweet on Friday, the Taiwanese Ministry of National Defense wrote that 18 People's Liberation Army planes entered Taiwan's "southwest" Air Defense Identification Zone (ADIZ).
"Radio warnings issued and air defense missile systems deployed to monitor the activities," Taiwan's Ministry of National Defense said in an update after announcing that Chinese warplanes entered the nation's air defense zone.
The news on Friday comes amid tension between China and Taiwan. China claims Taiwan as its own territory and has continued to urge other nations, such as the U.S. from holding any official interactions with Taiwan. However, Taiwan considers itself independent from China.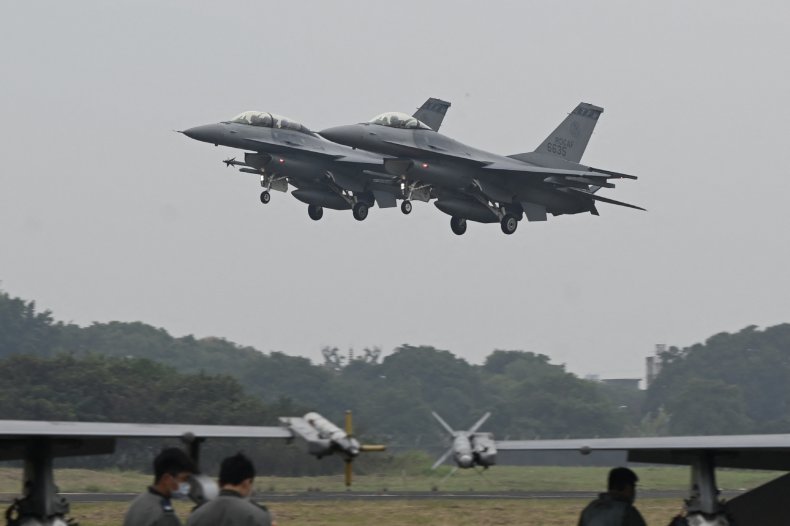 According to Al Jazeera, the 18 Chinese aircraft that flew into Taiwan's air defense zone on Friday is the second largest entry China has made into the zone. Earlier this year, 39 Chinese warplanes flew into Taiwan's Air Defense Identification Zone. Al Jazeera also reported that Taiwan's ADIZ is different from the nation's airspace, as part of the ADIZ overlaps with China's own ADIZ.
In April, several U.S. lawmakers, including Senator Lindsey Graham, traveled to meet with Taiwan's President Tsai Ing-wen, prompting criticism from China. In response to the meeting, China conducted a military exercise near Taiwan.
"The relevant moves by the Chinese army are a countermeasure to the U.S. negative actions recently, including the lawmakers' visit to Taiwan," Chinese Foreign Ministry spokesperson Zhao Lijian said in response to the military drills conducted near Taiwan.
A few days later, on April 26, the U.S. Navy sent the USS Sampson warship through the Taiwan Strait to conduct a "routine" military exercise.
"The ship's transit through the Taiwan Strait demonstrates the United States' commitment to a free and open Indo-Pacific. The United States military flies, sails, and operates anywhere international law allows," the U.S. Navy's 7th Fleet said in a statement on April 26.
In response to the U.S. warship traveling through the Taiwan Strait in April, China's Eastern Theater Command Senior Colonel Shi Yi called it an attempt by the U.S. to "deliberately undermine peace and stability in the Taiwan Strait."
"Theater troops remain on high alert to resolutely defend [China's] national sovereignty and territorial integrity," Shi added.
Amid the ongoing war between Ukraine and Russia, Japanese Prime Minister warned on Thursday that a similar situation could occur between Taiwan and China.
"We must collaborate with our allies and like-minded countries, and never tolerate a unilateral attempt to change the status quo by the use of force in the Indo-Pacific, especially in east Asia," the prime minister said.
During a press conference on Friday, Zhao said, "Taiwan is an inalienable part of the Chinese territory. The Taiwan question is purely China's internal affairs, which cannot be mentioned in the same breath with the Ukraine situation. Japan bears grave historical responsibilities to the Chinese people on the Taiwan question."
Newsweek reached out to the Chinese Foreign Ministry for comment.