Taliban Official Admits Daughters Go to School as Afghan Teens Are Banned
A Taliban official has admitted that his daughters go to school, despite a ban on Afghan girls getting an education in the country.
On Tuesday, Piers Morgan confronted Taliban spokesman Suhail Shaheen on Piers Morgan Uncensored and asked whether his daughters have been allowed to get an education in a clip posted to Twitter.
"Of course, yes. They are observing hijab, and so that means we have not denied for our people," Shaheen said in a tense exchange where the two went back-and-forth about the subject.
Morgan hit back, "So your daughters get an education because they do what you tell them," before promptly ending the interview.
The Taliban's return to power in Afghanistan last year raised concerns about the rights of women and girls in the country, who had made advances since the end of the group's first rule, when they were subjected to harsh laws and banned from receiving an education. In the months following the Taliban's return, girls have not been allowed to attend school.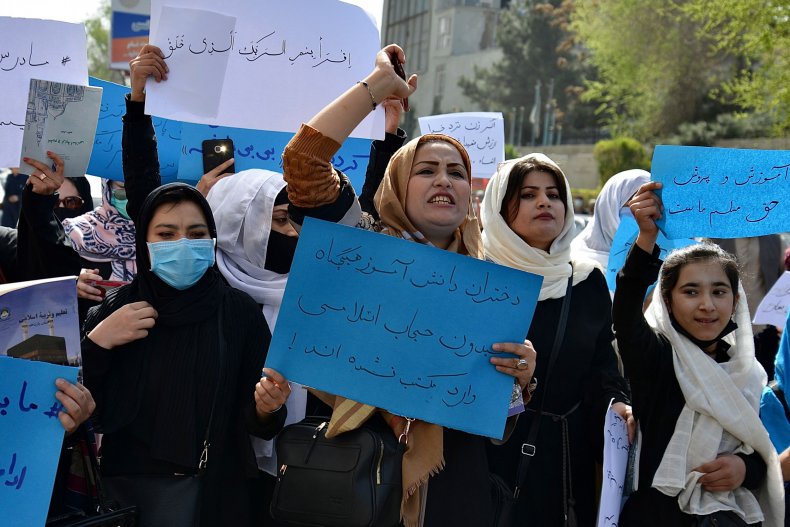 Social media users responded to the clip posted Tuesday, calling out Shaheen for hypocrisy.
"This man's daughters observe hijab and get an education. This man's one daughter plays on the Qatari football team. This man's one daughter has a Qatari boyfriend. Afghan girls observe the hijab, but are deprived of an education past the 6th grade and they cannot play sports," wrote Twitter user @Punk319 in response to the clip.
Afghan schools still have not reopened to girls despite previous promises from the Taliban that they would be able to resume their education—nearly nine months after the group took power.
Schools were initially set to reopen in March, but the Taliban announced the day they were supposed to open that they would remain shut down because the group had not yet determined the dress code students would be required to wear. The decision came as some girls had already returned to class.
The Taliban previously planned to allow girls to return with some restrictions, including that they had to be separated from male students and be taught by a female teacher.
Other women's rights have also been targeted by the Taliban in recent months. In December, the group announced that Afghan women could no longer travel more than 45 miles without the presence of a "close male relative."
Over the weekend, it was announced that Afghan women would be required to cover themselves from head to toe while in public in a decree that also said women should leave the home only when necessary, the Associated Press reported.