Taliban May Have Access to Biometric Data Used to Track Afghans Who Helped U.S.
Following the Taliban's rapid takeover of Afghanistan and the withdrawal of U.S. troops, the militant group reportedly could access biometric data as a way to track vulnerable Afghans and individuals who previously worked for the U.S.
Fearing the threat of execution or arrest, Afghans who once supported the U.S. and other forces have started to hide or destroy digital evidence of their identities that could be obtained by the Taliban, The Conversation reported.
According to the outlet, biometric data—or body measurements and calculations that can digitally track identifiable human characteristics—were collected across Afghanistan by the U.S. military and Afghan government throughout the past two decades.
By 2011, the U.S. Department of Defense had stored approximately 4.8 million biometric records of people in Afghanistan and Iraq amid the ongoing wars there, with about 630,000 of the records collected using Handheld Interagency Identity Detection Equipment (HIIDE) devices. Such devices incorporate a fingerprint reader, iris scanner and camera, allowing the military to obtain fingerprints and facial photos to identify people of interest, The Conversation reported.
However, in addition to the use of biometric data obtained by the U.S. for security reasons, the Afghan government also adopted the technology to implement digital identification for voting, criminal prosecution, and to clear workers for employment.
Earlier this month, U.S.-based advocacy group Human Rights First warned that the Taliban is now likely to have access to those various digital databases.
"We understand that the Taliban is now likely to have access to various biometric databases and equipment in Afghanistan," the group wrote on Twitter, according to Reuters. "This technology is likely to include access to a database with fingerprints and iris scans, and include facial recognition technology."
The group told Reuters that the data could be used to track anyone who was involved in the previous Afghan government, along with those who supported the U.S., international nonprofits or human rights groups.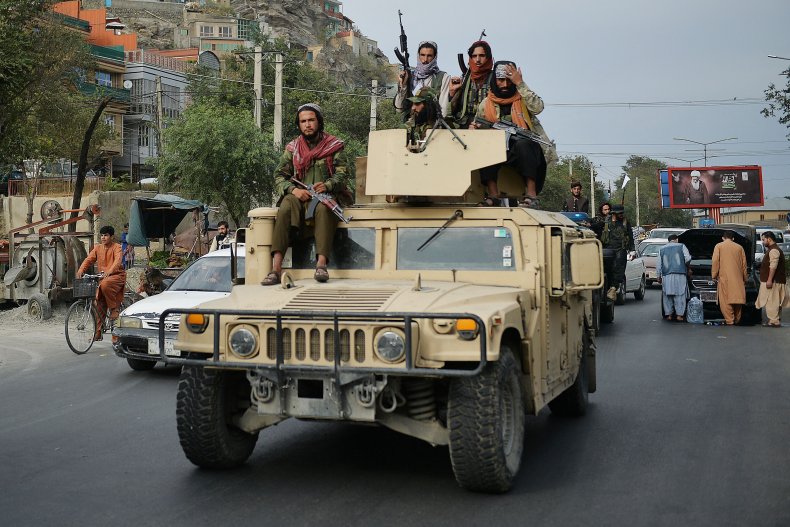 The Taliban could also use the data "to create a new class structure—job applicants would have their bio-data compared to the database, and jobs could be denied on the basis of having connections to the former government or security forces," Welton Chang, chief technology officer at Human Rights First, told Reuters.
The advocacy group has since published a guide on how to delete digital history and has given advice on how to bypass facial recognition, which includes looking down, wearing things to block facial features or applying thick layers of makeup.
"With the data, it is much more difficult to hide, obfuscate your and your family's identities, and the data can also be used to flesh out your contacts and network," Chang added.
After its rapid takeover in Afghanistan, the Taliban said in a statement that it "assures all its citizens that it will, as always, protect their life, property and honor and create a peaceful and secure environment for its beloved nation." However, reports have indicated that the militant group has already been searching for former government officials, along with carrying out executions and abuses against women.
It's too soon to tell whether the Taliban will be able to access biometric data once obtained by the U.S. military, but the concern has prompted thousands to scrape their digital footprint out of fear of reprisal, according to The Conversation.
On Monday, the two-decade U.S.-led war in Afghanistan officially came to an end as the final military plane departed Kabul's airport after weeks of chaotic evacuation of Americans and Afghan allies.