'The Talk': Why Eve is Leaving the CBS Show
The Talk host Eve announced on the Monday, November 2 edition of the CBS talk show that she would be shortly leaving the series after four years as a panelist. This makes her the second cast member to exit The Talk this year, following Marie Osmond's departure in September.
However, Eve's reasons seem to be very different from those of her former colleague. In her on-show announcement, recorded from her home in London, the "Let Me Blow Your Mind," cited the difficulties of recording the show from another continent than the rest of the team and wanting to spend more time with her family.
"It's been a crazy year, obviously for all of us, and I'm so grateful that I'm able to stay here in London and do the show, but I can't see for me, the foreseeable future of traveling back at the moment, and have decided that at the end of December, this will probably be my last time on the show, in this capacity as a host."
This announcement comes after the U.K. government imposed a second lockdown on the country, to be in place for four weeks beginning November 5. In her announcement, Eve said of this, "we're on another lockdown from Thursday, and that's another reason, obviously staying home has been such a blessing because my husband and I got to know each other in a different way, a beautiful way. So I want to be closer to him. I want to concentrate on expanding our family, being with my family."
In 2014, Eve married Maximillion Cooper, the British millionaire and founder of the Gumball 3000 brand. Though the businessman has four children of his own, he and Eve, 41, do not have any children together yet.
Eve's departure came just two months after Marie Osmond exited the show. Though she also cited wanting to spend more time with her family as a reason for leaving, she is also believed to have exited to develop new projects with John Redmann, the former Talk showrunner who exited a few weeks before Osmond did.
So far, The Talk has not announced replacements for either Osmond or Eve. After December, the show will be down to three panelists (Sharon Osbourne, Sheryl Underwood and Carrie Ann Inaba) until Eve is replaced.
Eve had joined the show in Season 8 as a replacement for Aisha Tyler. The "Tambourine" rapper has been presenting the show from London since September, meaning that she was presenting the 11 a.m. PT show at 7 p.m. local time. Prior to filming the show from the CBS satellite office in the U.K., Eve had already taken some time off from the show, with Brigitte Nielsen presenting in her place for much of 2020.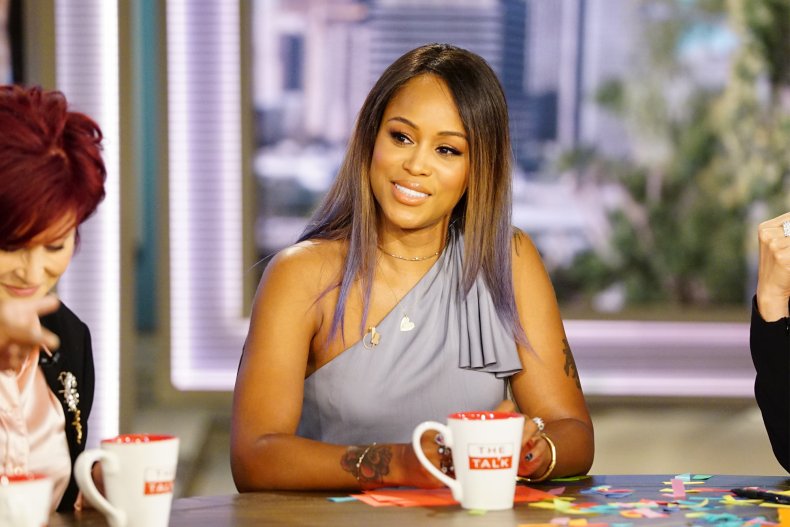 Speaking about her time on the show during a 2019 Access Live interview, Eve said, "It's really hard... It's not an easy situation. I'm used to having a mic and being on stage with my music, but to really sit there and have to give my opinion, it's kind of naked. You're kind of naked 'cause it's just you with your opinion, and it's live TV."
The Talk airs weekdays at 11 a.m. PT / 2 p.m. ET on CBS.