Tammy Duckworth Won't Vote for ICE, CBP and Customs Heads Unless More Asian Americans are Candidates
Democratic Senator Tammy Duckworth will vote against President Joe Biden's cabinet nominees unless those appointed enhance diversity within his administration, the congresswoman said Tuesday.
Duckworth specifically emphasized concerns about a lack of Asian American or Pacific Islander (AAPI) cabinet secretaries in comments to reporters at the U.S. Capitol, where the Senate is holding confirmation hearings for a handful of key positions this week, including Biden's picks for surgeon general and chief of the Health and Human Services Department. The congressional chamber voted to confirm Shalanda Young as deputy director of the Office of Management and Budget on Tuesday, as debate forges ahead over who should lead the agency since Neera Tanden withdrew her nomination.
"President Biden will be the first president in 20 years without a cabinet secretary who is AAPI," Duckworth said, referencing conversations between herself and the White House in which the senator advocated strongly for increased representation.
"There's no AAPI representation in the cabinet," she added later. "There's not a single AAPI in a cabinet position. That's not acceptable."
Duckworth articulated her intent to stall future confirmations if the White House does not take steps to amend this, as a handful of significant leadership roles remain unfilled. The Biden administration has yet to announce nominees for directors of the Bureau of Alcohol, Tobacco and Firearms, Customs and Border Protection, Immigration and Customs Enforcement or U.S. Citizenship and Immigration Services.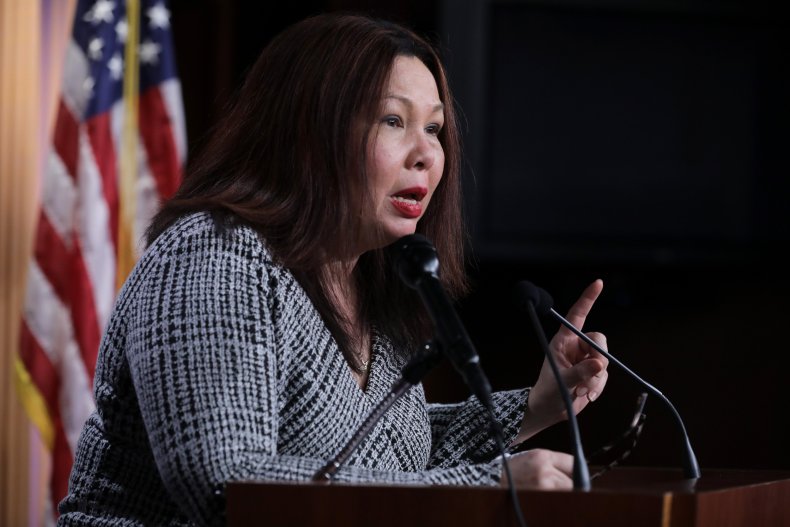 The agencies play significant roles in gun legislation and immigration policy. Both areas have received particular attention recently, as the U.S. continues to see an influx of migrants arriving at the southern border and grapples with the aftermath of two mass shootings in one week's time. The first, in Atlanta, Georgia, resulted in the deaths of eight people, six of whom were women of Asian descent. Given the ongoing spike in hate crimes against Asian American people since the onset of the COVID-19 pandemic, a number of public figures, including Duckworth, have acknowledged the shooter's potentially racist motivation.
Lawmakers and advocacy groups alike have been calling for increased AAPI representation in federal government positions for months. The Congressional Asian Pacific American Caucus issued a letter to Biden at the end of last year urging him to nominate an AAPI cabinet secretary, and the Asian American Pacific Institute for Congressional Studies, a nonprofit organization, explicitly criticized his failure to do so in early January.
"I've been giving them names of people, many well qualified AAPIs who never even got a phone call," Duckworth said Tuesday, speaking about past recommendations for cabinet leads. Until the White House prioritizes representation, "I am a 'no' vote on the floor, on all non-diversity nominees," she continued.
"I will vote for racial minorities and I will vote for LGBTQ, but anybody else, I'm not voting for," the senator noted. She stressed however that her focus lies especially in combatting "the fact that there's not enough AAPI representation."
U.S. Senator Dick Durbin, an Illinois Democrat who chairs the Judiciary Committee where Biden's judicial nominees will be vetted, didn't seem to know about Duckworth's plan.
"In a 50-50 Senate, every senator has the power to complicate," he told reporters at the Capitol.
Newsweek contacted Duckworth's office for further comment.