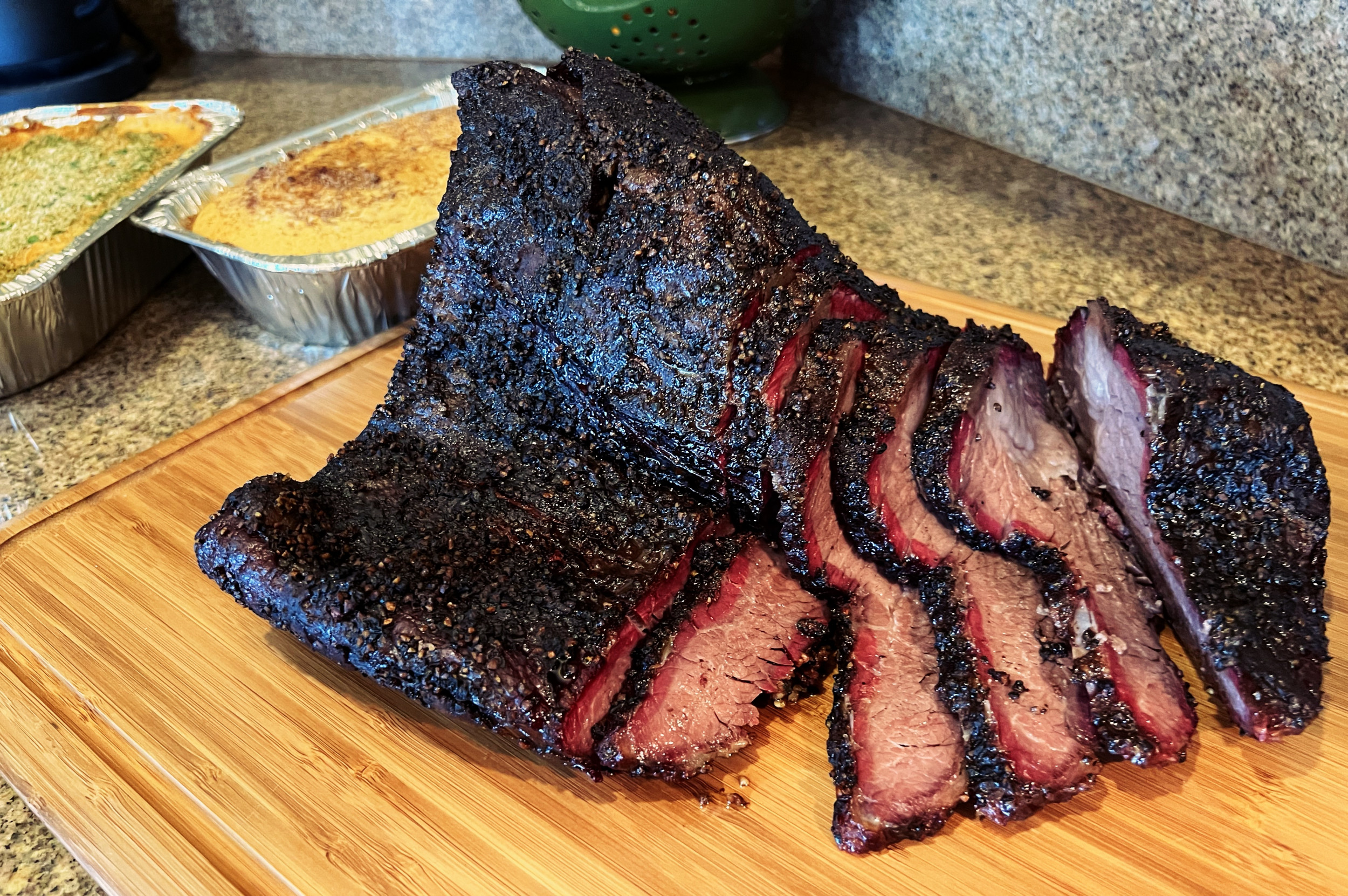 Now, if Traeger could make the process of smoking a brisket as easy as it does ordering a brisket meal kit through its new Traeger Provisions website, the company would really be on to something. Sadly, the 10 to 14 hour smoking gauntlet required for mouth-watering, tender meat still holds. What Traeger does do with its new Provisions meal kits, however, is remove all the other hassles from smoking meat for a significant number of people.
Traeger's take on a meal kit service is a little different than Blue Apron's or Hello Fresh's, but mostly with regard to grandeur and frequency. The goal here is to turn anyone with a Traeger smoking grill into a pitmaster, not to try to get people to cook a brisket every week. Although the scope of these meals can feel ambitious, the kits make it accessible for people of any skill level. The meat, two sides, sauces, condiments and detailed instructions all come in a single box, ready to go.
With no prior brisket-making experience under my belt, I decided to give that meat choice a try. I needed to begin our Sunday dinner meal on a Thursday, starting with the thawing process and followed by the fat trimming and the seasoning. The entirety of the preparation is involved, and it can be intimidating. Before I mention how the meat I cooked ultimately turned out, let's discuss what Traeger is offering here and who it's for.
TL;DR
Pros:
All-inclusive meat smoking kit
Great quality meat
Cons:
Premium price
Limited food choices at launch
Buy at Traeger.
Traeger Provisions Food Choices
Traeger has already been selling sauces and rubs for meats that people are presumably cooking on its smoker grills. The next logical step was to sell the meat and side dishes, too. Traeger Provisions is the company's take on prepared meal kits. You still have to cook the meat, but nearly every other aspect is taken care of—including snacks to munch on while the food cooks.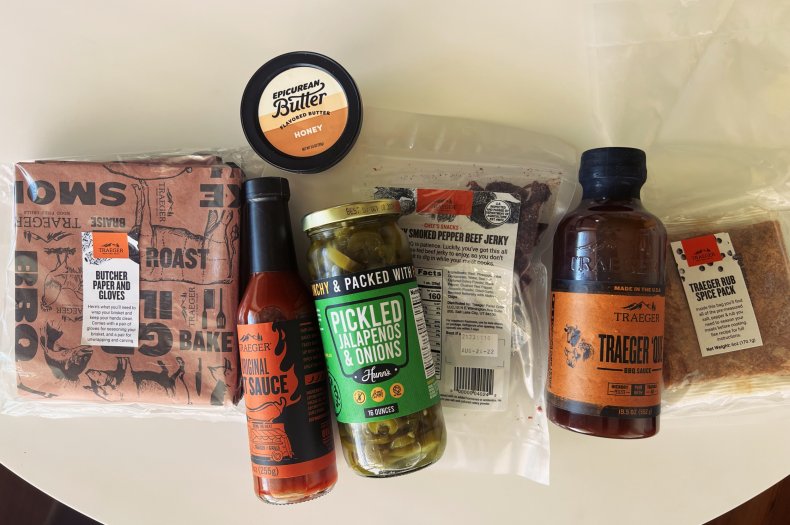 At launch, there are three choices of meat: Poulet Rouge chicken, Wagyu beef brisket and Berkshire St Louis pork ribs. The prices start at $150 for the chicken and brisket and $180 for the ribs. The ribs are listed as a meal for four to six people, the chicken is intended for six to eight people, and the brisket is said to feed seven to eight people. (There is also a choice for a brisket kit capable of feeding 14 to 16 people that costs $250.) Included in the cost are two side dishes—and four sides with the larger brisket option.
The four choices of sides include three-cheese mac and cheese, bourbon baked beans with bacon, cornbread with spiced brown sugar, and collard greens with bacon.
Cooking times for the different meats range from 90 minutes to 14 hours, from the chicken to the brisket respectively. All of the cooking instructions and detailed information are listed on the Traeger Provisions site to help you see what you might be getting into before clicking the buy button. This includes an exact PDF of the instructions sent in the box.
At launch, the three types of meat and four side choices seem like an adequate variety to get things started. I would love to see more options in the future or even rotating seasonal options, as well: for example, a turkey for smoking at Thanksgiving.
Smoking a Wagyu Brisket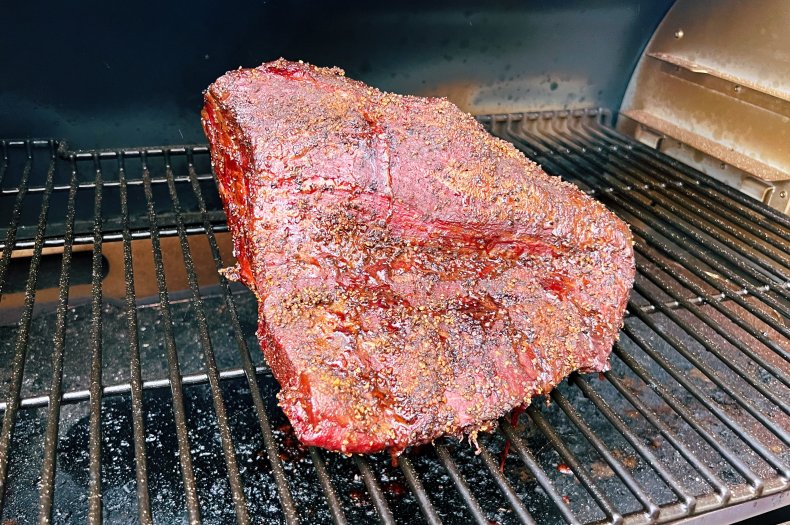 I ordered the Wagyu brisket for seven to eight people with the cornbread and macaroni and cheese sides. The meat that arrived was about 7 pounds in total weight.
My plan was to smoke the meat for the family dinner for my daughter's birthday. Cooking for more people than my immediate family presented a little pressure, especially for someone who hadn't made a brisket before. To make these meals accessible to new Traeger owners, or anyone less familiar with certain kinds of meat preparation, the instructions included are incredibly detailed. I appreciated that aspect of this kit. For any parts that need more explanation, there are QR codes that link directly to YouTube videos showing what is being described on the paper.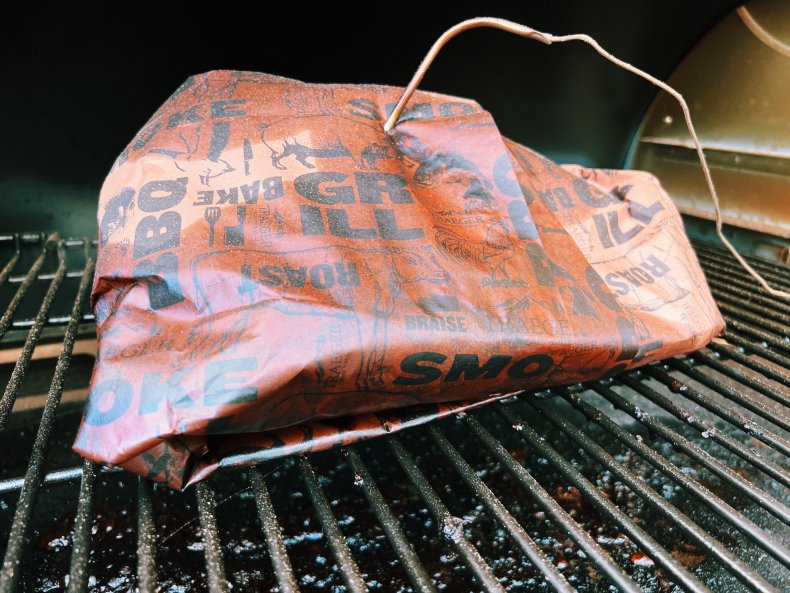 I didn't want to assume anything, so I watched the videos. I'm sure I could have figured out how to wrap the meat in butcher paper, but seeing the 1 minute video was helpful.
When I say the instructions are detailed, I mean that there is a tick-tock guide that walks through the process by hours up to a Saturday evening dinner. I adjusted the times by one day to meet my needs and found it worked perfectly. Following along closely meant starting my Wagyu brisket on Saturday at midnight and checking in at 6 a.m. to see if it had reached its first checkpoint temperature.
I noted the technology aspects of the Traeger Ironwood 885, which has Wi-Fi and connects to a mobile app, when I reviewed the grill here in August. Inside the app is information with the grill and meat probe temperatures and even the remaining amount of wood pellets. The app will send notifications when any of the goals are reached, so I didn't have to worry too much about missing the moment when the internal meat temperature had reached its target.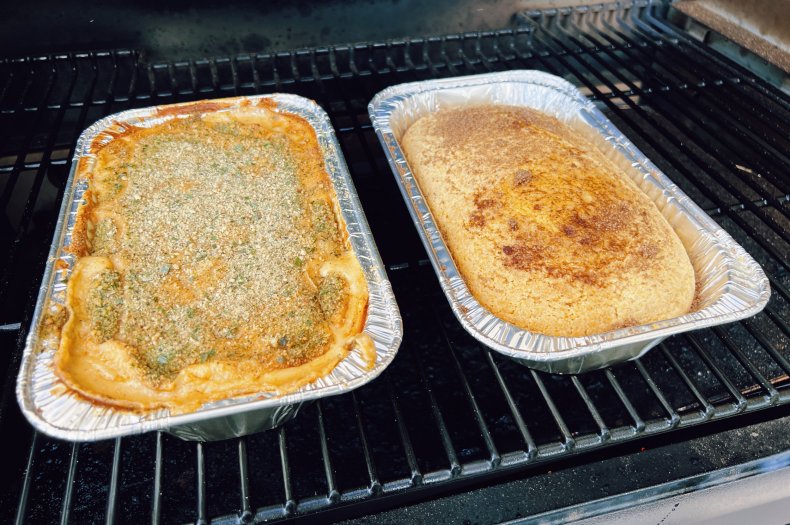 Without the conveniences of the app, the amount of stress I had felt would have probably been double. I checked on the progress regularly, to make sure everything was moving as intended, despite not needing to.
The end result was an excellent tasting brisket. Anything short of a charred piece of meat would have been a success in my book, but other people at the dinner confirmed the meat actually tasted really good. My 9-year-old daughter proclaimed it her favorite birthday meal ever.
The sides came in aluminum tins and only needed to be placed on the grill for an hour to cook. The cornbread tasted great and wasn't too dry. The macaroni and cheese was less of a hit because of how creamy it was. If a lot of thick cheese sauce is your preference, however, you'll probably enjoy it.
Should You Buy a Traeger Provisions Meal Kit?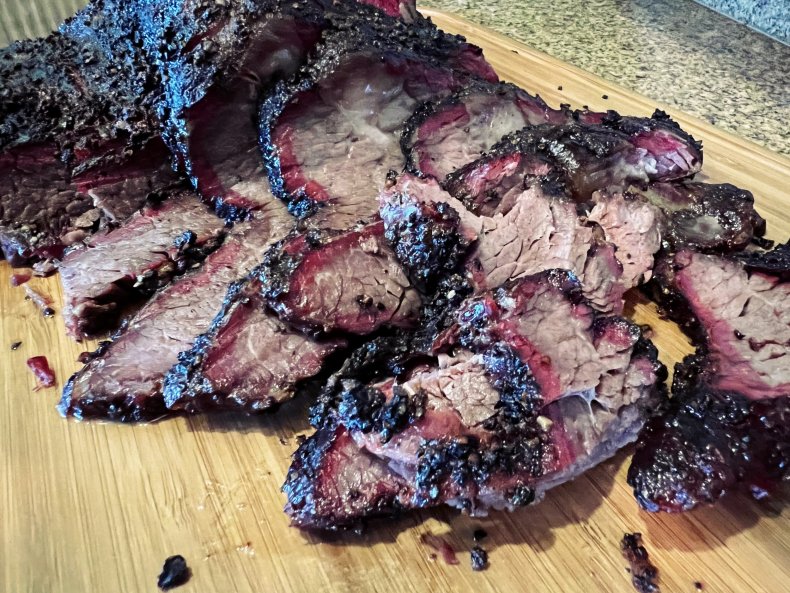 There's no reason Traeger shouldn't be selling meal kits to cook on its smoker grills. And its first entry is a success. If I would have ventured into making a brisket on my own, I would have had to figure out the meat size and seasonings. I also would have needed to buy other materials, such as butcher paper and gloves (or forgo the luxury of clean hands). I would have required the right kinds and amounts of salt, pepper and seasoning rub. Most importantly, I would have needed to find detailed instructions I trusted.
The meal kit comes in at a premium price, but it includes premium cuts of meat and worlds of convenience. I could absolutely imagine splurging on this luxury at least a few times a year, or pitching in with another family for a special meal. All told, Traeger Provisions is a winner.
Buy at Traeger from $150.
Newsweek may earn a commission from links on this page, but we only recommend products we back. We participate in various affiliate marketing programs, which means we may get paid commissions on editorially chosen products purchased through our links to retailer sites.