Mississippi Gov. Tate Reeves said Thursday that he believes religion may be driving his state's response to the COVID-19 pandemic.
"I'm often asked by some of my friends on the other side of the aisle about COVID ... and why does it seem like folks in Mississippi and maybe in the Mid-South are a little less scared, shall we say," Reeves, a Republican, said at a Thursday fundraiser, according to the Daily Memphian.
"When you believe in eternal life — when you believe that living on this earth is but a blip on the screen, then you don't have to be so scared of things," he said.
The governor added that "God also tells us to take necessary precautions."
"And we all have opportunities and abilities to do that and we should all do that. I encourage everyone to do so. But the reality is that working together, we can get beyond this. We can move forward. We can move on," Reeves said.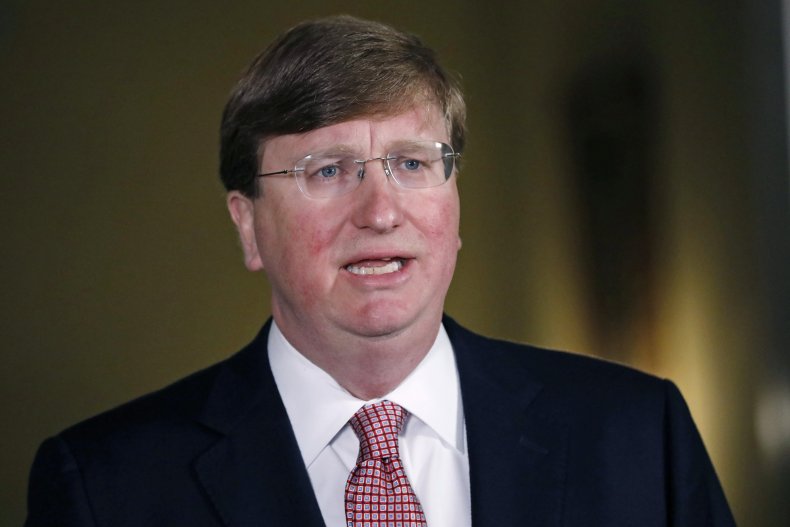 On Tuesday, Mississippi saw its highest daily number of COVID-19 deaths since January at 111, the Sun Herald reported.
That day, the Clarion Ledger reported that since the school year began in Mississippi, nearly 12,000 students had tested positive for COVID, and more than 30,000 teachers, students and staff were quarantined after potentially being exposed to the virus.
On Wednesday, the newspaper also reported that a sixth student had died from COVID-19 complications, as the state sees an increase in the number of young people contracting the virus.
Reeves has declined to impose mask mandates in schools, leaving it up to school districts to decide whether they want to require masking for teachers and students.
Earlier this month, a Mississippi eighth-grader died less than a day after Reeves said the risk of students becoming severely ill from the virus is low.
"If you look at those individuals under the age of 12, what you find is that it is very rare that kids under the age of 12 have anything other than the sniffles," Reeves said at the time, though he acknowledged that severe cases do rarely occur in children.
On Thursday, Reeves noted the state's recent COVID-19 surge may be stabilizing, noting plateauing hospitalization rates, WJTV reported.
The state has started sending additional staff to overwhelmed hospitals, and Reeves said this would add nearly 1,000 hospital beds in the state.
"Because we'll have those staffing needs met by tomorrow, those additional beds should be open which should alleviate a significant portion, if not eliminate, the staffing requirements that are needed at our hospitals," Reeves said, according to WJTV.
Reeves' office did not immediately respond to Newsweek's request for comment on Saturday.