Tattoo Artist Creates 'Insane' Stop-Motion Animation on Real Skin Using 76 Inkings
A tattoo artist has created an incredible moving image of a scene from a Betty Boop cartoon, using 76 inkings.
Phil Berge, based in Montreal, Canada, painstakingly tattooed a cartoon figure on various people and put the images together to make a stop-motion animation effect on real skin.
On Tuesday Berge shared his work to his TikTok account, @philberge, where it has already been watched more than 12 million times. The clip proved so popular, it was also posted on Reddit.
The footage, which can be seen here, is captioned: "Finally! I made a total of 76 tattoos to create this scene from Betty Boop Snow White. A huge thank you to everyone that got tattooed for this project."
He went into further detail on his Instagram account, writing: "I did a total of 76 tattoos to achieve this scene from Betty Boop Snow White. The original was made by Fleischer Studios in 1933 using the rotoscope technique to recreate Cab Calloway dancing to the St. James infirmary song. Huge thanks to all those who came and got tattooed for this project. Together we can make epic s***."
As Berge explained, the scene comes from a seven-minute black-and-white short about Betty trying to escape the clutches of her stepmother, who orders her to be decapitated after a magic mirror declares Betty the fairest in the land.
The scene Berge decided to bring to life via a sequence of tattoos shows the clown Bimbo dancing, and the ghost the evil stepmother turns him into.
The rotoscoping method, which was invented by Max Fleischer of Fleischer Studios, revolutionized cartoons, by allowing animators to draw over images and later films of people moving. This gave drawn characters an eerily realistic movement.
Calloway's dancing was also captured in another of Fleischer's films, Minnie the Moocher. The short opens with live-action footage of him performing with his orchestra. An animated walrus later sings the "Minnie" song, emulating Calloway's dancing style.
Berge's video reveals that more than one person had both the clown and the ghost tattooed, in various places on their body. The artist confirmed that around "six or seven people" had both characters inked.
He also explained how he signed up people for the project, saying: "I post the designs I want to do on my Instagram and the people that want it schedule an appointment with me and we do it like a normal tattoo."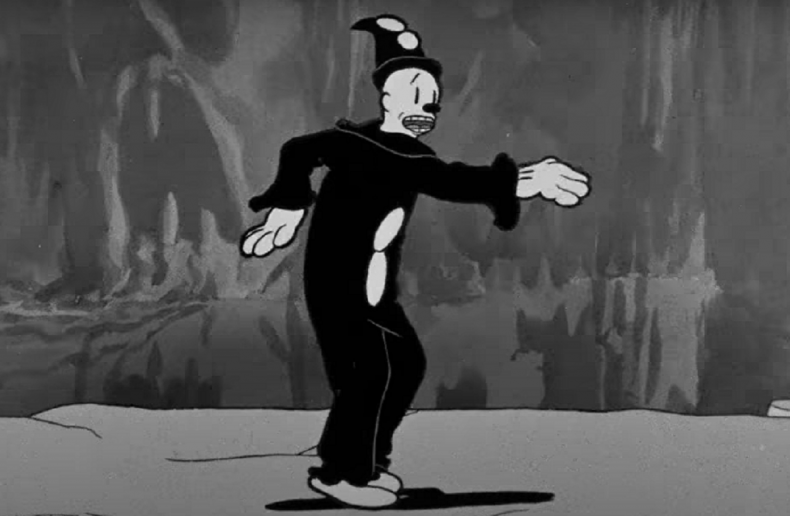 Numerous social media users have praised Berge's stop-motion animation, with Hokum_peddler writing: "Insane man."
Harryrobbinstattoo raved: "Such a clever project, amazing work!"
Sam Vicchiollo wrote: "All those people will be secretly connected forever."
Taunted raved: "This is the best stop motion I've ever seen."
Star Holroyd posted: "This is like magic. Those people are interlinked."
Newsweek has reached out to Berge for further comment.