For most of her life, Heather Lee didn't dwell on the appearance of her breasts. They were simply an occasionally functional part of her anatomy; they fed her four children as newborns and required occasional shopping for sartorial support. But after being diagnosed with breast cancer in March 2015 and undergoing a double mastectomy, the 40-year-old recently divorced mother feared she'd be left with breasts that resembled "overripe avocados."
"The way I explained it to my friends is when I looked in the mirror I didn't want to think, OK, those look almost like boobs," says Lee, a lawyer in Birmingham, Alabama. "I wanted to look in the mirror and think, I'm a badass."
Lee elected to have both breasts surgically removed—one prophylactically—in order to lower her risk for cancer recurrence, as well as to avoid taking Tamoxifen for 10 years, a drug infamous for menopausal-like side effects that can greatly diminish a woman's quality of life after cancer. The surgeon also told her a double mastectomy would mean "better symmetry," she says. But nipple-sparing surgery wasn't an option for Lee. The margins of her breast biopsy showed malignant cells were near the edge, so preserving some of the tissue might make it more likely that the cancer could return. That meant saving the nipples and areolas for reconstruction—a now relatively common practice—would be too risky.
Lee says she opted for breast implants that would "look normal in clothes and a swimsuit." But she didn't return for the follow-up procedure, when a cosmetic surgeon manipulates the skin on the breast mounds to create the appearance of nipples. She also skipped the medical tattoos, the final touch in breast reconstruction to give pigment to the nipple area and create the appearance of areolas. Fake nipples didn't appeal to Lee, and a little Googling prompted her to decide she wanted real ink.
Marking an Escape From Death
Most breast cancer patients who undergo a mastectomy are told by their doctors that they have just two options once treatment and surgery are completed: reconstruction or no reconstruction. But when Lee happened upon David Allen, a Chicago-based tattoo artist, she found a third: mastectomy tattoos. Allen, who has developed an almost cult-like following among breast cancer survivors, had an entire page on his website filled with photos of women's breasts covered with scar-concealing tattoos. He's one of just a handful of tattoo artists in the U.S. helping women reclaim their bodies and their lives after breast cancer in a less conventional and less medicalized way.
Many people get tattoos to mark a milestone: the birth of a child, the death of a loved one, an anniversary and, of course, the end of a serious and life-threatening illness. But for breast cancer survivors, mastectomy tattoos can be far more powerful. They not only symbolize an escape from death, but also conceal scars and minimize the appearance of disfigurement. If done well, they can make looking in the mirror a positive experience once again, or at least more bearable.
Lee loved Allen's illustrations. They were of flowers but not the cloying, trashy variety. His were monotone slate-gray, pointillist in detail, almost ethereal. The tattoos swooped around the fold of the breasts and lay on the area where nipples would be. In many of the photos, it was nearly impossible to make out any trace of the incision scars. Lee reached out right away and began exchanging emails with Allen's assistant.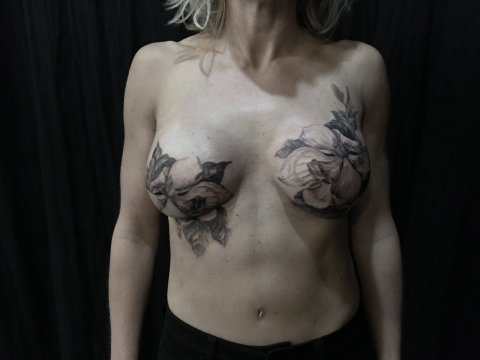 "Nothing I saw ever seemed right until I saw some pictures of real tattoos," says Lee, who traveled to Chicago with a friend in October for her tattoos. The Southerner settled on magnolias for a flower design like the ones her grandparents used to have in their front yard. "I think they're beautiful instead of seeing scars and thinking about what I've been through and the pain."
Allen recently published an essay in JAMA detailing his tattoo process for mastectomy clients. He chose to tell his story in a medical journal rather than a mainstream publication because he hopes oncologists and surgeons will come to see mastectomy tattoos as a viable option for their patients. But Allen, 37 years old, says the tattoo industry needs to be educated as well by doctors; breast cancer survivors have unique physical and psychological needs that require an artist to have a good bedside manner and some medical knowledge.
Allen, who has a background in graphic art, stumbled into this work in 2011, when a teacher in New York City who had undergone a double mastectomy approached him. In addition to the weighty nature of the assignment, he was worried about the health and safety risks that could arise for the client. Scar tissue and skin exposed to radiation is far more delicate and reacts differently to tattoo ink. "I wasn't quite sure the best technique, and there's not a lot of information out there. I just tried to avoid it, but she was persistent," he says. "This is a rough area to tattoo."
Six years have passed, and Allen has left his mark on some 70 breast cancer survivors, with many women traveling from overseas to see him, including women from the U.K., Argentina and India. Most of the women he works on have had a single or double mastectomy with implants. But there are some women who stopped at mastectomy and simply want to conceal the surgical scars on their chest walls. Most of the women who seek out Allen are over 50 and don't have any other body art. That may seem old for procuring a first tattoo until one remembers the median age for a breast cancer diagnosis is around 62, according to data from the U.S. Centers for Disease Control and Prevention.
Reconstructive Surgery on the Rise
It helps Allen's cause that rates of breast cancer reconstructive surgery continue to rise. A report released in 2016 by the American Society of Plastic Surgeons found the number of patients who opt for reconstructive surgery after breast cancer treatment has increased 35 percent between 2000 and 2012. Doctors today are also much more likely to recommend mastectomy over breast-conserving surgery (lumpectomy) both for medical and cosmetic reasons. (In many instances, a surgeon can improve a patient's silhouette to her liking, whether that means reconstructing breasts that are larger than the originals or reversing the droopiness that comes with childbearing and age.)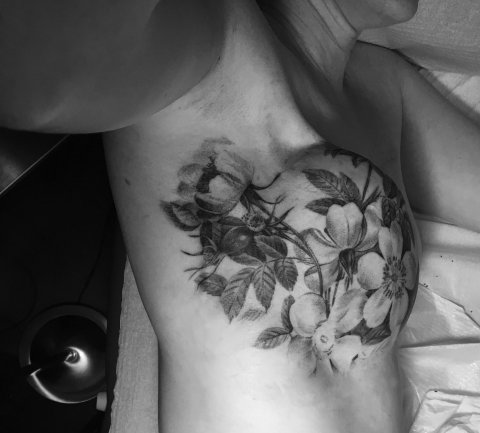 Additionally, undergoing reconstructive surgery with implants is no longer considered merely vain or a luxury. Health policy legislation passed nearly 20 years ago requires health insurance companies pay for reconstructive surgery as part of routine treatment for the disease. Genetic testing, such as the one that can detect mutations to the BRCA1 and BRCA2 genes that indicate higher risk for certain types of breast cancer, mean more young women are going under the knife for prevention.
Some say rates of prophylactic double mastectomy increased thanks to what many call the "Angelina Jolie effect." In 2013, the actress and director went public with her decision to undergo a preventive mastectomy after learning she carried BRCA mutations, and she inspired many other young women with higher genetic risk for cancer to do the same. Younger women can be especially concerned about scar visibility and often worry the reconstructed breasts will never look normal. The solution, perhaps, is to make them something entirely different. It also helps that body art has gone mainstream. Tattoos, like breast cancer, are no longer a taboo topic.
P.ink Pairs Artists, Subjects
Women find Allen on the internet but also through P.ink (Personal Ink), a nonprofit founded in 2013 that matches breast cancer survivors with tattoo artists who have experience with mastectomy tattoos. The organization, founded by Noel Franus, started off as a Pinterest page. Franus has never had tattoos, cancer or breasts, but he was inspired after his sister-in-law underwent breast cancer surgery and began soliciting her family members for ideas of what she could have tattooed on her new breasts other than trompe l'oeil nipples. "No one was talking about it online unless you were a huge tattoo enthusiast," says Franus. "You might find one or two artists inside the forum, but what about the mother in Topeka or the grandmother who lives in rural Texas?"
The tattoo artists that are part of his network do work in-kind on P.ink Days, held once a year in October since 2014. So far, tattoo shops in 25 cities have participated, and collectively they've inked some 175 breast cancer survivors. The organization also covers the cost of mastectomy tattoos on a case-by-case basis and pays the full cost. (Depending on the complexity and scale of the art, a mastectomy tattoo can cost anywhere from $200 to more than $2,000.) There are currently 1,500 breast cancer survivors on P.ink's waitlist.
The solution to meet this growing demand, Franus says, is to find more tattoo artists interested in the work, especially in other countries, since many survivors who contact the organization don't live in the U.S. But getting tattooists ready for the task is challenging. "We still need more trained artists," says Franus. "It involves sitting down and working side-by-side with an artist who knows how to do this work."
It also means encouraging doctors and surgeons to be actively involved and make mastectomy tattoos an option in the recovery process. Allen has made inroads to the medical community. He says he now regularly talks to plastic surgeons by phone, sometimes even before a patient goes under the knife. The variety of surgical techniques can influence the quality of tattoo art, so planning ahead allows the client to receive his best work. "I need to know as much as possible," he says. "I need to know if they had flap surgery or if the surgeon pulled from the latissimus dorsi."
Allen is also highly selective about which clients to take on and when. For example, he won't work with a woman unless it's been a year since her surgery. That's not only for medical reasons but also because he has found that survivors are often not emotionally ready for the process any earlier.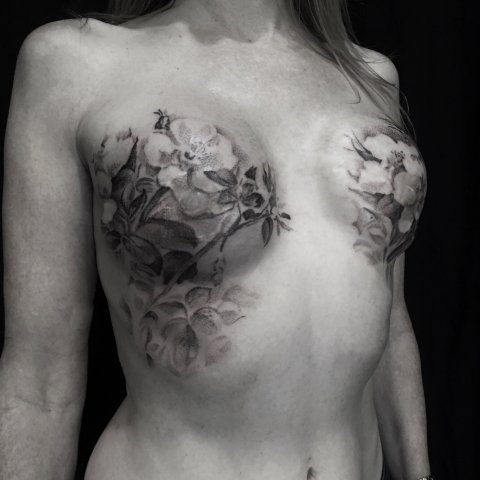 A few years ago, a woman came to see Allen. It had been several years since she'd had surgery, and she was ready. Allen was preparing to apply the stencil on her breasts to create the outline for her tattoo, but when he began to touch the woman, she started to weep. She told him her husband had left her because of her illness, and she hadn't been close to a man in years. Allen stopped his work. Instead, they sat at his shop and talked for two hours. "I wanted to hear her story," he says. "I wanted her to know that the emotion she was feeling was more important than getting a tattoo." The client returned three months later for her tat.