Who is Tawana Brawley? As Al Sharpton Feuds With Trump, False Rape Accusation Against Law Enforcement Officials Resurfaces
Al Sharpton's controversial support of a woman who lied about being raped by a gang of white men in the 1980s has resurfaced amid the civil rights activist's ongoing feud with President Donald Trump.
In 1987, 15-year-old Tawana Brawley claimed she'd been abducted and raped by a group of white men in Dutchess County, New York. Brawley, who is African American, was found by police with the letters "KKK" written on her chest and a racial epithet written on her stomach. She told her lawyers that two of the assailants were law enforcement officials.
Reverend Sharpton took up Brawley's case early on, and became one of her most outspoken supporters. Sharpton called then-Governor Mario Cuomo a racist and accused state officials of being complicit in the crime.
But the incident turned out to be a hoax: After seven months of investigation, including over 6,000 pages of testimony by 180 witnesses, a grand jury found that Brawley had lied about the attack. Six months after the trial, he former boyfriend told reporters she invented the allegations to avoid being punished for running away from home.
As of 2013, Brawley was working as a nurse in Virginia under a different name, according to The New York Times.
After the scandal died down, Sharpton reinvented himself as a more mainstream civil rights activist. He founded the National Action Network, which is a civil rights organization in New York.
Asked about the Brawley incident in 2011, Sharpton told 60 Minutes, "whatever happened, you're dealing with a minor who was missing four days. So it's clear that something wrong happened."
In an NPR interview two years later, Sharpton said he regretted name-calling specific officials he thought were involved in the crime, he claimed he wasn't in the wrong to defend Brawley.
"What do I have to apologize for? I believed her."
Both Sharpton and Brawley were sued by Steven Pagones, the county prosecutor at the time of Brawley's allegations, and one of the men accused of attacking her. Pagones won a defamation suit in 1998.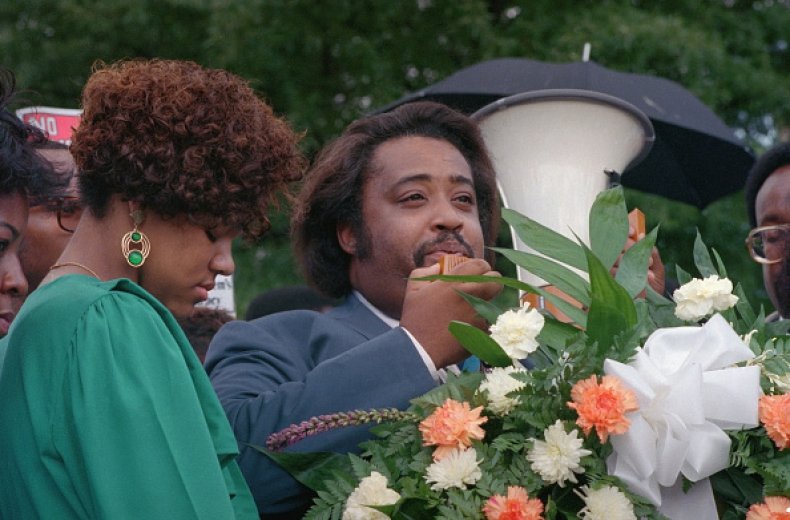 On Monday, Donald Trump lashed out at Sharpton after the reverend posted a photo of himself on his way to Baltimore. Sharpton's post was likely a reference to the president's recent attacks on congressman Elijah Cummings, who represents the Maryland city.
"I have known Al for 25 years," Trump wrote on Twitter. "Went to fights with him & Don King, always got along well. He 'loved Trump!' He would ask me for favors often. Al is a con man, a troublemaker, always looking for a score. Just doing his thing. Must have intimidated Comcast/NBC. Hates Whites & Cops!"
Sharpton quickly fired back at Trump, writing that if the president really thought he was a "con man" he would have already been appointed a position in his cabinet.
Before his feud with Sharpton, Trump attacked Cummings, deriding his home district in Baltimore as a "disgusting, rat and rodent infested mess."
Cummings is chair of the House Committee on Oversight and Reform, which is overseeing several investigations into the Trump administration. He responded to the president in a series of tweets claiming he wakes up each morning to "fight for my neighbors."
Cummings told CBS News that he was not ultimately going to be "distracted" by Trump's social media posts.
Trump's attacks on Rep. Cummings follow the widespread criticism he's received for racist rhetoric aimed at four progressive Democratic lawmakers, Alexandria Ocasio-Cortez of New York, Ilhan Omar of Minnesota, Ayanna Pressley of Massachusetts and Rashida Tlaib of Michigan.