With the Russia investigation closed and former special counsel Robert Mueller's congressional testimony behind him, President Donald Trump has claimed vindication over accusations of his criminal wrongdoings. But there are still a number of ongoing investigations against his administration and his business that legal experts say are a serious threat.
"The Trump administration still faces a wide array of investigations, many of them that pose personal risk for the president himself," Bradley Moss, a national security law expert, told Newsweek. "In short, the president may have parried away the most high-profile threat to his presidency, but he by no means is safe."
Trump's victory lap on Wednesday came after Mueller fielded questions from lawmakers for the first time on his two-year probe into Russian election interference. The president told reporters that it was "a very big day for our country" and "you could say it was a great day for me."
But while the highly-anticipated hearings didn't reveal much new information, Mueller reiterated (this time under oath) that his report in no way exonerated the president. He also criticized Trump's encouragement of Wikileaks' release of hacked Democratic emails as "extremely problematic" and told lawmakers the president wasn't always being truthful or complete in responding to inquiries. Receiving campaign assistance from a foreign power, he added, was "unpatriotic" and "wrong."
It ultimately remains to be seen how, or even if, the testimony will affect public views of Trump's presidency and whether Mueller's appearance might move the needle on impeachment proceedings. House Speaker Nancy Pelosi said the hearings were a "strong manifestation" of the White House's "cone of silence and their cover-up" but still declined to endorse the process of removing Trump.
But former federal prosecutor Michael Stern told Newsweek that the significance of the Russia investigation should not be overlooked just because the Mueller probe and testimony has come to an end. It is possible for Trump to be indicted as a private citizen for obstructing justice throughout the Russia probe if he loses in 2020.
"Despite the other investigations in which Mr. Trump is the eye of the storm, the Russia investigation likely remains his greatest source of jeopardy," Stern said. "Yesterday, Mueller made clear Trump can be indicted for obstruction of justice once he's out of office. This election cycle we should expect to see Trump fight even dirtier. This time around it's less a power grab and more a battle to avoid the inside of a prison cell."
In the meantime, there are about 30 ongoing investigations that threaten Trump's presidency. The probes relate to his businesses, his 2016 campaign, the inauguration committee and his presidential administration and some of them are on track to be resolved before the 2020 election.
Congressional Investigations
Since taking over the House of Representatives in January, Democrats have launched several inquiries that could spell trouble for the president. In March, House Judiciary Chairman Jerrold Nadler said they needed to pursue the investigations in order to "persuade the American public" on impeachment.
The House Oversight and Reform Committee is investigating Trump's possible role in concealing hush money payments, possible abuses of the White House security clearance process and his proposed nuclear venture in Saudi Arabia.
The House Intelligence Committee is looking into Trump's communications with Russian President Vladimir Putin and potential foreign influence over the president. The committee is also investigating possible attempts by Trump or those in his administration to obstruct justice.
The House Ways and Means Committee is still trying to get its hands on Trump's tax returns. Earlier this week, Trump sued the committee to block the disclosure of his financial documents. The lawsuit is part of an effort to "end presidential harassment," Trump's attorney said in a statement.
Plus, in the wake of the Mueller report, House Democrats want to secure testimony from former White House counsel Don McGahn and deputy counsel Annie Donaldson. McGahn was a surprising star witness in the Russia investigation. He dropped the bombshell that Trump instructed him multiple times to remove the special counsel and then told him to lie to the media about the request.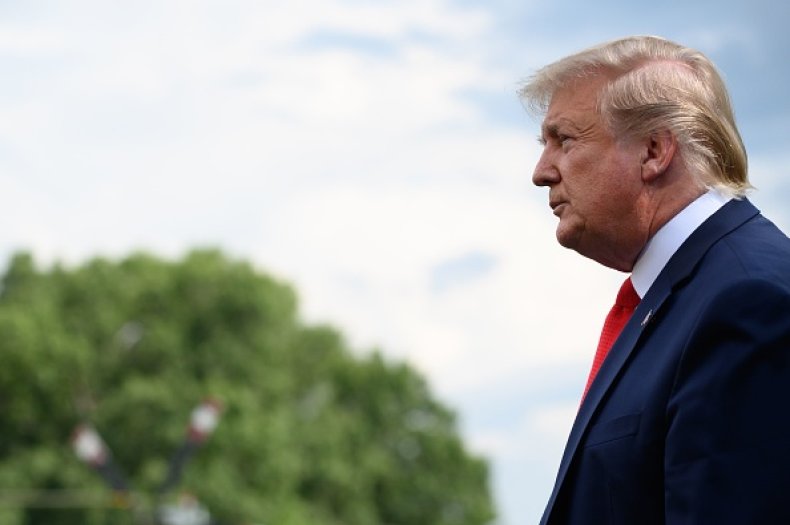 Federal Criminal Investigations
Some of the most high-profile cases currently being worked on by federal prosecutors include the criminal trial of Roger Stone, a top Republican fundraiser and a potential money laundering scheme related to Trump's inaugural committee.
Stone, a longtime Trump confidant, was arrested in January as part of the Mueller investigation. He's been charged with witness tampering and lying to Congress about his communication with WikiLeaks during the 2016 campaign. His trial is set for November.
The Justice Department is currently investigating the business and political dealings of Elliott Broidy. Broidy is a top fundraiser for the GOP and helped the president attain funds during the 2016 election. He later served as a vice chair of the inaugural committee. Investigators are examining whether Broidy exploited his relationship with Trump to benefit his global security firm.
Federal prosecutors in the Southern District of New York are looking into potential corruption involving Trump's inauguration. The focus of the probe is how the inaugural committee gathered and spent their money. The SDNY issued a wide-ranging subpoena to the committee in February, which showed that investigators were looking at everything from false statements to mail fraud, wire fraud, conspiracy against the United States and money laundering.
State and Local Investigations
Many of the investigations at the state and local level are examining the Trump Organization's business practices and the president's inaugural committee. Nearly all of the cases are civil investigations.
In Washington D.C. and New Jersey, the attorneys general are looking into Trump's inaugural committee. One case is investigating whether foreigners contributed to the committee and the other is examining the role of Trump's children and business in the inauguration.
The Trump Organization is being investigated for alleged misuse of charitable assets and campaign finance violations. The organization has also been accused of inflating financial assets. The Trump family is also being investigated by the New York attorney general for potentially illegal tax schemes.
Officials in New York and New Jersey are also looking into allegations that undocumented workers were employed at the president's golf clubs. At his Briarcliff Manor, N.Y. club, undocumented employees say they were forced to work extra hours without pay. In Trump's Bedminster N.J. resort, undocumented workers say there were given fraudulent green cards and other documents.