Taylor Greene Dragged for Railing Against 'Nancy Pelosi's Gazpacho Police'
Georgia Representative Marjorie Taylor Greene was mocked online after a failed attempt to make another Holocaust reference led to her condemning what she called "Nancy Pelosi's Gazpacho Police" at the U.S. Capitol.
"So everything is completely out of control," Greene said during an appearance on One America News Network's Real America with Dan Ball. "Not only do we have the D.C. jail which is the D.C. Gulag but now we have Nancy Pelosi's Gazpacho Police spying on members of Congress." Rather than "gazpacho," a cold soup, Greene was trying to compare the Capitol Police to the Gestapo—the secret police of Nazi Germany.
This was the second time in as many days that Greene compared the Capitol Police to the Gestapo. "Capitol Police have not done anything to stop vandalism and theft at Rep. Greene's office, but they are spying on US citizens, Congressional staff, and Members of Congress," the congresswoman tweeted on Tuesday. "No thanks @SpeakerPelosi, we don't want your Gestapo."
Greene was on OANN to discuss the recent allegations from Texas Representative Troy Nehls that Capitol Police officers entered his office without his knowledge and then proceeded to take photographs of confidential materials in November 2021.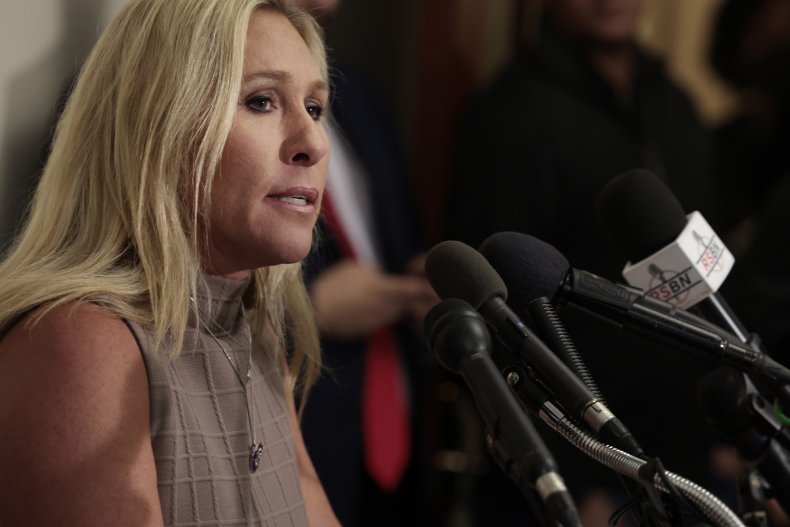 During the interview, Greene claimed that the Capitol Police investigate congressional staff members, examine their social media accounts, and also look into any people who happen to visit members of Congress. Greene blamed Pelosi for this alleged behavior.
Following Greene's interview, the congresswoman was roundly mocked online, including by her fellow politicians. Democratic Representative Eric Swalwell joked on Twitter in a response to a video of Greene's gaffe, "Let me see your peppers!"
New York Congresswoman Alexandria Ocasio-Cortez tweeted, "At least she leads by example. She clearly banned all books from her house years ago." She added in a second tweet, "For real though when you see how the GOP openly embrace and leverage fascist members of their party vs how much some Dems run away and frame their own base mobilizers as 'just as extreme' it's not hard to see how that asymmetry/false equivalence has contributed to where we are."
Actor Ellen Barkin joked, "She needs a bowl of Gestapo poured over her head." Conservative writer and political commentator Charlie Sykes tweeted: "NO ONE expects the GAZPACHO POLICE. (Apologies to Monty Python)".
Others, in their response, invoked the famous "Soup Nazi" episode of Seinfeld. Miranda Yaver, a political science professor at Oberlin tweeted, "So they're...soup Nazis?" Billions actor Kelly AuCoin joked that "these Soup Nazis are just out of control."
When asked for comment, Greene told Newsweek, "No soup for those who illegally spy on Members of Congress, but they will be thrown in the goulash."
Greene also said, in the interview, that she does not believe it's the rank and file members of the Capitol Police that are carrying out these supposed illegal searches. Instead, according to Greene, it's those in charge that are ordering the searches. She also accused Pelosi of "using them as political pawns and sending them into our offices."
The Georgia Republican has a history of comparing President Joe Biden, congressional Democrats, and COVID-19 mandates to Nazis and the Holocaust. Last May, she likened vaccine passports to the gold stars Nazis forced Jewish people to wear for identification during the Holocaust. She apologized a month later for her remarks after visiting the U.S. Holocaust Memorial Museum.
Despite this, she continued to make inflammatory remarks invoking the Holocaust. In September, Greene asked on Twitter, prior to Biden signing an executive requiring federal employees to get the COVID-19 vaccine if Biden remembered the Nuremberg Code. Just last week, she compared Dr. Anthony Fauci to the Auschwitz doctor and Nazi "Angel of Death" Josef Mengele.