Taylor Greene Calls Capitol Police Gestapo After Gohmert Says They're Spies
Georgia Representative Marjorie Taylor Greene has joined Texas' Louie Gohmert in blasting the Capitol Police after Gohmert posted a letter to his Twitter account on Tuesday accusing the police force of spying for House Speaker Nancy Pelosi.
Shortly after Gohmert's post, Taylor Greene added her own statement by calling the police Pelosi's "Gestapo."
"Capitol Police have not done anything to stop vandalism and theft at Rep. Greene's office, but they are spying on US citizens, Congressional staff, and Members of Congress," the tweet read. "No thanks @SpeakerPelosi, we don't want your Gestapo."
Pelosi's office did not immediately respond to Newsweek's request for comment.
Gohmert's statement also accused the Department of Justice (DOJ) is "tampering" with his personal mail from constituents.
Both lawmakers' tweets came amid an ongoing, and bitter, partisan divide over the handling, viewing, and fallout of the Jan. 6 Capitol Riot. Republicans have often criticized Pelosi for her direction of the Capitol Police, as well as downplayed what occurred January 6, 2021, most recently labeling it "legitimate political discourse" in a Republican National Committee statement while censuring Republican Representatives Adam Kinzigner and Liz Cheney for working on the January 6 Committee.
Gohmert once suggested the events of the day were a left-wing conspiracy, Newsweek previously reported. Greene has also once suggested that federal agents "encouraged people to go in" when speaking at "Americafest", an event put on by Turning Point USA, a conservative movement for youths.
Tuesday's comments from both lawmakers followed claims by GOP Representative Troy Nehls, who posted on Twitter that the Capitol Police entered his office and photographed "confidential legislative products." Gohmert said in his statement that an Inspector General's investigation has been opened to look into Nehls' accusations, calling it a case of "Democrat's [sic] spying on political opponents."
But, U.S. Capitol Police Chief Tom Manger said in a statement Tuesday there is no investigation into Nehls or his staff and that Capitol Police were following basic protocols when entering his office.
"The weekend before Thanksgiving, one of our vigilant officers spotted the congressman's door was wide open," Manger said. "That Monday, USCP personnel personally followed up with the congressman's staff and determined no investigation or further action of any kind was needed."
Manger said that if a lawmaker's office is left "open and unsecured," the Capitol Police has to document it and secure the office "to ensure nobody can wander in and steal or do anything else nefarious."
In his statement, Gohmert blasted Pelosi for requiring congressional offices to hand over the names, dates, times and purposes of their meetings in order for constituents to enter buildings after the Capitol riot. He also accused Pelosi of directing the Capitol Police to do "opposition research that is cataloged for later use."
"We have never ever seen a Congress so partisan to such an unethical and illegal extent," Gohmert said. "The people behind this should be hoping and praying that they will not be treated in the same manner in which they running roughshod over Republicans when and if Republicans retake the majority.
"We want answers to this outrage, not excuses," he added.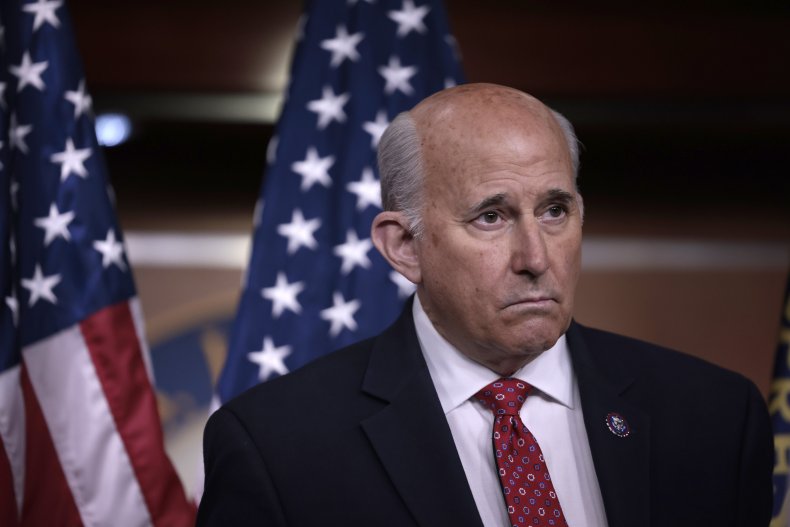 Gohmert's statement continued by explaining his office received two already-opened letters stamped "DOJ MAILROOM" in January. He also claimed one of the letters was stamped "X-RAYED" while the other was postmarked September 2021 and took 4 1/2 months to reach his office. The lawmaker then referenced a Supreme Court ruling which "made it clear" the DOJ is not allowed to search a representative's mail and office even with a search warrant.
Republicans have previously accused Pelosi of using the Capitol Police in a controversial way. Last July, Pelosi was accused by Representative Kat Cammack of telling the Capitol Police to arrest people if they refused to wear a mask, which the Associated Press found to be false.
The Capitol Police also said there was "no reason" the situation should lead to arrest for visitors and staff members who didn't follow Pelosi's mask mandate.
Gohmert's office, as well as the DOJ and Capitol Police, did not immediately respond to Newsweek's requests for comments.
Update 02/08/22, 7:45 p.m. ET: This story was updated to add more background information.
Update 02/08/22, 5:25 p.m. ET: This story was updated to add comments from Representative Louie Gohmert, Representative Marjorie Taylor Greene, a new headline, and background information.