Taylor Swift vs. Kanye West and Kim Kardashian Explained: A Timeline of Their Feud Over the Song 'Famous'
Taylor Swift's feud with Kanye West and Kim Kardashian West reignited over the weekend when a video purporting to show exactly what happened during Swift and West's infamous phone call about his hit 2016 song "Famous" leaked.
The bad blood between Swift and West started more than a decade ago now at the 2009 MTV Video Music Awards, when West infamously crashed the stage after Swift won best female music video. West said Beyoncé should have won instead and overshadowed Swift's win. The moment went down in music history, prompting Swift and West to talk about it in interviews and write songs about it, before they eventually became friends. In 2015, Swift presented West with the Michael Jackson Video Vanguard Award at the VMAs.
But in 2016, the release of the song "Famous" from West's The Life of Pablo album soured their relationship again, over a lyric that said: "I feel like me and Taylor might still have sex / Why? I made that b***h famous." And four years later, it's still a point of contention.
Here's a timeline of the renewed feud:
February 2016: Kanye West releases "Famous"
"Famous," featuring the line about having sex with Swift and making "that b***h famous," is released. In now-deleted Twitter posts, West said Swift approved the lyrics and even came up with the lines.
"3rd thing I called Taylor and had a hour long convo with her about the line and she thought it was funny and gave her blessings," tweeted West at the time.
"5th thing I'm not even gone take credit for the idea... it's actually something Taylor came up with ..."
Swift's publicist denied that she approved the line, saying: "Kanye did not call for approval, but to ask Taylor to release his single 'Famous' on her Twitter account. She declined and cautioned him about releasing a song with such a strong misogynistic message. Taylor was never made aware of the actual lyric, "I made that b***h famous.'"
June 2016: Kim Kardashian West speaks to GQ

In June of 2016, West's wife, Kim Kardashian West, spoke to GQ magazine about the "did-she-didn't-she?" affair over the lyrics, insisting Swift approved the line.
Here's an excerpt from that interview:
July 2016: Kim Kardashian releases footage of call
In a series of Snapchat posts—since compiled for posterity on other social media—in July 2016, Kardashian West released footage of West and Swift's phone call in 2016 about "Famous."
In the video, West appears to run the line "I feel like me and Taylor might still have sex" past Swift, who responds: "It sounds like a compliment."
Swift claims she was never informed about the "made that b***h famous" line. In a now-deleted statement on Instagram, the singer said: "Where is the video of Kanye telling me he was going to call me 'that b***h' in his song? It doesn't exist because it never happened.
"Being falsely painted as a liar when I was never given the full story or played any part of the song is character assassination."
September 2019: Taylor Swift calls Kanye West "two-faced"
In an interview with Rolling Stone, Swift spoke about her troubled friendship with West, saying she came to the realization he is "two-faced."
This stems from the 2015 MTV VMAs when she presented West with the Video Vanguard Award. Swift said West asked her to present him with the award and then "he screams, 'MTV got Taylor Swift up here to present me this award for ratings!'"
"I realized he is so two-faced. That he wants to be nice to me behind the scenes, but then he wants to look cool, get up in front of everyone and talk s**t," said Swift.
March 2020: More footage of Taylor Swift and Kanye West's phone call leaks
Over the weekend, a so-called unedited clip of Swift and West's 2016 phone call about "Famous" leaked on social media. Swift fans have taken it as vindication that Swift was telling the truth that she never approved the lyric and was not informed about the "made that b***h famous" line.
In the video, West tells Swift about a lyric that says, "I feel like Taylor Swift might owe me sex." This was tweaked on the final version of "Famous," but in the clip, Swift responds: "That's not mean."
West then asks Swift to premiere the song on her social media platforms and Swift responds, "I need to think about it. I'm glad it's not mean."
Swift adds: "I thought it was going to be, 'That stupid dumb b***h.'"
There doesn't appear to be any mention of the "made that b***h famous" lyric.
After Swift's fans took the Wests to task on social media, the "Lover" singer responded on Monday on Instagram Stories.
Swift wrote: "Instead of answering those who are asking how I feel about the video footage that leaked, proving that I was telling the truth the whole time about *that call* (you know, the one that was illegally recorded, that somebody edited and manipulated in order to frame me and put me, my family, and fans through hell for 4 years)... SWIPE UP to see what really matters." The singer linked to Feeding America and World Health Organization to encourage people to donate to those affected by the coronavirus pandemic.
But on Monday night, the drama continued, with Kardashian West taking to Twitter to accuse Swift of "lying."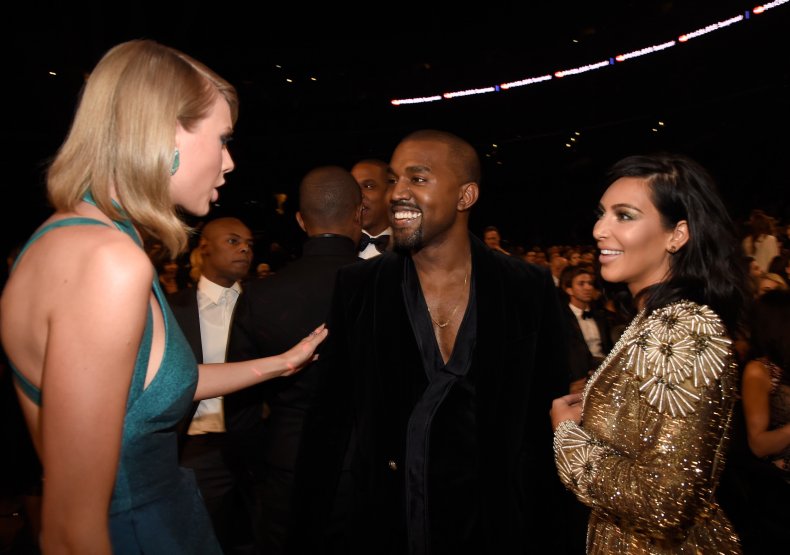 In a series of tweets, Kardashian West wrote: ".@taylorswift13 has chosen to reignite an old exchange - that at this point in time feels very self-serving given the suffering millions of real victims are facing right now.
"I didn't feel the need to comment a few days ago, and I'm actually really embarrassed and mortified to be doing it right now, but because she continues to speak on it, I feel I'm left without a choice but to respond because she is actually lying.
"To be clear, the only issue I ever had around the situation was that Taylor lied through her publicist who stated that 'Kanye never called to ask for permission...' They clearly spoke so I let you all see that. Nobody ever denied the word 'b***h' was used without her permission.
"At the time when they spoke the song had not been fully written yet, but as everyone can see in the video, she manipulated the truth of their actual conversation in her statement when her team said she 'declined and cautioned him about releasing a song with such a strong misogynistic message.'
"The lie was never about the word b***h, It was always whether there was a call or not and the tone of the conversation."
Kardashian West also denied editing the footage in her Snapchat posts in 2016, adding: "I only posted a few clips on Snapchat to make my point and the full video that recently leaked doesn't change the narrative."
Swift's publicist Tree Paine hit back, however, by reposting her original statement from 2016 on behalf of the singer:
Paine wrote: "I'm Taylor's publicist and this is my UNEDITED original statement. Btw, when you take parts out, that's editing.
"P.S. who did you guys piss off to leak that video?"
The wording of Paine's original statement said that "Kanye did not call for approval, but to ask Taylor to release his single 'Famous' on her Twitter account," which Kardashian West appears to have misinterpreted as a denial that a call ever took place.
And so the drama continues...