Taylor Swift Snakes Explained: Singer Hints at Kim Kardashian Feud During 'Reputation' Tour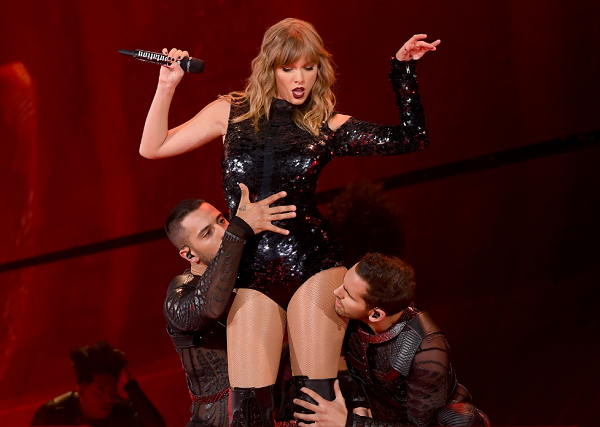 Taylor Swift once said she would "very much like to be excluded from this narrative"—"this narrative" being the ongoing feud she's had with Kanye West since 2009, the feud that she "never asked to be a part of."
Swift has since deleted the Instagram post in which she made her pleading request. She wiped all her accounts clean ahead of the November release of her latest album, Reputation. It seems, however, that the pop star has inserted herself back into the narrative she so hoped to be excluded from.
During the opening night of her Reputation Stadium Tour on Tuesday in Glendale, Arizona, Swift seemed to allude to her hostile relationship with West and his wife Kim Kardashian, while explaining the reasons behind the massive snakes that were scattered across the concert stage (she also shared snake imagery while promoting the album's rollout last year).
"A couple of years ago, someone called me a snake on social media and it caught on. Then a lot of people were calling me a lot of things on social media and I went through some really low times for a while because of it. I went through some times when I didn't know if I was going to get to do this anymore," Swift said.
The 28-year-old was likely referring to the 37 snake emojis Kardashian tweeted back in 2016 in response to Swift's claim that she never approved West's "Famous" lyric that included her name and referred to her as a "b---h." "I feel like me and Taylor might still have sex/Why? I made that b---h famous," West rapped on the 2016 track.
According to Kardashian, Swift did approve the lyric, even though Swift denied having any prior knowledge of it before "Famous" hit the airwaves in February 2016. So in addition to tweeting out 37 snake emojis, Kardashian released actual audio of a Swift and West phone call, in which Swift said that the lyric was "like a compliment" and even thanked West for even telling her about the line.
Nonetheless, the moment still served as a learning experience for Swift and inspired the singer's sixth studio album.
"I guess this means I wanted to send a message to you guys, that if someone uses name calling to bully you on social media, and even if a lot of people jump on board with it, that doesn't have to defeat you. It can strengthen you instead," Swift told concertgoers on Tuesday.
She added: "And I think something that came out of it that was good is that I learned a really important lesson that I've been telling you from the stage for about 10 years, but I never had to learn it so harshly myself, And that lesson has to do with how much you value your reputation. I think the lesson is that you shouldn't care so much if you feel misunderstood by a lot of people who don't know you, as long as you feel understood by the people who do know you, the people who will show up for you, the people who see you as a human being."