Teacher Caused School Lockdown Blasting Music to Interrupt State Testing
A teacher in Florida is accused of an action that led to a school being locked down and his arrest.
Martin Reese, an art instructor at Creekside Middle School in Port Orange, Florida, allegedly played loud music and refused to turn it down, according to Fox 35 in Orlando. Reportedly, Reese, with his loud music, was purposely intending to disrupt statewide testing that was taking place at the school.
Police said they were called to the school just before noon Tuesday over a disturbance. Reese, who had brought a large speaker from home, was playing music loudly in his classroom with the door open as the students were taking their exams, according to the police report.
The report also stated that Reese was asked multiple times to turn down the music but refused. While interacting with the school administration, he began streaming the incident on Facebook Live.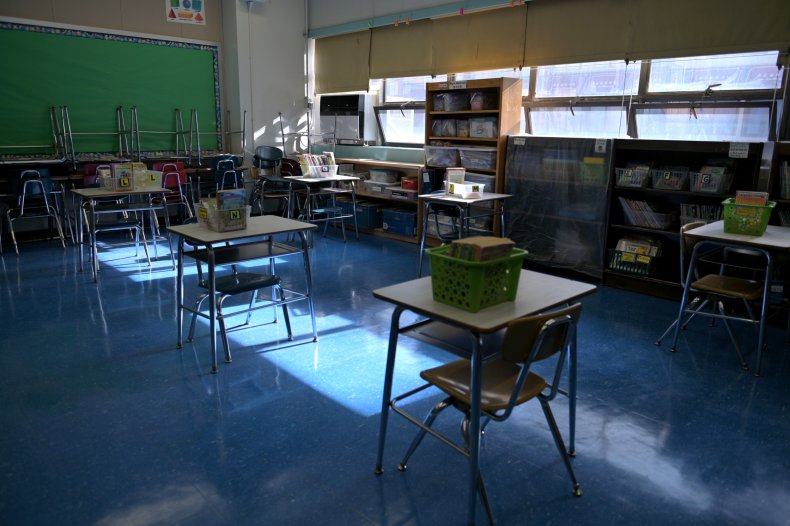 It was at this time, police told WESH in a statement, that the school was placed under lockdown. It mentioned that no weapons were involved and that at no time during the situation were any students in danger.
In a statement shared on social media, the Port Orange Police Department referenced an incident at Creekside Middle School, which resulted in the school being placed on a "brief lockdown." It also said the lockdown had been lifted and that everything at the school was back to normal.
The police report mentioned that at one point during the incident, Reese left the classroom, went to the school's courtyard, and removed his shirt "while in front of approximately 400 students that were in the cafeteria." The courtyard faces the cafeteria, the report explained.
Reese had been with the school district since 2009, WESH reported. He had only been at Creekside Middle School since late March, approximately two weeks.
A spokesman with the school district told WESH that Reese had been relieved of his duties. Reese faces charges of disrupting a school function and disorderly conduct.
One parent said that even though her child was not injured physically, the incident did not help her student's anxiety about the test.
"They're trying to get through it, so to have a disruption while they're stressed and trying to get through their testing, she was a little irritated. Kind of shaken up," Aubrey Markovitz told Fox 35.
Newsweek reached out to the school district and the Port Orange Police Department for comment but did not hear back before publication.
This incident at Creekside Middle School comes after an elementary teacher in Florida was charged after allegedly hitting an autistic student. Surveillance footage supposedly caught the teacher striking the student in the face, according to the arrest report.
Also in Florida, a teacher was charged after she reportedly bit two students who were engaged in an argument over a jar of pickles.
Updated 4/6/22, 4:23 PM ET: The story has been updated with information from a police report.