A Texas teacher has resigned after a photo showing her foot on the neck of a 10-year-old Black student prompted a backlash.
The teacher at Lamar Elementary School in Greenville had text the image to the boy's mother on Tuesday.
It later circulated on social media after being posted on Facebook by the boy's aunt, Lakadren Jackson, who called it "unacceptable."
The teacher, who is white and was not named, was placed on administrative leave while the incident was investigated.
The subject of her termination was included on a draft agenda of a meeting of the Greenville Independent Schools District's Board of Trustees, a spokeswoman for the school district told Newsweek on Friday.
After learning about it, the teacher, submitted her resignation, effective immediately, through her attorney, the spokeswoman said.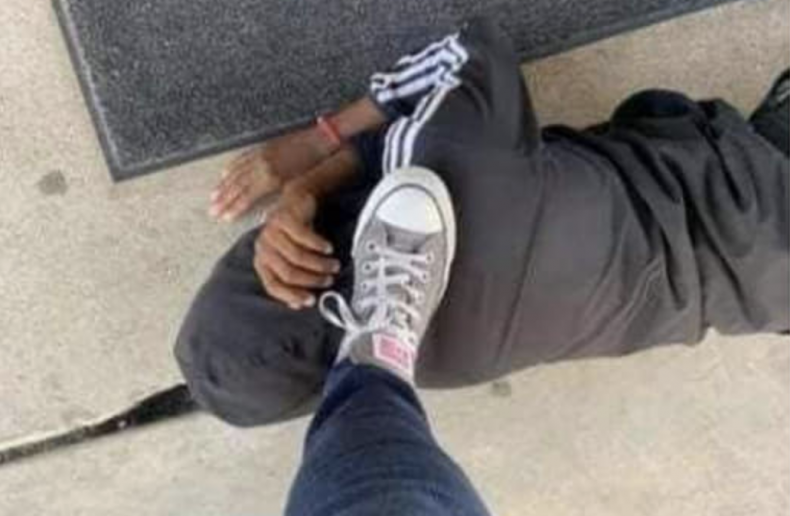 "We deeply regret the distress this incident has caused, and I am accepting the teacher's resignation," Greenville Schools Superintendent Demetrus Liggins said in a statement.
"Nonetheless, we will report what occurred to the State Board for Educator Certification. They will determine what action might be taken concerning her teaching certificate."
Liggins added: "In Greenville ISD, we strongly believe that all individuals, especially the students entrusted to our care, must be treated with dignity and respect.
"We will address the seriousness of these activities with our entire staff." He added that the school district will develop strategies to address the future staff training.
In a post on Facebook on Friday, the boy's mother Kendra Jackson said the teacher had a "heart of pure gold" and did not deserve to lose her job.
She explained that her relationship with the teacher was not simply a parent/teacher relationship, but a "genuine" friendship.
"We laughed together, we cried together, gossiped, just simple things people who genuinely LOVE EACH OTHER do," she wrote.
Kendra Jackson said while the photo was taken on the day Derek Chauvin was convicted of murdering George Floyd, that "was not on our minds."
"The whole situation is not what it was made out to be," she wrote.
"Should the picture have been taken? No. Should the picture have been posted? NO. Should she lose her job? NO! Should her dirty shoe be on my son? NO!" she added.
"Bad decisions were made in BOTH ENDS. Things we will both have to live with the rest of our lives. Lessons learned is the bet way to look at this. Stop making everything BLACK AND WHITE. Because in this case, unlike many, THIS IS NOT IT."
Kendra Jackson has been contacted for additional comment.