Teacher Says Student Told Her to Get 'Help' in 'Bold' Note Left on Desk
A video has gone viral on TikTok after a teacher read aloud a note she says one of her high school students left on her desk recently.
In the video, now viewed 3 million times, Ashlynn Kilpatrick introduces herself as a high school teacher who teaches sophomore English.
She says after first period she returned to her desk to find a note sitting on her desk. The front of the note read: "We're here for you."
"I thought man, someone left me a nice, sweet, encouraging note, that's great," she said.
She goes on to read aloud the note from her students telling the woman to get "help" and including the phone number of a psychiatrist.
"[N]ot real sure how I'm suppose[sic] to feel about this...," Kilpatrick captioned the video.
A 2021 national survey of teachers found that the already stressful occupation might have become even more so amid the COVID-19 pandemic. The survey was conducted in January and February 2021 by the research firm RAND and funded by the National Education Association and American Federation of Teachers, Chalkbeat reported.
The research found that "one in four teachers were considering leaving their job by the end of the school year — more than in a typical pre-pandemic year and a higher rate than employed adults nationally."
Beyond their desire to leave the profession entirely, research also found that "teachers were also more likely to report experiencing frequent job-related stress and symptoms of depression than the general population."
In the note from one of Kilpatrick's students, the teen wrote that they think she is an "awesome teacher."
"However the way you've been treating our class lately is absolutely unacceptable," she continues, reading off the small piece of paper.
"I hope you will eventually go back to being the nice, calm and relaxed teacher you once were. The whole class has discussed this and we agree that you need help," the note continued.
The letter was signed "sincerely, your students."
"And on the back," she said. "They left a psychologist's phone number."
Many commenters were shocked at the students' "audacity" to leave such a note for their teacher though some wondered if the teens had a point.
"The language of 'unacceptable' and 'you need help' are definitely signs that this is spiteful and not concerned. The audacity," one person wrote.
"I mean do they have a point? Maybe they mean well!," wrote another.
One commenter, who claimed to be a high school student themselves, said the reason they hate school "so much" is because of how they're treated by teachers.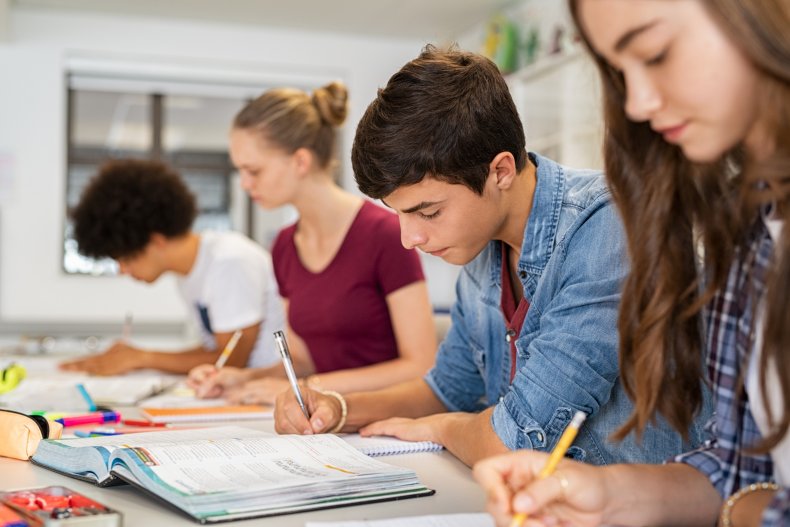 "[M]ay not be the case here...but it would probably be best to talk [sic] your students about how they're feeling and how they make u feel," the commenter continued.
In a follow-up video, Kilpatrick explains that she thinks the student who left it, who signed their name, wrote it "from a place of good intentions and not necessarily to be hurtful or spiteful."
She said she did not take much offense to the note and that other students had reached out to say they don't agree with what was written in the note.
"They are BOLD, but they mean well!," Kilpatrick captioned the follow-up video.
Newsweek contacted Kilpatrick for comment but did not hear back in time for publication.