Teacher Shares Adorable Video of First Graders Singing Along to Adele
A video has gone viral on Tiktok after a teacher shared a trick she tried with her first-grade class on a day they were being a bit "chatty."
TikToker @aleciavanzyl, whose first name is Alecia, posted the video earlier this month and it has since received over 6 million views.
"I tried something today. It was the last few minutes of school and my Grade 1's were a bit chatty," Alecia wrote in text written over footage of her sitting in what looks to be her classroom highlighting a document.
As the video begins voices can be heard in the background seeming to come from the teacher's students. She then, very subtly begins to sing Adele's Easy on Me. Before long, little voices are heard joining their teacher singing the British singer's hit song.
A team of researchers from Stanford University School of Medicine found that "music engages the areas of the brain involved with paying attention, making predictions and updating the event in memory."
Beyond music showing itself to be a helpful tool in helping the brain, and in turn, students, to pay attention, having music education offered at schools has also proven to be important.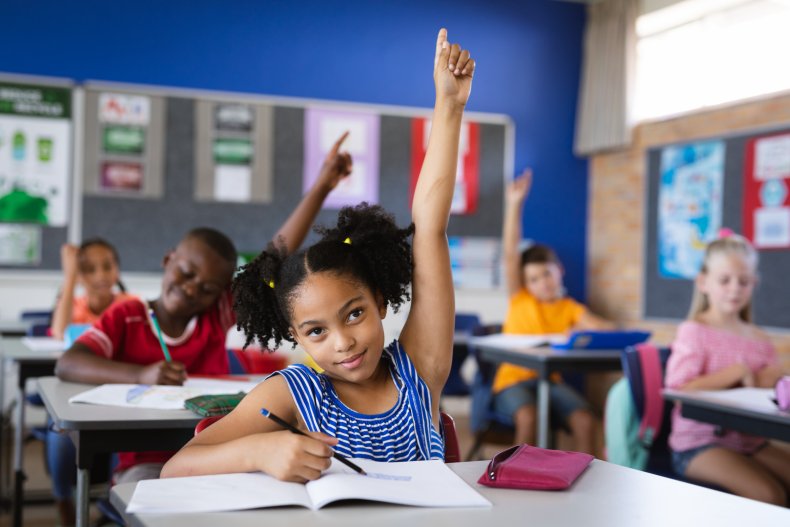 The Save the Music Foundation discovered by conducting a five-year case study in Newark, New Jersey just how important music education can be. The organization provided access to music education to approximately 98 percent of more than 35,000 students in the area.
"[About] 68 [percent] of teachers reported students improved their academic performance, while 94 [percent] of teachers noted improvement in social-emotional skills like 'grit, perseverance, and teamwork.' Moreover, 94 [percent] of teachers reported increased academic engagement due to the program," read an article published by the organization.
Many of the over 11,000 comments written below Alecia's viral video were touched by the voices joining in with their teacher to sing the ballad. Many, though, noticed the humor in the young children singing a song about such mature topics like divorce.
"Not the babies singing like they've been through some things," one commenter wrote.
"Dying. 'I am still a child.' LITERALLY BABIES, literally!" said another noting one of the lyrics in Adele's song.
In the caption, Alecia asked her TikTok audience "what song should I try next?"
In a video posted two days later, Alecia responded to a comment suggesting they try We Don't Talk About Bruno, the song from Disney's Encanto that took the internet by storm.
Alecia showed herself standing up in front of the class guiding the students in a rendition of the popular song. One commenter noticed something a bit different about the two videos:
"Can't believe they know Adele better than a literal Disney movie," one commenter said.
Newsweek reached out to Alecia for comment.