Teacher Suspended After Allegedly Saying Oxford High Shooter Should Have Created Distraction
A teacher has been suspended from Hopkins High School in Michigan after allegedly speaking with students about the distraction the Oxford High School shooter should have created "to kill the people that he would need to."
Hopkins High School principal Ken Szczepanski said that the teacher, whose name has not been revealed, allegedly made the comments to multiple classrooms on Wednesday, a day after 15-year-old Ethan Crumbley fatally shot four students and injured several others at Oxford High School, Kalamazoo's News Channel 3 reported.
The Michigan State Police and the school are investigating the teacher's remarks that reportedly referenced physical violence and weapons. The teacher has been placed on leave until the investigation is completed.
A parent of a student at the school told the news station that the teacher told her child that he "would've pulled a smoke detector, so that he could create a distraction, in order to carry out his hit list and kill the people that he would need to."
"It was gut-wrenching devastation that a grown adult would mentally harm our children this way," the parent said.
Another parent said that the teacher should be fired for having this conversation with students.
"Zero tolerance, zero tolerance, absolutely not should he be back in school or teaching anywhere, ever," the parent told News Channel 3.
Szczepanski said that the school had previously sent a memo to encourage teachers to speak with their students about the Oxford high school shooting.
Still, the principal said that the teacher's alleged comments were "insensitive, in regard to being the day after Oxford and they were off-script."
The teacher's conversation with students led to rumors spreading across campus about an employee threatening to "shoot up" the school. However, the school district and Hopkins High School's superintendent said they became aware of the rumors on Friday.
"We would not have been in school today had we not felt that it was a safe environment for these students," Szczepanski, told News Channel 3. "This is a contained situation."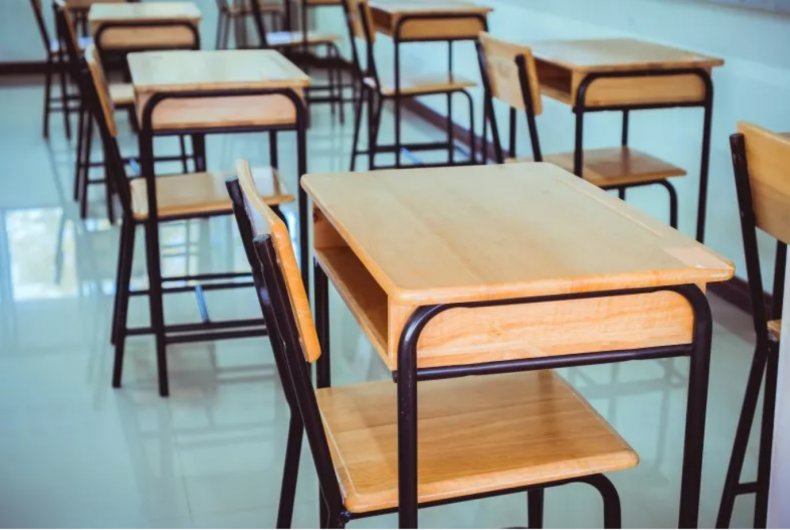 Newsweek contacted the Michigan State Police and Hopkins High School principal Ken Szczepanski for comments.
Since the Oxford High School shooting in Michigan, at least 519 schools nationwide have closed due to threats.
Schools in seven different states including Michigan, New Jersey, New York, Pennsylvania and Virginia have closed and temporarily halted in-person classes last week, according to an analysis by Newsweek.
"I can't fault schools for closing out of an abundance caution, but let's be clear: having to close school because there is a real threat to children is sick," Mia Senechal, the deputy organizing director at gun violence prevention group March For Our Lives, told Newsweek.