'Team Navalny' Coordinator Andrey Borovikov Sentenced to Prison for Sharing German Music Video
Former "Team Navalny" coordinator Andrey Borovikov has been sentenced to two and half years in prison for sharing a clip of a German music video on social media.
On Thursday, a court in the northern Russian city of Arkhangelsk found Borovikov guilty of criminal distribution of pornography via the internet. The felony case against him was opened up in September 2020 and involved a clip of a music video by the German band Rammstein for its song "P***y."
Borovikov, the former coordinator for opposition leader Alexei Navalny's Arkhangelsk campaign office, had initially shared the clip on Russian social media VKontakte in 2014. Pointing out that the same clip had been shared by hundreds of other users on the networking service, his attorney Alexey Kychin told independent Russian media outlet Mediazona that the activist pleaded not guilty to the charge.
"They're charging me [because] I, on January 19, 2014, six and a half years ago, posted a clip of the Rammstein video for the song 'P***y.' The clip is allegedly pornographic. I don't have this clip in my videos now, I don't even remember when this was," Borovikov told MBX Media after officers executed a search warrant at his apartment on September 29, which Borovikov filmed and posted to Twitter.
According to Russian news aggregator Meduza, the expert examination of the clip commissioned by state investigators concluded that the music video contains pornographic scenes and lacked "cultural values." Prosecutors were asking for a sentence of three years in a maximum security prison.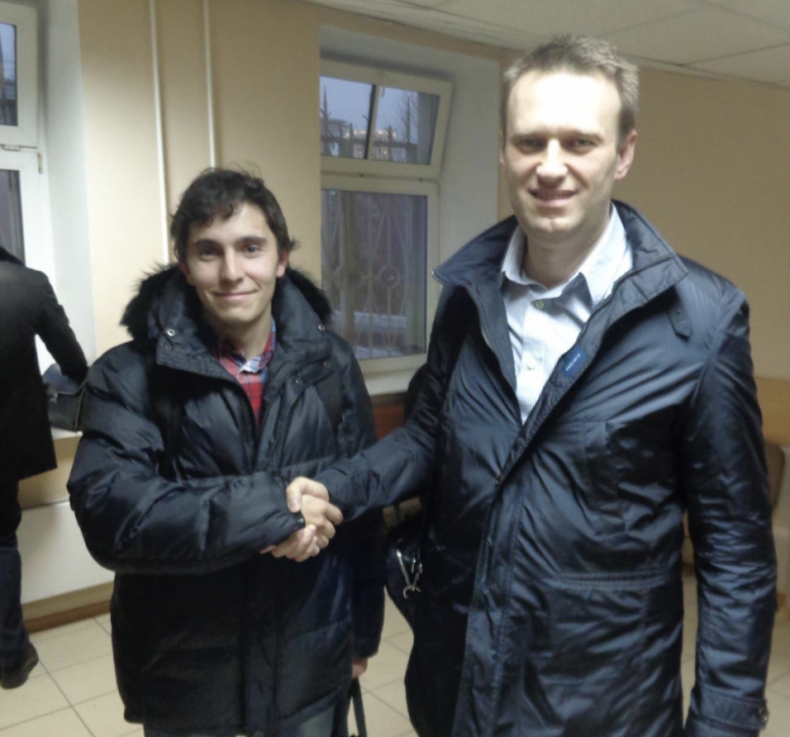 This is not the first time Borovikov has been convicted of a criminal offense. In September 2019, he was the third person convicted under what is known as the "Dadin article," named after activist Ildar Dadin, which makes it a criminal violation to have four or more violations against the country's rules on public gatherings within 180-day period. In 2015, Dadin was the first person convicted under the article and was sentenced to three years in prison. His sentence was revoked in 2017.
After organizing and leading a major protest rally against a planned waste disposal project in the village of Shies in 2019, Borovikov was sentenced to 400 hours of community service.
It has become increasingly common for Navalny's local coordinators to face scrutiny from Russian police. The regional coordinator of Navalny's Murmansk office, Violetta Grudina, was taken in for police questioning last summer after she protested alone in support of the activist.
On Thursday, Navalny made his first public appearance since his hunger strike during a virtual court hearing. A judge in Moscow upheld a defamation conviction against him. In February, the activist was found guilty of defaming World War II veteran Ignat Artemenko.