Team Trees Donations By Elon Musk & Susan Wojcicki Blew Away YouTuber Mark Rober
Team Trees, a collective of YouTubers fundraising to plant 20 million trees by 2020, has already raised more than $10.7 million, over half its needed goal. The initiative started by Jimmy "MrBeast" Donaldson and Mark Rober has captured the interest of the internet thanks to its ties to a worthy cause and plenty of virtual clout. While Donaldson is perhaps best known for creating viral videos by putting 100 million Orbeez in a pool or donating tens of thousands of dollars to streamers, Rober's content is slightly less extreme.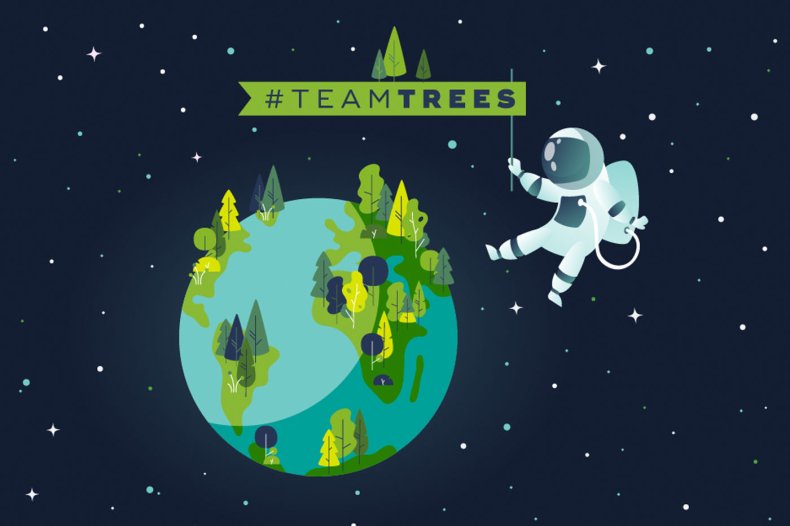 Rober is a former NASA mechanical engineer turned YouTuber, who worked on the Curiosity Rover for seven years. He told Newsweek that he "tries to get people pumped about science and education through monthly videos that often involve some kind of build." He's created glitter bombs disguised as packages to thwart thieves and filled in an entire pool with Jell-O, pulling in an average of 25 million views per video.
"(Donaldson) and I have wanted to do a collaboration before this point, so it was a natural fit," Rober said.
To help attract as many content creators across all genres on the platform as possible, Donaldson and Rober made a pitch video not meant for public viewing that made its way to YouTube on October 10. "Let's try and support each other as well by amplifying each other's videos, and that will only help interconnect them in the algorithm," Rober said in the unlisted clip. "Our goal is to completely dominate the YouTube trending page." On October 25 at 3 p.m. EDT, Donaldson, Rober and many top tier YouTubers released their videos and completely took over the site.
In 48 hours, Team Trees managed to raise $5 million from over 20,000 people, and the funding milestones have only increased from there. Those with influence and cash to spare have donated large amounts of money to the cause and crawled up the Team Trees leaderboard. YouTube CEO Susan Wojcicki offered $200,000, Twitter CEO Jack Dorsey put in $350,000 and Tesla CEO Elon Musk donated $1 million (and also changed his Twitter handle to "Treelon" in honor of the movement.)
"I'm blown away, none of us had any idea he would go that big," Rober said. "(Musk) is already doing so much for the future of our planet, so it makes sense he would want to be part of this." In response to Musk, Shopify CEO Tobias Lütkehas donated $1,000,001 to the cause which Rober described as "insane."
Rober knows that this initiative won't solve climate change but that has never been the goal of Team Trees. "The purpose of this whole thing was to have a constructive and positive way to send a message to the policy makers that this issue matters," Rover said. "As influencers by definition we have influence, and we're using ours to make taking care of Mother Earth cool."